Kitchen Backsplash Medallions and Tile Murals for Sale
Click on any picture below to see other versions, prices, sizes, matching accent and border tiles
you are on page 1, go to pg 2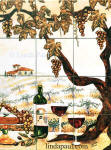 ...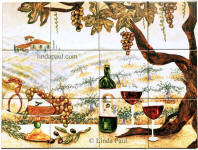 The Vineyard
Beautiful kitchen backsplash tile mural for behind stove. Features wine bottles, glasses, grapes on the vine, pears, cheese and Italian villa. Many sizes, versions and matching accent tiles. We can add your name to the wine bottle!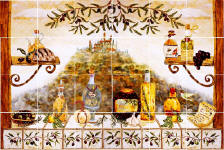 Italian Kitchen Window
Backsplash tile mural for behind a stove or sink area with olives, grapes, olive oil and cheese. In sizes up to 60" x 42"
Sunflower Field
Western tile mural of sunflowers and mountain landscape. Lots of great installation pictures and ideas too.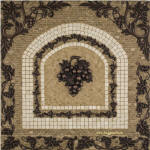 Chateau Grapes Medallion
Stone and metal backsplash mural in many metal finishes and 7 stone colors. Tons of sizes and matching decorative accents and onlays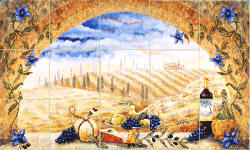 Tuscany Arch
Wine country kitchen backsplash, mural with grapes, cheese & flowers under an arched window. Lots of sizes and versions. We can personalize the wine bottle with your name.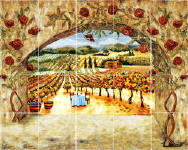 Roses and Vines
This tile back splash from artist Linda Paul combines the roses and wall from "Wine and Roses" with the vineyard from "Angels in the Vines". It is available in many sizes and a vertical version too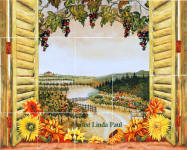 Sunflowers in The Vines
Kitchen backsplash tile mural of window overlooking a vineyard with hanging grapes, grape vines, shutters, winding country road and sunflowers by artist Linda Paul.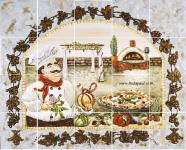 Italian Pizza Kitchen Tile mural featuring a fat Italian chef, pizza, tomatoes, basil, olives and garlic and outdoor pizza oven, pergola. We can add your name to the top curve of the pizza oven or the sky
or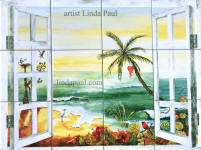 Tropical Paradise
Florida tile mural backsplash and decorative accent tiles of a window view of the beach with ocean waves, palm tree, and sunset. Perfect for tropical and beach house decor.
Rooster and Sunflowers
in many sizes with sunflower tile accents too. Also in a double shutter extended version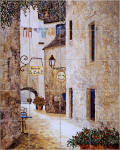 French Bistro
French country village with bistro restaurant & pub. We can personalize the restaurant signs with your name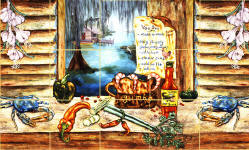 Louisiana Kitchen
Cajun kitchen tiles and bayou with crab shack, hanging garlic, blue crabs, red & green peppers and gator bait and hot sauce.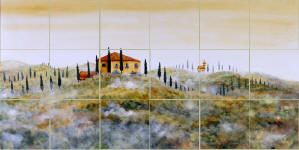 Tuscany in the Mist
Tuscan landscape with Italian villa, cypress trees and rolling hills in the mist. Large and small Tuscan scenes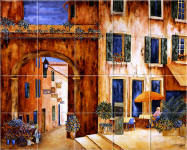 A Day in Provence
St. Remy village in Provence France. We can put your name(s) on some or all of the restaurant signs