Fleur de Lis and mother of pearl tile mosaic medallions and handmade shell tiles by artist Linda Paul.
Questions call 303-818-2663 or email us

Free Shipping in USA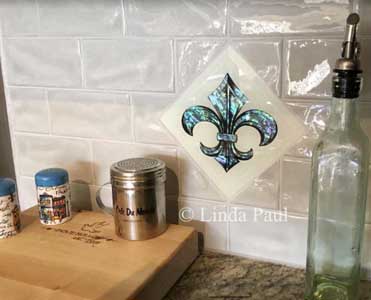 From artist Linda Paul. Fleur de lis hand-painted glass tiles.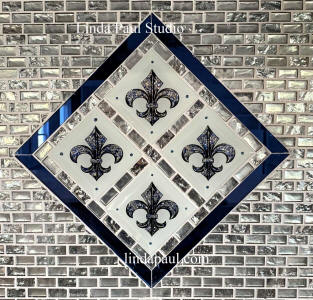 shows four 4x4 blue and silver sparkle fluer de lis tiles
These original works of art by Linda Paul are completely hand-made. The center glass tile is abalone, blue paua or mother of pearl shell and and paint on the back of the glass. Then the glass tile and the mosaics are mounted onto a 1/8" board .
You install it directly into a backsplash between other tiles. The shells and mosaics are amazingly iridescent and change color with the light. They have to be seen in person to be truly appreciated.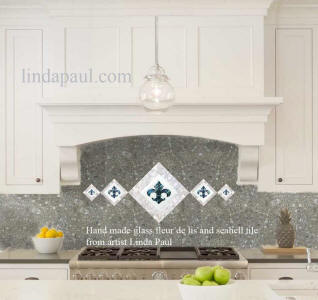 To create the five fleur de lis design pictured to the left, buy one of the 14", two of the 7.5" and 2 of the 4-5/8" ones. Total length will be 38.5"

To create a 29" , 3 fleur de lis design, buy one of the 14" and two of the 7.5"

To create a smaller 17" design , buy one of 7.5" and 2 of the 4-5/8" ones

This can also be made in either of the black and white styles below. Lead time 2 weeks if not marked in stock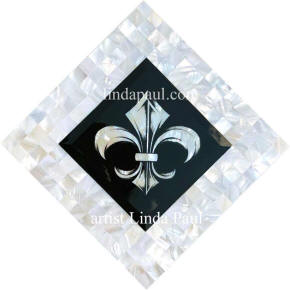 UNFRAMED Fleur de lis and white mother of pearl mosaic.

Each side is 10", measures 14" point to point .1/4" to 3/16" thick


$299.00
lead time 1 to 2 weeks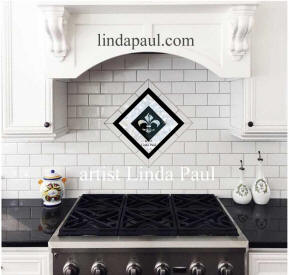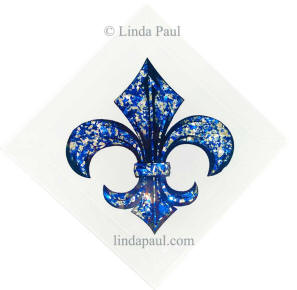 Sparkle Silver Blue and white glass fleur de lis glass Beveled tile. 1/4" thick
sizes: 6x6" or 4x4"$199.95
please allow 2 weeks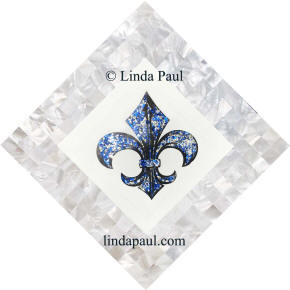 UNFRAMED Sparkle Silver Blue and white fleur de lis glass tile with mother of pearl mosaic tile border.


Each side is 10", measures 14" point to point .1/4" to 3/16" thick
$299.00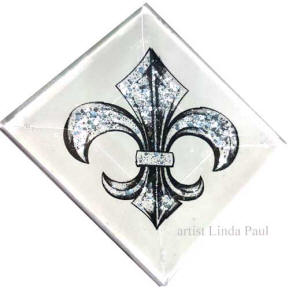 Diamond Silver sparkle and white
2x2 or 4x4 Fleur de lis Glass tile
with silver sparkles and white background
1/4" thick Tile (board on back of glass)
2" x 2" - $49.95, 4"x 4"or 6x6" $199.95


shows a 6" x 6" paua shell fleur de lis tile from the side, click to see larger picture.
all of these hand made tiles have a board on the back of the glass and a layer of clear silicone seal between the glass and the board
Gorgeous Fleur de Lys hand-made glass tile with natural paua shell and mosaic design border .
Horizontal Orientation. Each side of the glass measures 12".
There is 1/8" board attached to the back of the glass to protect the artwork, glass is 1/4" thick
Just direct install between other tiles, The shell and hand-painting is behind the glass, so its super easy to clean



Every tile made is hand-made
tile can be made in a horizontal or diagonal orientation


Note about sizes: When placed on the diagonal the 6x6" measures 8.5" top point to bottom point and side to side
the 4x4" measures 5-5/8" on the diagonal point to point
the 2" x 2" measures 2-7/8" point to point on the diagonal


Check out fleur de lis accent tile inserts or stone tile medallions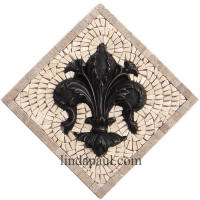 Installation:

6" x 6" , 4x4" and 2x2" glass tiles install Between Other Tiles:
The glass itself is 3/16" thick in the center and 1/8" at the edges (because of the bevel ). We add a 1/8" board to the back so the entire piece is 1/4" thick and can be installed in between your other tiles.


The mother of pearl mosaic pieces are 1/4" to 3/8" thick which includes the board that we add to the back. The tiles install just like our regular ceramic or marble tile using a premixed ceramic tile adhesive such as Omnigrip or Laticrete 254 platinum.

Note: The mother of pearl medallions are for indoor wall use only.




Customer review: by Kathy Rooney, NY,
The art glass arrived today and it is even more beautiful than I expected. We are so happy with the art. It gives interest and focus to the tile backsplash over the stove. The colors of the art are beautiful and the piece creates the illusion of being lit from within. It's been a pleasure to do business with you and I will certainly recommend your company highly.
The tiles look awesome. They are the perfect accent on both sides of the stove. M. Hindman, Blythe GA
More customer reviews