Huge Sale ! 50 % to 75% off

select Original Art Paintings by artist Linda Paul!
Original paintings for sale - art paintings at clearance discount prices by artist Linda Paul. Ships out from our studio in 3 to 5 days Free Shipping in USA. From $49.00 and up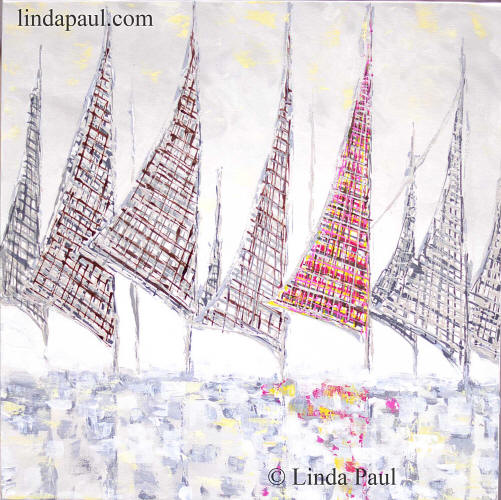 Sailing My Way

Size 20" x 20" x 1.5" deep
Acrylic paint on canvas

$299.00


On sale $199.99

with free shipping in USA

This is a one of a kind original work of art.
Magenta Sunset Set of 3

Set of 3 Original acrylic abstract paintings on canvas


painting sizes:
12" x 24" x 1.5" deep
12" x 12" x 1.5" deep
10" x 10" x 1.5" deep
Price $747.00

On sale for $399.00
for all 3 paintings
free shipping in USA
More info

Each falling leaf was individually sculpted by Linda Paul in 1/8" bas-relief, then gilded in either pure copper or gold, then painted in traditional egg tempera made from crushed stone and egg yolk. The copper and gold of the leaves changes and captures the light fantastically. The painting is framed in a 1-1/2" handcrafted wooden frame which has been hand painted by the artist to perfectly match the artwork  

view of painted sides of artwork
"Enlightenment" painting in grey, black white and blue
Original framed acrylic painting on wood panel


Framed size 10.75" x 10.75" x 1" deep
Frame is black wood frame
$299.00
Sale Price $149.00 with free shipping
Artists Statement"
When asked 'What is your favorite painting', I always say, 'the next one I am going to paint!"
"We recently purchased 3 of your paintings online (2 originals and 1 print) and we are extremely pleased with all of them. The colors are extremely vibrant and add so much character to the rooms in which they hang. The web photos looked great but when the real things arrived, we were overwhelmed by the quality. We're already scouting around the house to see where we can add some additional paintings to bare walls! Diane and Bob Moseley, Arnold, MD "
more customer comments

Why Buy Original art?
Some people may ask, "why buy original art when you can buy a nice print". Several reasons, simply put, the original is just far more beautiful. Its also one of a kind. This beauty does not translate as well in the digital world. Another reason is that the original captures the soul of the artist, what the artist is feeling when they are creating the piece can tangibly be felt in an original artwork. Of course the original is far more valuable and usually increases in value. You should buy original art because you love it! It will enrich your life.