Italian Landscape Paintings - Impressionist Paintings Original Landscapes of Italy
Tuscany in the Mist Italian Landscape Paintings! Beautiful impressionist paintings of Italian and Tuscany landscapes.
$

1790.00
Sold with free shipping in USA
This one of a kind painting arrives ready to hang on your wall, It is painted on a board that is 36 x 18 x 3/4". The 3/4" sides are painted pale yellow ocher color. It does not need a frame, however you can frame it later if you wish
This painting was created entirely with natural earth ochres that I collect directly from the ancient ochre mines in Italy and France. I use a beautiful natural golds and greens that come from Italy. It does not get more Italian than that! read more about Egg Tempera
This quintessential Tuscany landscape is found outside Pienza, Italy. Pienza is the most beautiful little Tuscan town, famous for it pungent cheese. Its one of my favorite places and I hope to return there someday.
Here is how this painting was created
It was August and hot in Colorado, I was wishing that I was somewhere cool and misty. Tuscany in the late fall would be nice!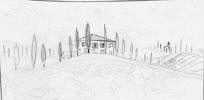 Sketch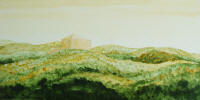 I have started the painting! I am blocking in the color using green and gold natural earth ochres. I decided to make the Italian villa a little smaller that I had in my original sketch. Painting is a process that changes constantly. I have painted the under color of the fields in waves, which will give the finished painting a feeling of movement.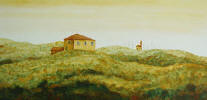 At this stage I am starting to develop the color and add the feature elements such as the Italian Villa and little church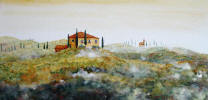 Here I am adding the cypress trees and laying in the mists. Egg tempera is wonderful for creating mist because of its translucent nature. The fact that it dries instantly allows me to layer the mist
go to canvas prints of Tuscany in the Mist

"I just received your canvas print Farmhouse in Tuscany. It looks even nicer in person. It is absolutely beautiful, the colors are vivid and I am very pleased with it. I will tell my friends about your website. You do beautiful work." Thanks again. Michelle.

I received my original painting "Tuscany Landscape Study," it is beautiful. The colors are outstanding. I would love to fill my whole house with your paintings. I hope to be purchasing more paintings in the future. Thank you for your quick and great service. Sincerely, Judy, Aurora, IL

"I found your website while I was searching through Google for Italian Décor and Design. I found that your artwork truly captured the Tuscany region of Italy. In fact, I can't wait to receive my order. It has been my dream to return to Florence and the Tuscany region of Italy. Therefore, I decided to select your piece of artwork named "Tuscany Window" to hang in my kitchen. Sincerely, Cindy Schlecht more customer reviews
You also might like these works of art by artist Linda Paul

Seeing IS believing and we believe you will absolutely love your art purchase from "Linda Paul Studio". 100% money back guarantee if you are not completely enraptured with your purchase."