How To Frame and Install A Ceramic Tile Mural or Medallion Backsplash
This page has Installation Instructions for:

1. permanent tile mural installations
2. installing mosaic tile medallions
3. Installing decorative tile onlays
4. How to frame a ceramic tile mural
5. installing removable ready to hang tile murals and backsplashes
1. Permanent Tile Mural Installation
Your beautiful tile mural by Linda Paul Studio can be installed by a professional tile installer or by you!
Your mural has a legend on the back to guide you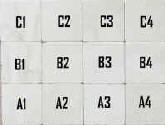 Materials Needed for Installation
- Premixed white mastic or white strong grip tile adhesive (like Omnigrip, buy at Home depot) never use grey thinset or anything other than white premixed adhesive
- Notched Trowel
- small plastic smooth trowel
- 1/16" tile spacers
- Sponge
- Rubber Float
- Premixed unsanded polymeric grout (premixed SimpleGrout brand works great)
- Bucket with water
- rubber gloves
- Wood bar for stabilizing bottom row of tiles. If there is not an existing row of tiles on your wall, nail or screw a small wood bar directly below the bottom row of where your mural will be installed. This will prevent the tiles from slipping down during installation and curing. use a level to make sure line is level
Pre Installation
Lay out your mural on a flat surface and plan your installation . The mural tiles are numbered on the back as in the diagram above. The legend starts at the bottom left corner
Make sure the installation surface is clean and free of wallpaper, grease etc.
Place a bunch of old towels or blankets under your work area in case you drop a tile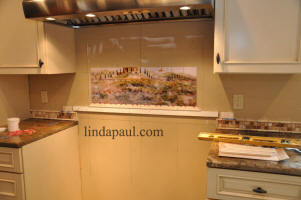 click picture to see larger image


Installation
Always start with the mural in the center of your space and work out, Your surrounding field tile and border is installed last. Tile adhesive /mastic sets fast so start with a small area
Start with the bottom row of tiles or mural border. If there is not an existing row of tiles, backsplash or support on your wall, nail or screw a small straight wood bar directly below the bottom row of where your mural will be installed. Use a level to make sure the wood bar is straight and level. This will prevent the tiles from slipping down during installation and curing.
(If you have an extra day for your project, install the bottom row of tiles first and let them set 24 hours before proceeding)


1. Adhering the tiles to the wall

Starting with the bottom row, spread a layer of premixed white tile adhesive or mastic on the wall then use a 3/16" notched trowel to make valleys in the adhesive. Only do 2 square feet at a time. Do not use any metal or sharp tools on the back of the tile.
Press the tile firmly into place. be sure to check that you have the tile going the right direction before placing it. It is better to turn a tile in place, if you have to, than to try and pull it off the wall once you have placed it.
Immediately wipe off any adhesive that gets onto the front of the mural or oozes out the sides onto the tile board. Wipe any excess off the tiles with a wet sponge.
Use a small flat plastic trowel to wipe excess adhesive from the wall
Place your spacers between the tiles.
Tip: you can also use a spacer to scrape excess adhesive out from in between the tiles
Make sure you clean off any adhesive that gets on to the front of the tiles. Keep a wet sponge close and clean water by.
2. Curing
Once you have glued all the tiles to the wall. Let them cure 24 hours before grouting
3. Grouting
Do not use sanded or scratchy abrasive grout.
After the adhesive sets and the tiles have been cleaned , apply the unsanded, non -abrasive premixed polymeric grout according to the manufacturer's directions

Start with a small section (12 tiles or so)
Remove all tile spacers
Apply the grout with a tile float, gliding over the tiles at a 45 degree angle . Remove excess grout using the edge of the float then wipe the grouted tile clean with a wet sponge at a 45 degree angle being careful to keep from indenting the grout lines
Clean the tiles with a wet sponge until they look clean! (Not hazy) Be sure to change out to clean water often. After the tiles have set (next day) clean tiles with original Windex soft cloth.

Cleaning
Clean your mural with dish detergent and water or a glass cleaner like Windex .
Adjusting for a difference in thickness between tiles
If your surrounding field tiles or granite are a lot thicker and you want to mural to be at the same depth, you can simply screw a 1/8" or 1/4" mdf or tileboard to your wall and mount the mural tiles on that.
If you are putting a border around the mural, most borders are much higher than tile and will therefore make a automatic transition between differing tile depths. When you lay out you tiles first on a flat surface, you can plan for this
Border Tiles
Tile wall murals looks best with a border around them. The border also creates a transition zone between different materials. You can either match you border to the field tile you are using for the rest of your backsplash, or use one of our metal finish borders that matches you other metal colors in your kitchen , such as cabinet hardware or appliances
2. Mosaic Tile and Metal Medallions: Product Info and Installation
Tile medallions can be used indoor or outdoors. They are amazing quality and created by hand by mosaic artisans.
It is recommended that you use a professional tile installer who has installed mosaics.
Our mosaic tile medallions and liners come mounted on a mesh. Install medallions using a high-grade thin-set mortar such as Custom EBMLite™ Epoxy Bonding Mortar. If not using mortar, construction adhesive such as SikaBond® may be used.
The marble or travertine stones of the medallion are hand cut to fit around the metal accents. The stones and the metal accents of the medallion are all mounted on a mesh backed sheet and arrive as one piece that you glue to the wall and grout. Medallions and any mesh backed mosaics must be grouted. They depend on the application of grout for their strength and resistance to the elements. You can use sanded or unsanded grout. (Do not use acrylic or stainproof grouts)
Mask off tile to eliminate grout on all relief pieces and avoid scratching the finish. Using a small brush and water only, remove excess grout from tile before it dries. Towel dry to avoid water spots. All grout must be removed from the surface before it dries to eliminate damaging the finish. Start with a small area and get it perfect before moving on to another area. Make sure all grout is cleaned off of the area you are working on before moving on. Non-abrasive GOJO® hand cleaner may be applied lightly before grouting as a grout release and to remove grout haze on all surfaces after grout dries. Make sure you wipe off all excess grout and do not allow grout to dry on mosaic surface or the metal accents.
You can use a soft toothbrush to remove wet grout from the crevices of metal pieces
Grouting Tip from Linda Paul : You can use a cake icing bag or a disposable squeeze bottle to create a thin filling of grout between the stones. Smooth out the grout with your finger or small piece of wet sponge. Make sure you wipe off all excess grout and do not allow grout to dry on mosaic surface or metal accents. It is recommended to start with a small area and get it perfect before moving on. Do not spread grout over the medallion with a float.
Set backs from Heat: All High relief metal coated tile accents installed above a cook top, outdoor kitchen or fireplace must be set 5 to 6 inches above and 3 to 4 inches back from heat source and have a minimum 2 inch set back from the profile (face of the tile).Failure to do so may result in damage and will void the warranty.
Mosaics should be kept flat in an enclosed box in a cool dry place until installation begins. Never expose mesh-backed mosaics to moisture or temperatures above 95 degrees. To move or transport a mosaic, leave plastic sheet on back and carefully place on a piece of plywood or other solid surface. Always remove plastic sheet before installation.
Mosaic medallions up to 48" are usually shipped as one piece. Larger medallions may be shipped in multiple pieces. Mosaic decos, connectors and liners should only be picked up one piece at a time. Pick mosaics up with two hands at top or sides placing hands near corners or at corners of one side of the piece. In some cases, this operation may require two or more people. Lift mosaic straight up and place the opposite end of the mosaic in the mortar first. Always take care to align piece in exact location so as not to require adjustment later. Then proceed with mosaic stone installation techniques.
You will receive installation and care instructions with the products that you purchase
A sealer is recommended for the stones after installation. A sealer/enhancer really brings out the color of the stones
3. Installation of Decorative Metal Accents and Glass Tile Onlays

Decorative onlays may be mounted over an existing substrate. Adhere to stone, glass and ceramic using a quickset 2-part epoxy and seal around edges with a clear bead of silicone. Pieces may also be adhered to metal or wood and can be used for exterior application or around a heat source (see warning) using the appropriate adhesive or wood bond such as SikaBond® Construction Adhesive.

Warning: Onlays installed above a cook top, outdoor kitchen or fireplace must be set 5 to 6 inches above and 3 to 4 inches back from heat source> keep a minimum 2 inch set back the edges of hot pots and pans. Failure to do so may result in damage and will void the warranty. Note : If using an adhesive allow to off-gas (5-7 days) first, then run a clear bead of silicone around outside edges to keep moisture out. Failure to do so may cause piece to delaminate from substrate.
Materials needed for installing decorative onlays on top of tile using epoxy glue:
Rubber Gloves
wooden coffee stir sticks
2 part 5 minute quick set epoxy such as Loctite
disposable container for mixing the epoxy glue
clear silicone sealant
Important: Try a test first to see how the glue that you purchased adheres to your particular surface
1. Plan out exactly where the onlay will be applied to the tile or other surface
2. Make sure both surfaces are clean and dry.
3. Wear rubber gloves and squeeze out the 2 part gel epoxy into a disposable container. Make sure to mix the 2 part together very well. I like to use wooden coffee stir sticks for this.
4. When possible apply the mixed epoxy to both surfaces. For some of the intricate decorative onlays , this may not be possible. Apply a generous amount to the back of the onlay (but not so much that it oozes out the sides) and press it against the surface you are glueing to. Hold each piece for at least 10 minutes without moving it. Even though it says 5 minute epoxy, it takes 10 minutes to hold and a full 24 hours to set. Remove any excess glue that squeezes out the side with a coffee stir stick. (check what color your epoxy will dry to to make sure it is a good match for your application surface.
Tip: use one bead of Simplemat at the top of the accent to prevent it from slipping while is sets
After 5 to 7 days, runs a bead of silicone around the outside edges to keep out moisture.
Tip: its much easier to glue an tile accent piece on a horizontal surface, than a vertical one. so if you are glueing the accents onto a sheet of mosaic to, try to do this on a flat table top, then adhere the whole piece to the wall.

4. How to frame a Ceramic Tile Mural

Ceramic tile murals looks best when framed with a border material. A border creates a transition zone between the mural and the rest of your tile. You can frame it with either a stone or ceramic border that matches the rest of the tiles you are using, or you can buy some of our metal tile borders. Here are some examples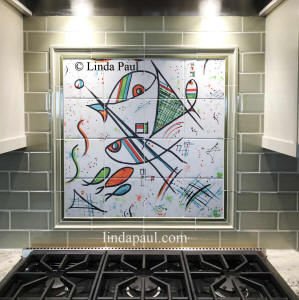 Example of how to frame a ceramic tile mural. Border is matched to tile in the rest of the backsplash for a fabulous effect around Fishing with Picasso tile mural
5. Installing removable ready to hang tile murals and backsplashes
Here is a super easy backsplash idea. You can install our tile murals as a removable backsplash.
This is easy to do and you don't have to use grout! You can take your beautiful mural with you when you move.
The murals below were installed as a removable backsplashes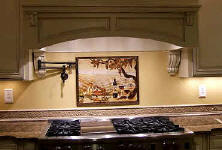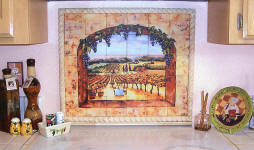 Materials Needed:
- A 3/8" mdf board cut to the size of your mural and border
- 10 minute , 2 part epoxy
- 4 butterfly wall anchors
- drill
1. Plan your space:
Once you have all of your tiles, lay them out and measure the exact width and height. Using framing tile is recommended as it hides the installation wall anchors so the mural can be removed at a later date. You will need to countersink the screws into the board unless you buy the framing tiles that have a hollow underside, these will hide the screws that hold the mural to the wall.

2. Cut your Board
Cut a 3/8" mdf board (available at Home Depot or Lowe's) to the exact size of the mural and surrounding framing tile. Make sure your board is flat. Once the board is cut, hold it up on the wall where you want you mural to be and draw a line around it on the wall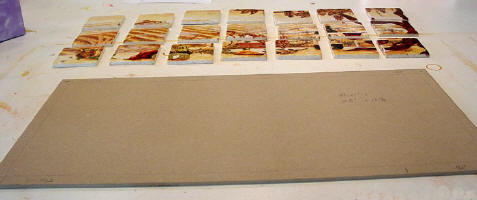 3. Line up the tiles
On a flat surface, place the mural tiles and framing tiles on the board and line everything up. Remove the framing tiles and draw a line around just the mural. Then mark where the edge of each framing tile is on the board.
Drill a hole in each of the four corners large enough to accommodate the butterfly wall anchors (3/8" to 1/2")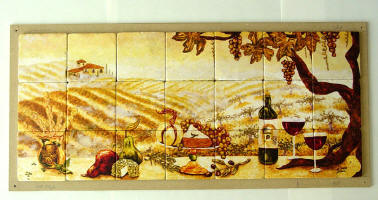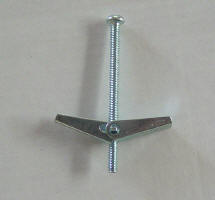 mural laid out on board butterfly anchor

4. Gluing the tiles onto the board
Using 5 or 10 minute epoxy, glue the mural tiles onto the board and let dry.
Next, you will glue on the framing tiles leaving off the four corner framing tiles (an is the step 5 picture) so that you can attach the board to the wall. Let dry overnight.

5. Attaching the board to the wall
You will need two people for this step. Holding the board up the the wall , mark the drill hole locations for the 4 anchors on the wall. Drill four holes and make sure they are large enough to accommodate the anchors. Holding the board in place screw the board to the wall using the butterfly anchors. Note: these murals are heavy, do use any other kind of anchor unless you are placing screws directly into a wall stud.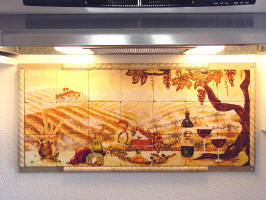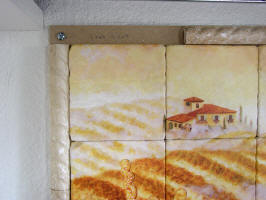 mural mounted on wall corner before last tile is glued on
6. Glue the four corner tiles
Finally, you will glue on the four corner framing tiles. Use a very small amount of the glue so that these tiles can be popped off at a later date and the mural relocated. Its a good idea to buy extra framing tiles in case you break one.
see pictures of Installed Kitchen backsplashes and ceramic tile murals