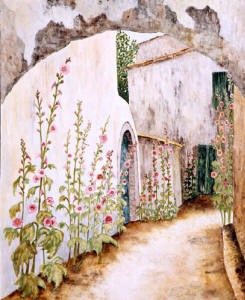 Hollyhock Lane

egg tempera framed painting
25" x 29" $1450.00 SSale price $725.00
This gallery page features colorful abstract paintings and contemporary artwork of oceans, sky, landscapes, fish, vineyards, Tuscany. Original art for sale. Free shipping in USA.

Artists Statement"
When asked 'What is your favorite painting', I always say, 'the next one I am going to paint!"
Customer review: Customer Review by Phyllis Plekavic "I just wanted to thank you for your lovely paintings. They arrived yesterday and I just opened them this morning. They are even more beautiful than I imagined. Also, the packaging was superb. They are exactly what I wanted. "
Why Buy Original art? Some people may ask, "why buy original art when you can buy a nice print". Several reasons, simply put, the original is just far more beautiful. Its also one of a kind. This beauty does not translate as well in the digital world. Another reason is that the original captures the soul of the artist, what the artist is feeling when they are creating the piece can tangibly be felt in an original artwork.
Seeing IS believing and we believe you will absolutely love your art purchase from "Linda Paul Studio". 100% money back guarantee if you are not completely enraptured with original art purchase."