4 Original Abstract Sailboat Paintings for sale - Original Art on Canvas by American artist Linda Paul

These colorful abstract sailboat paintings are perfect for beach house or coastal decor. Sailboats in colors of blue, green orange, yellow, red purple. Sizes 20" x 20 and 24" x 30" and 20" x 24". You can decorate an entire room around these colors
Colorful Sailboats

Size 24" x 20" x 1.5" deep
Acrylic paint on canvas
$399.00 with free shipping in USA

sale price $299.00
Sailing My Way

Size 20" x 20" x 1.5" deep
Acrylic paint on canvas

$299.00 with free shipping in USA
Sailboat Regatta

Size 30" x 24" x 1.5" deep
Acrylic paint on canvas
$499.00 with free shipping in USA

Sale price $399.00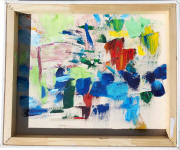 Artist's Inspiration: When its cold in Colorado , I love the idea of sailing away to some tropical paradise. Sometimes the sailing is just in my mind.
Sail away with Me
Size 20" x 20" x 1.5" deep
Original Acrylic painting on canvas
$199.00


More Ocean inspired original art paintings for coastal or tropical wall decor from artist Linda Paul


Seeing IS believing and we believe you will absolutely love your art purchase from "Linda Paul Studio". 100% money back guarantee if you are not completely enraptured with your purchase."