Custom Nautical Chart Maps on Tile for Coastal Kitchen backsplash by artist Linda Paul
Have a NOAA nautical map of your coastal area created as a tile mural backsplash for your kitchen. We can also create historical maps on tile
Questions call 303-818-2663 or email us free shipping in USA



Create a fabulous centerpiece over your coastal kitchen stove with a custom nautical chart map.



Customer review: Just had to say that the nautical chart backsplash is fantastic!!!! Everyone loves it. A huge focal point! Fabulous!!! Amy Webb, Beach Haven , NJ

A clean coastal look with a NOAA chart map as a centerpiece focal point over the stove, white subway tile and a white ceramic rope border around the mural. You gotta love the round window too. So nautical.



Linda Paul made these tile murals from NOAA chart nautical maps of New Jersey. Its perfect for coastal kitchen decor.
24" x 18" $499.00, 30" x 18" $599.00, 30 x 24" $649.00 . We can make any size.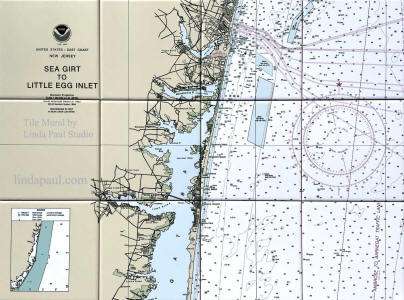 NOAA tile mural maps of Toms River area, New Jersey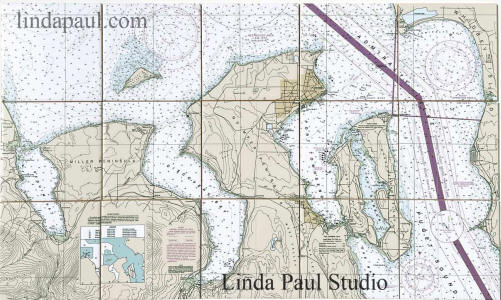 Linda Paul made this custom NOAA navigational chart of the Puget
Sound area. Size is 30" x 18".
You can read every little depth number on the map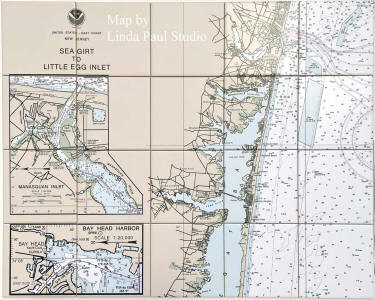 This one ocean chart map centers on Manasquan, NJ. Linda added the two inserts. Size is 30" x 24".

customer review: The BEAUTIFUL mural arrived safe and sound in perfect condition. We are both sooooo thrilled with it....It's so unique and beautiful. It will be the center focus of our kitchen!!!! Thank you so very much for the mural, we couldn't be happier. Dale, Island HeightsNJ
We created this nautical chart map of Boston Harbor into a tile mural backsplash for this customer's kitchen.
Its subdued ocean colors of pale blue, sage green and beige are perfect for coastal decor backsplashes

Customer says "It looks amazing! We love it" Patty Mullally, Quincy, MA

Just contact Linda and she will help you find a nautical map of your area. Historical maps make beautiful tile murals too.
To have a custom nautical map mural made for you, just send Linda an email with your address or location of coastal area that you would like made into a tile mural. I will locate the right chart and you can let me know what specific area of the map you would like along with requested edits.
Custom murals can not be returned.
Pricing:
Here are some examples of pricing for custom tile murals from you own artwork or photo. We can use 6x6" ceramic tiles and can make pretty much any size; 24" x 12" $399.00 or 24" x 18" $499.00, 30 x 18" $599.00, 30" x 24" $649.00, 36"' x 24" $799.00, 48" x 24" 1042.00.

Don't know What Size to Order? If you are not sure which size of backsplash mural to order, just email us a straight on picture or design drawing of the space you have for your backsplash and we can tell you which is the best size for your space. Be sure to include all dimensions. We can design the perfect backsplash mural just for you! Artist Linda Paul is an expert in designing her images to fit your space perfectly!
Questions call 303-818-2663 or email us