Seahorse Tile Accent and Tile Murals for Kitchen and Bathroom Backsplash by American artist Linda Paul

Seahorse Tile Accent and Tile Murals for Kitchen and Bathroom Backsplash by American artist Linda Paul
Seahorse tile art in lots of sizes with matching accent tiles in sizes 2" x 2", 4" x 4" , 6" x 6", 12 x 12 and tile murals 18" x 18", 24" x 24" horizontal or diagonal orientation
$24.95 for 2" x 2", $
39.95
for 6" x6" for accent tiles and
$499.00 for tile mural
Customer review:
by

Mike and Stephanie Skinner
We could not be happier with your (seahorse) art piece we purchased. It took us a bit to finish the kitchen but we are now complete. My wife has the whole house ocean themed.
Artist's inspiration: When I was on Roatan Island and I actually saw a seahorse in the sea grass right off the dock! I was amazed. I never thought I would get to see one.

Seahorse in Blue Shell Design - Diagonal or Horizontal Ceramic Tile by artist Linda Paul


3 sizes: 11-5/8" x 11-5/8" $129.00, 6" x 6" $39.95 and 4.25" x 4.25"

$39.95
Tile is 1/4" thick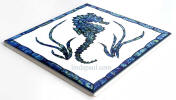 we have one 6" x 6" diagonal sea horse in stock and 6 on the sale page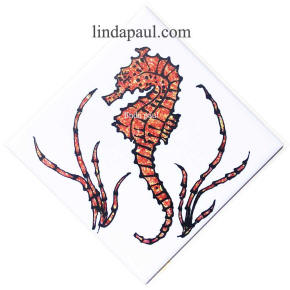 Diagonal tiles measure longer point to point.
2" tile measures 2-5/8" point to point
4.25" tile measures 6" point to point
6" tile measures 8.5" point to point
11.625" tile measures 16.5" point to point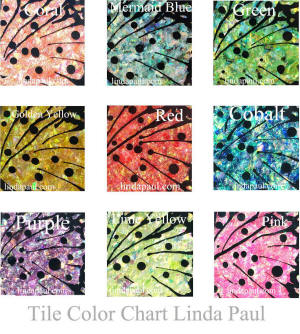 Seahorse Tile Mural by artist Linda Paul on 6" x 6" ceramic tile
sizes: with 18" sides the mural measures 25.5" point to point. With 24" sides, mural measures 34" point to point.
Please contact us if you need a different size
Our beautiful murals and accent tiles are made on 1/4" thick ceramic tile

Please contact us for custom sizes or to order your mural on 4.25" x 4.25" tile
more details about tile types, sizes etc



Murals and accent tiles have a satin finish

Our murals ship in approx. 2 weeks,
free shipping in USA and to Canada
see our in stock murals
contact
our tile design experts or call 1-800-936-9958 to order or inquire
toll free from USA, Canada, the Caribbean, Alaska or Hawaii
you also might like these art and tile products from Linda Paul Studio