Seahorse Tile Accent and Tile Murals for Kitchen and Bathroom Backsplash by American artist Linda Paul

Seahorse tile art in lots of sizes with matching accent tiles in sizes 2" x 2", 4" x 4" , 6" x 6", 12 x 12 and tile murals 18" x 18", 24" x 24" horizontal or diagonal orientation
$

24.95 to 50.00 for accent tiles and

$499.00 for tile mural

Artist's inspiration: When I was on Roatan Island and I actually saw a seahorse in the sea grass right off the dock! I was amazed. I never thought I would get to see one.

Our beautiful murals and accent tiles are made on 1/4" thick ceramic tile

Please contact us for custom sizes or to order your mural on 4.25" x 4.25" tile
more details about tile types, sizes etc



Murals and accent tiles have a satin finish
Seahorse Diagonal or Horizontal Ceramic Tile by artist Linda Paul
3 sizes: 12" x 12", 6" x 6" and 4.25" x 4.25"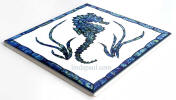 we have one 6" x 6" diagonal sea horse in stock and 6 on the sale page
Seahorse Tile Mural by artist Linda Paul on 6" x 6" ceramic tile
sizes: with 18" sides the mural measures 25.5" point to point. With 24" sides, mural measures 34" point to point.
Please contact us if you need a different size

Our murals ship in approx. 2 weeks,
free shipping in USA and to Canada
see our in stock murals
contact
our tile design experts or call 1-800-936-9958 to order or inquire
toll free from USA, Canada, the Caribbean, Alaska or Hawaii
you also might like these art and tile products from Linda Paul Studio