Fish Tiles - Black and White artistic kitchen tile murals of fish and sea life
Original images are from are Dwight Hwang, put onto ceramic tile by artist Linda Paul. Fish Tiles include tuna, salmon, trout, octopus, bass, seahorse, koi etc
These beautiful fish and sea life tile murals are perfect for a nautical inspired or coastal kitchen Sizes and prices: 24 x 12 $599.00 24 x 18 $599.00 30 x 18 $699.00 30 x 24" $749.00 36" x 24" $899.00
contact Linda
with the size of your space and the image you are interested in.
Let Linda know if there is another Dwight Hwang image that you would like.
Lead time about 2 weeks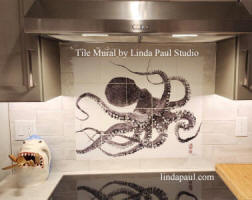 Here are some of the sea life and fish tiles murals that we can make from the the art of Dwight Hwang.


Brown Trout and Fly Rod tile mural - can be made full length or shortened from the right side
About Artist Dwight Hwang and traditional Gyotaku painting: Dwight Hwang creates classical Japanese gyotaku art and European nature printing The original method of Gyotaku during its origin was deceptively simple in both its technique and the materials used. A brush to swab calligraphy ink made of pine soot and water, called Sumi, directly onto the surface of the fish, and then a sheet of Japanese paper made from mulberry bark, called Washi (Kozo), pressed onto the inked surface to produce a print.
Artist Linda Paul takes Dwight Hwang's beautiful images of fish and nature and puts them onto ceramic tiles for kitchen and bathroom tile murals
Installations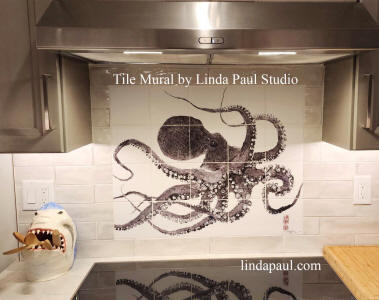 customer review "I wanted to thank you for the wonderful job you did making and getting us our tiles for our kitchen. We love them so much." Jonathan and Kellie, Westwood NJ
you also might like these fish art tiles from Linda Paul Studio