Everything Tuscany Tile Kitchen Backsplash Mural by artist Linda Paul
Beautiful Tuscan backsplash mural of artist Linda Paul's favorite Tuscany things: a fat Italian chef statue, wine barrels, cheese and sausages, Chianti wine bottles, a rooster and Italian ceramics under an arched tunnel overlooking a Tuscan landscape of rolling hills, farmhouse and cypress trees. Made in my Colorado art studio

Artists inspiration:
I wanted to create a painting that had all my favorite Tuscan things in it. This place does not actually exist, but rather is a collection of all my favorite Italian things: The little fat Italian chef statue I saw in Cortona, Italy, The basket of Chianti wine bottles is from San Gimignano, the ceramic vases I actually purchased in Montepulciano and had shipped home to Colorado. The Tuscan landscape is from a drive to Monteciano, and of course the cheese and sausages are all over Montepulciano where we stayed for a week in a tenth century seminary. The arched tunnels are typical of Tuscan villages and make fabulous sheltered restaurants and shopping areas for Italian goodies! Artist Linda Paul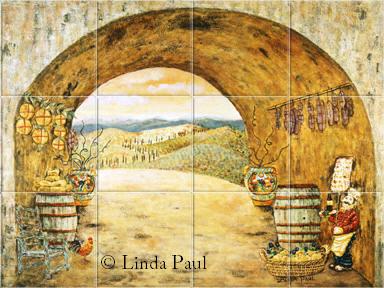 Everything Tuscany by American Artist Linda Paul
Price
499.00
and up
Our beautiful murals and accent tiles are made on 1/4" thick ceramic tile

Please contact us for custom sizes or to order your mural on 4.25" x 4.25" tile
more details about tile types, sizes etc



Murals and accent tiles have a satin finish
Pricing and Online Shopping
6" x 6" ceramic tile mural backsplash


Accent Tiles 4.25" x 4.25" and 6" x 6" ceramic $50.00 each (1/4" thick)

Dimensions are given as length first, then height.

Don't know What Size to Order?
If you are not sure which size of backsplash mural to order, just email us a straight on picture or design drawing of the space you have for your backsplash and we can tell you which is the best size for your space. Be sure to include all dimensions. We can design the perfect backsplash mural just for you! Artist Linda Paul is an expert in designing her images to fit your space perfectly!
contact our tile design experts or call 1-800-936-9958 to order or inquire
toll free from USA, Canada, the Caribbean, Alaska or Hawaii

Our murals ship in approx. 2 weeks, free shipping in USA and to Canada see our in stock murals
you can expedite your order
to ship in 1 week for an additional charge of $100.00
just click add to cart
Installation Pictures
A little Tuscany in Florida

This is our 24 x 18 on 6x6" tile
customer comment: We finally finished our kitchen and have the mural up. Thank you so much for this beautiful art. We are so pleased and proud to have a part of you in our beautiful Caribbean home. Hope the pictures do a justice. Ellie Miami , FL
Featured backsplash Installation Picture of Everything Tuscany Tile Mural
Love this kitchen makeover with our Everything Tuscany mural backsplash. See how the tile "steps down" from the hood. The open feeling of the range area is terrific



Size of mural in photo is 30" x 24"
Everything Tuscany Tile Mural

"H
ere is a picture of my completed kitchen with your beautiful mural center stage. Thank you for your talent and creating this beautiful work of art. It really is a great addition to a wonderful kitchen. Best regards, "Wendy Holt

Size in photo is 42" x 30"


G
orgeous custom kitchen with our Everything Tuscany tile mural. Love the stacked stone backsplash
you also might like these art and tile products from Linda Paul Studio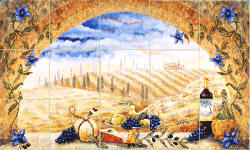 Tuscany Arch
Wine country kitchen backsplash, mural with grapes, cheese & flowers under an arched window. Lots of sizes and versions. We can personalize the wine bottle with your name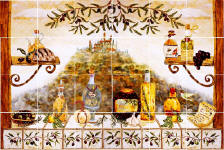 Italian Kitchen Window
Backsplash tile mural for behind a stove or sink area with olives, grapes, olive oil and cheese