Roses and Vineyard Tile Art Backsplash Mural by artist Linda Paul
Tile art mural backsplash from artist Linda Paul. Arched window vineyard view and a wall of roses. It is available in almost any size in horizontal and vertical versions. Made with love in my Colorado art studio

Roses n Vines by American Artist Linda Paul

Price

499.00

and up



6" x 6"

x 1/4" ceramic

tiles








Our beautiful murals and accent tiles are made on 1/4" thick ceramic tile


Please contact us for custom sizes or to order your mural or accents on 4.25" x 4.25" tile

more details about tile types, sizes etc



Murals and accent tiles have a satin finish
6" x 6"

x 1/4" ceramic

tiles
6" x 6"

x 1/4" ceramic

tiles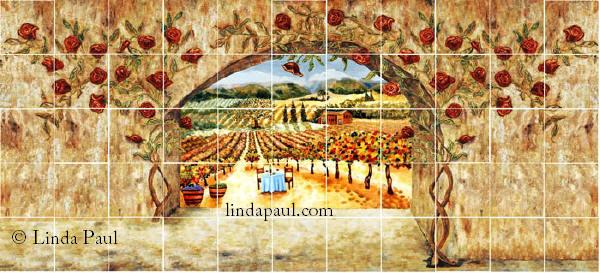 6" x 6"

x 1/4" ceramic

tiles
Accent Tiles: 4.25" x 4.25" and 6" x 6"

(x 1/4" thick) ceramic

tile $50.00 each
Lead time for accents is about a week, items marked in stock ship right away


WR-2 glass of wine and roses


Roses continuous border.
You can order this in any length you need
4.25" x 4.25" or 6x6" ceramic tiles. $50.00 per tile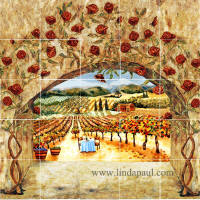 A square version is available in any square size using 4.25" or 6" tile


Artist's Inspiration: There is something magical and romantic about a vineyard. I love to visit and wine taste in Napa and Sonoma Valley. In a lot of the vineyards. there are roses planted at the ends of the rows. utumn in the vineyard is especially nice, when the grape leaves turn color.
Dimensions are given as length first, then height.
Don't know What Size to Order?
If you are not sure which size of backsplash mural to order, just email us a straight on picture or design drawing of the space you have for your backsplash and we can tell you which is the best size for your space. Be sure to include all dimensions. We can design the perfect backsplash mural just for you! Artist Linda Paul is an expert in designing her images to fit your space perfectly!
contact our tile design experts or call 1-800-936-9958 to order or inquire
toll free from USA, Canada, the Caribbean, Alaska or Hawaii

Our murals ship in approx. 2 weeks, free shipping in USA and to Canada see our in stock murals
you can expedite your order
to ship in 1 week for an additional charge of $100.00
just click add to cart
Installation Pictures

Kitchen backsplash installation of our 24" x 16" Wine and Roses on 6x6" ceramic tile

Customer review for this installation: I am so happy with the second mural I ordered from you for my kitchen in my new home here in Virginia. It is just as lovely as the one I ordered from you ten years ago for the new home we had built in New Hampshire. Your beautiful murals make cooking a joy and bring back pleasant memories for me of my many trips to Italy. Thank you again, Chris Winters Williamsburg Va.
A Gorgeous Wine Cellar with Roses n Vines Tile Mural by artist Linda Paul
This beautiful wine cellar was built by Jay Rosen of Washington Valley Cellars. I am honored to have it feature my Roses and Vines tile mural. Love the wine label dachshund too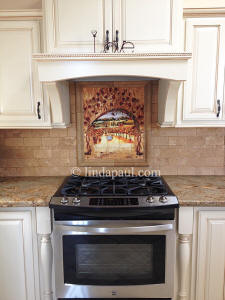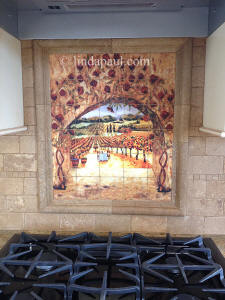 Pictures show our vertical version of Roses and Vines. This mural is grouted with a beige grout which blends nicely with the mural and surrounding noce subway tile
"Hi Linda, I just had my back splash mural installed last week and I just have to tell you how much I LOVE, LOVE, LOVE it! It was just what I needed for the space in front of my sink. Now when I'm doing dishes I feel as if I'm on vacation! Everyone who has seen it loves it too even my installer was equally complimentary of it, he had never seen anything like it before. Thanks again for your lovely, lovely work," Sharon Blackmore
, Troy, Ohio

more customer reviews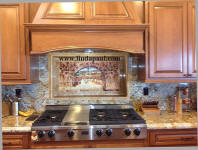 36" x 18"
version of our Roses and Vines mural. The granite backsplash and stone border is a nice design idea.
Custom: We can create our Roses and Vines (below) or Wine and Roses with under cabinet side wings and top extension to ceiling


Before
shows top extension to ceiling, behind hood
you also might like these art and tile products from Linda Paul Studio