> page 2
> page 3
customer review: "We love the way the Linda Paul Fleur de Lis backsplash goes with our French LaCornue blue stove." John and Linda Burleson, Tuscaloosa, AL

French Blue fleur de Lis tile mural
Italian Classic Kitchen

Our Tuscany Arch tile mural backsplash installed above the stove

Customer review: I wanted to share my lindapaul tile mural installed in my newly renovated kitchen. We are so happy with how it looks!
Karen Shafer Henrico, VA December 2022
Coastal Kitchen and Seahorse hand made glass and seashell Tile

Customer review: Your beautiful Sea Horse piece that you made for us just glows and is the centerpiece of our kitchen! You're very talented and we appreciate that you made this very special tile for us. Robert and Susie Albright
customer review: We absolutely love it! It turned out perfect with our Tuscan design and we could not be more pleased! Thank you for your help with our selection and purchase … it was a pleasure working with you! Rhonda and Harold Kelley, Cedar Grove, IN April 2022

Roses and Vines Tile Mural
Customer says, "We LOVE the Picasso mural! Photos cannot do it justice. It is like seeing a Picasso in an art exhibit versus seeing it in a book. Everyone who has come by has the same reaction. Simply stunning! Thank you! Janice" March 2022

Fishing with Picasso tile mural
"The mural is absolutely beautiful! We are so glad that we found your studio. Thank you again, Judy Kleinschmidt, North Richland Hills, TX

24 x 18 French Blue fleur de Lis tile mural
The Mural came out absolutely BEAUTIFUL!!! It's the center of our kitchen and is also a major conversation piece. My wife and I could not be happier. The tile guy and the plumber were quite enamoured with it as well. THANK YOU sooooooooo very, very, much. We certainly will enjoy the mural every day we cook or bake...It's just wonderful... Dale Doria Island Heights New Jersey Feb 2022
NOAA chart tile backsplash
customer says" The tiles are Beautiful! Phil Mauro, Oceanside, NY

Seahorse and Mermaid tiles by Linda Paul.
Customer review, I love these in my kitchen, and they are exactly what I wanted. I couldn't be happier!! Thank you!!! Sheila Fenderson Nov 2021


French blue and White fleur de lis tiles
"We are so happy with the way our backsplash turned out! This is a beautiful piece for our kitchen!! Heather Jones, Carmel IN August 2021

Features

fleur de lis mini medallion
Customer review:
Just had to say that the nautical chart backsplash is fantastic!!!! Everyone loves it. A huge focal point! Fabulous!!!
Amy Webb, Beach Haven , NJ

A clean coastal look with a NOAA chart map as a centerpiece focal point over the stove.
Artist Linda Paul made this customers special photo of an Italian sunset into a
custom tile mural for her backsplash
Customers says: "
The difference between ordering a photo tile from Linda Paul studio is that you are working with a true artist not someone who is commercially mass producing tiles cheaply. As a professional painter Linda makes sure that your photo will reproduce well and takes care to ensure a quality product. It was a pleasure talking with her and I was very impressed with the color saturation she chose for my photo which was a Tuscan sunset. Each tile was of excellent quality and the photo was beautifully replicated. I highly recommend using Linda Paul studio to be guaranteed you will be pleased with your photo tiles
. Linda Muller, Rockville Center , NY
Jan 13, 2021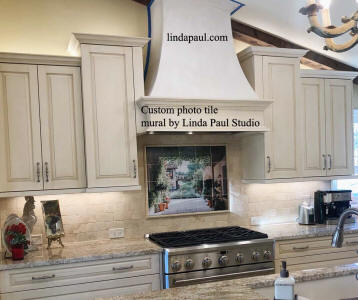 Artist Linda Paul created this customer's favorite memory and photograph of Italy into a tile mural for her backsplash
more info on custom tiles
Customers says: "
Every time my husband and I look at this beautiful mural the memories flow back to our wonderful trip to Italy. We love it! Everyone who sees it is blown away by its artistry and immediately want to know how we came by this work of art! I hope my pictures will do justice to this beautiful mural you created for us. Thank you so much
, Gregg and Debbie Bergstrom, Littleton, CO Dec 2020
customer review, "
You've been such a wonderful person to work with—not to mention patient while I went through all my "iterations"! I smile a little every time I look at my backsplash mural. I believe that that is what art is supposed to do—create joy, and your creation definitely does that for me! And the mural is impressing all of my friends, too! I know where to send folks who need beautiful creations made by a good person
! Nanacy Halliwell, FL Oct 2020


Custom Tropical Paradise tile mural 102" x 18"
Thank you so much! We finally completed our project and it looks beautiful!! The grape medallion is perfect and compliments our adjacent wine room in our Tuscan home. I have admired your pieces for many years and am so grateful to finally have one. You are so talented!"
Michele Mulcahy, Chandler, AZ July 2020

go to grape mosaic medallions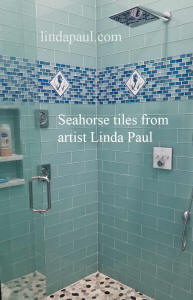 customer comment"
The seahorses worked so well with our shower design
", Sharon Grosse , Stuart, FL June 2020
Our customer installed Linda's
seahorse ceramic tiles
in her shower. They are perfect in this Florida beach house bathroom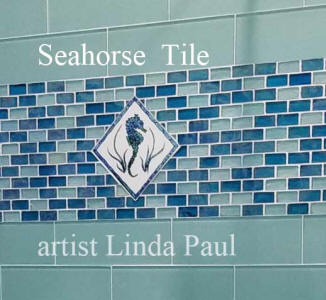 Charming French Country Farmhouse Kitchen with Sunflowers backsplash mural by artist Linda Paul


customer review: "Everyone is amazed at the beauty of your work and the magnificent difference it made to my kitchen. Thank you so very much. I will be referring all of my Family and friends to your site." Vivian Grooms Mills River, North Carolina March 2020
Are you a Picasso in the Kitchen? Maybe not, but this mural will certainly cheer up your space with a nod to cubism and fishies!

Customer who installed this said, "Our Mural is finally in place and looks beautiful!! Like a piece of artwork. Wanted to share with you how beautiful it turned out and say thank you!! Everyone has commented on how incredible it is and that they have never seen anything like it!! Irene Zink, San Diego , CA
Fishing with Picasso tile mural and accents
Customer review, Your beautiful tiles are so lovely framed with glass tile offset frame. I didn't want the faucet to obstruct your artwork, so we invented a new phrase: "side splash"! I think the clear glass pencil tiles really set the flowers and Hummers nicely! Thank you again for sharing your amazing talent with us! Allison Snow, Clayton CA March 2020
Customer review: My wonderful kitchen! I couldn't be more pleased with the medallions from your studio. I absolutely LOVE them and it really was the finishing piece to my new kitchen. Tracy Golden, Macon GA

fleur de lis mini medallion and tiles
We created this photo tile mural from a customers sunset picture for her cottage in the Adirondacks. We can make your favorite photo or your own artwork into a beautiful backsplash.

Here is what this customer has to say,"
Linda, I could not be more pleased with your work! You have a good eye and were very helpful with recommendations. You were quick and made color changes as requested and made sure I was happy with the final product. You shipped it fast AND packed it in a way that all arrived without any damage. Everyone who sees this backsplash is so impressed! Thanks again Linda, it makes it so nice to have a lovely sunset to look at anytime I am cooking vs a plain wall. Blessings on you and your work!"
Cathy Williams, NY
Dear Linda, I can't begin to tell you how much we love your artistry. we purchased the Italian window looking tiles. Also, Besides having something pretty to look at, When we cook we actually get the feeling that we are in Italy looking out a window! I could keep going on but I don't wanna write a book about it. Everyone who stops by also Have Many Compliments. It has become the center piece of the remodel. Now thank you again for your creativity. James and Mandy Cunningham, North Hollywood, CA September 2019
go to Italian Kitchen Window tile mural
This customer bought 3 of our mini medallions for her Mediterranean style Florida home

Review:
Thank you so much Linda for helping me realize my dream home! I am so happy to have stumbled upon your website. You had just what I imagined for the creation of the backsplashes of my cook top, coffee bar and wine bar! I love showing it all off. Thank you for your talent! Toni, Crystal River, FL August 2019

More info and buy online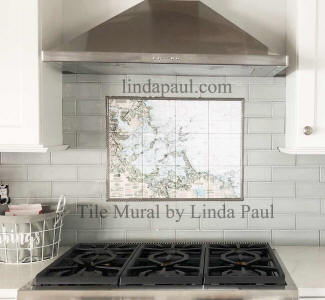 Customer says "It looks amazing! We love it" Patty Mullally, Quincy, MA august 2019

Let Linda make a custom nautical chart tile mural for you,
more info on custom murals

Customer Review:
Here are some photos of our Bermuda Moongate tile mural, that you created for us, installed in our kitchen. I absolutely LOVE the way it looks. It came out gorgeous :) I can not even begin to tell you how many complements I have gotten. I am so happy that I found you on the web.
Jen April 2019


Have your art or photo made into a tile mural
"The tiles look awesome. They are the perfect accent on both sides of the stove." M. Hindman, Blythe GA January 2019

Hand-made glass tiles with iridescent natural paua shell.
Fleur de lis Paua shell and glass tile
(HERE IS) before and after picture of our new focal point in the kitchen. I posted these online and got a huge response! I also posted a link so others could browse your website. I have even had two tell me this has inspired them to do work on their own kitchen! We really love it. Thanks so much, and have a blessed day! Sarah E. Prestridge
January 2019
Fleur de lis mini medallion
Customer review for this installation of Roses and Vines:
I am so happy with the second mural I ordered from you for my kitchen in my new home here in Virginia. It is just as lovely as the one I ordered from you ten years ago for the new home we had built in New Hampshire. Your beautiful murals make cooking a joy and bring back pleasant memories for me of my many trips to Italy. Thank you again, Chris Winters Williamsburg Va. December 2018
Customer Review:
This mural adds a wonderful splash of coastal/tropical colors and warmth to our new kitchen. Thank you so very much for offering such beautiful artwork. We are getting so many compliments on this unique addition to our kitchen. This is second mural we bought from you. The first one was an Italian Tuscany vineyard scene which was equally stunning over our stove. I guess you can tell that we absolutely love you art work
Tommy Ferguson Wimauma, FL. October 2018

tropical paradise tile mural on 6" x 6" ceramic tile

review from customer that purchased and installed this mural: I wanted to send you a photo of our installed tile backsplash for our house we just built in Montana. Looks incredible and we've gotten lots of compliments about the backsplash! Thank you tremendously for the lovely artwork, it adds so much to our home!! Thank you! Liz Feutrier

Tuscany Arch tile mural 30 x 24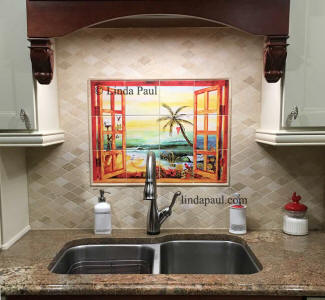 The customer who installed this mural says, "I wanted to share with you how happy I am with my Tropical Paradise Backsplash tile art. Everyone loves my backsplash designed by Linda Paul, but not as much as I do." Carmen Rosa, NC
August 2016