page 3 of Customer Reviews of Tile Murals & Kitchen Backsplashes
this page is reviews from 2012 back to 2005 go to current reviews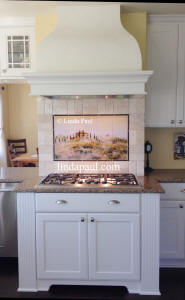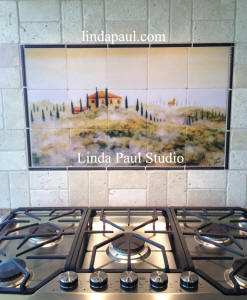 Tuscany in the Mist
in 30" x 18" with 3" x 6" subway tiles that have been creatively turned in horizontal and vertical directions. This tile pattern is unique and fits the space perfectly. I like how the range area juts out like a little peninsula.

From the customer who purchased and installed this mural
"Thank you again for your beautiful work. I can't begin to tell you how thrilled I am with the mural. Lisa Kern, Milwaukie, OR June 2014
Love our Sunflower Tile Design Thanks Kepi and Terry

Redmond, OR July 2017
Sunflowers Kitchen Custom Backsplash Design
Finally after a year I am sending pictures of the tile mural. It looks beautiful, everyone loves it! It was wonderful finding your studio. Our kitchen would not be the same without your mural Everyone who sees this mural raves about it. To say we love it would be a huge understatement------we are thrilled beyond words. It was a pleasure doing business with you!
Alma Buchanan, British Columbia Canada August 2012
go to Sunflower Field backsplash mural
Kitchen Backsplash
Tuscany in the Mist
Size 36" x 18"
Dear Linda, We want to thank you for making the focal point of our now completed kitchen renovation. When we received the mural, it was even more beautiful than anticipated. Now that the construction is complete, we know it was perfect for the feel we wanted to create, having hiked through Tuscany on our honeymoon last year. We have had so many compliments on the mural from our friends, our contractor and especially our tile guy. He said he had never seen anything like it

Linda & Jim Masick September 2012
We wanted to let you know that we received our mural and are so pleased. The mural came on Thursday as promised and we put it up on Saturday. We decided not to grout and we are very pleased the way it came out. We think the mural is absolutely beautiful and the changes we made were just perfect. Your colors are so vivid and we can't thank you enough for the special beauty it has added to our new kitchen. We find our selves standing in front of it, just staring!!
Thanks so much for you help in making this mural a total focal point for our kitchen.
I had purchased The Vineyard backsplash from you, As you can see, it's the focal point of our kitchen and I absolutely love it! When it arrived, I was impressed by how much more vibrant the colors are than the pictures on your website. The tiles were packaged well and arrived in perfect condition.
We purchased travertine molding to frame the tiles, but we didn't feel it did justice to the rich colors in the mural. We ended up ordering window casing that matches our cabinets, and I love the way it turned out! Ill enjoy Sheila's Vineyard for years to come!
Sincerely, Sheila Wheatman Hibbing, MN February 2012 Vineyard backsplash mural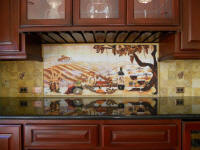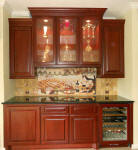 Our built-in wine cabinet is finally complete! Your beautiful tiles are certainly the highlight of the project!! We've had so many compliments on them!! Thanks again for your assistance on this - you have an extremely wonderful product and you'll come highly recommended from me!! Cheers!! John Holmes Houston, TX
August 2011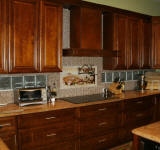 I ordered your tiles, about a year ago, well before I started my kitchen. I had known all the time that I wanted a Tuscan feel, and had searched all over the internet for months trying to find the perfect tiles. Each and every time, I came back to your site because I loved your art work on the tumbled marbled I purchased. Also shocked on how you answered phone spoke with me, and answered all questions, the 2 times I called. Although I read many letters on your web site, I could not imagine how gorgeous your design was until I opened the box, and saw the detail, and the most awesome vivid colors. Each tile was label for simple installation (my tile guy loved that), and how easy that went on. After it went on , I was so pleased, it made the entire kitchen! Lisa, Wellington, Fl May 2011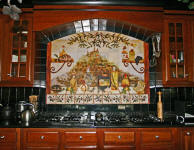 After with custom 60 x 42" mural
Italian Kitchen Window backsplash
After reviewing several artists work we chose Linda Paul's "Italian Kitchen Window" to replace an existing wallpaper cooking area backsplash. The size requirements were not an issue as Linda was able to customize to meet our needs To say that we are pleased with the result would be a dramatic understatement. The result exceeded our high expectations and the "Italian Kitchen Window" is now the centerpiece of our beautiful kitchen. Hilton Head Island, S.C., February 2011
We have finally finished our wine room and the beautiful mural we ordered from your studio is stunning! The tiles were so beautiful and more rich in color than I had imagined. Thank you again for the beautiful mural!
Sincerely,
Jan Grant, Austin TX November 2010
We just completed our custom built dream home with a gourmet chef's kitchen and your Tuscany Arch mural is at the center piece of our cooking station. I even had the builder put in a lighted custom designed niche to frame and highlight your mural. We also have the Tuscany accent tiles which blend in with our backsplash perfectly.
we could not be happier with our Tuscany Arch mural. I will definitely be ordering more from you in the future.
Chris and Amy Cho, New Braunfels TX October 2010
Tuscany Arch backsplash
Hi Linda, I wanted to let you know the tiles arrived and they are lovely. We have them installed this last week and the tile setter just finished with the caulking. Wow it really pops out at you. We are thrilled.
Heidi March 2010
Linda Paul lives up to "satisfaction guaranteed" Don't worry about ordering from this company. Linda Paul, artist & designer, is a great artist as one can see. On one occasion I had a problem with my order. It was an expensive piece, over $600. I contacted the artist and on the same day she responded and authorized a return of merchandise for a refund. Easy and fast and very kind. These are people you want to do business with, they are straight arrows. I recommend this company very highly. Stephen Cox MD Kentucky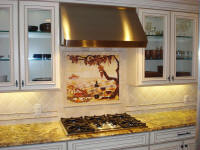 Before and after pictures of
The Vineyard backsplash
installation
Here are some pictures of the murals I have installed in my kitchen we all love the work and the kitchens don't get any better then this. Thanks to you providing your craftsmanship to us.
George Repstien
Township of Washington, NJ December 2009
Hi Linda,

Wanted to send you a picture of your beautiful tile installed. It took us a bit to get it all done but it is done!!! Everyone who comes in comments on the beauty of it!!

Cynthia Danksewicz West Bridgewater, MA October 2009
I LOVE the mural and little accent pieces. I can't thank you enough for custom making the 12" x 30" mural for me. Your work is beautiful, the colors are wonderful and your style suited me to a "tee". You can see from the photos that I was able to find little Tuscan house canisters to complement your artwork.

Again, thanks a million for working with me on this. I can't wait to cook Easter dinner in my new kitchen and have all the family come over to see what a great addition and change your artwork has made.

Sandra Palmer April 2009
Dear Linda, Thank you SOOOOO much. My kitchen is gorgeous!!!!!!! My family and friends love it too. Now I have old Tuscany in Florida. You are a real artist.
Hanita Manelis, FL December 2008
The Tuscany Window tile mural is absolutely beautiful. It is a great feature in my wine cellar and reminds me of my days spent in Tuscany. Everyone who visits my cellar is very complimentary. Tim October 2008
The tiles are beautiful and really make the cabinet a piece of art. The mural size was an exact fit for the center piece and the rich colors blend perfectly with our Tuscan kitchen. Thanks, Rick Drury, Warner Robins, Georgia." August 2008
We received and installed the sunflower field tile backsplash and it exceeded our dreams. This stunning piece of art brought dimension and character to our new kitchen. Everyone who has seen it either in pictures or in person is taken with the beauty of it all. I feel so blessed to have stumbled across your fantastic work.
Sandy B, Texas August 2008
Thank you for the beautiful "Tuscany in the Mist" painted accent tiles. These have been installed in my downstairs ½ bath. I themed the bathroom colors around these tiles and it turned out beautiful. The tiles really make a statement. My house is designed around a Tuscan Villa style. Your help to design and alter the pattern of the tiles on the 4 different walls was very helpful. The tiles were delivered and packaged by wall elevation and number making installation very easy. Also the fireplaces accent tiles turned out to be a very cool detail in the Master Bedroom. It was a pleasure ordering from you and I will come back if I develop any other tile or canvas print ideas for my home." David Holland, Project Executive, Turner Construction Company May 2008
We are so impressed with your artwork, it was one of the best decisions we made when designing our showroom. Our customers are blown away when they see your tile murals and painting, we have passed out many of your business cards! Once again…thank you for helping us create a beautiful showroom! Jamie Lynn Fiderio , Fiderio & Sons , Connecticut,
January 2008
Your service has been great and your tiles are beautiful. I am very pleased with my mural, the colors are very vibrant and catch the eye. I bragged about your work when I went down to the local tile store today. They had a few tile murals but no "original" artwork and nothing like what you do.... You deserve all the recognition you get, you are a true artist. Your work is worth every penny and I should know, I'm a Quality Engineer by trade and an artist on the side, so I know true value when I see it. Julie, March 2008
We would like to thank you for the fabulous art work, which has finished off our new kitchen in style. Everyone who has seen the mural thinks it is indeed like looking through a window on Tuscany. We would probably run out of superlatives, but the mural is rich, sumptuous, a feast for the eyes - and we find something interesting to focus on each time we step into the kitchen. Your service from ordering, through packing to delivery was exemplary. We would absolutely recommend your work to anyone considering it.
Pauline and Mel Owen, Newcastle upon Tyne, England December 2007
We finally have the mural done and it turned out great! Even better than we expected. Everyone that sees it really likes it and wants to know where we got it. We make sure we tell them! We are very proud of the mural! Thank you (especially for adding the rose in the middle of the top trim part).
Bob and Barbara Weber. November 2007
The mural is absolutely terrific and better than we'd even hoped. The attention to detail, the vibrancy of the colors – the beauty of the actual work blew us away! It's tough to buy things like that with only a picture on the Web, but the quality of your work is truly outstanding. The accent tiles were a great addition to the remaining tile work around the kitchen and tie it all together. Everyone who walks into our kitchen stops in their tracks and says "WOW." Everyone should have a Linda Paul mural in their kitchen.

Ardath Albee B2B Marketing Strategist - Palm Desert, CA - October 2007