Italian Kitchen Window Backsplash Mural and accent tiles by artist Linda Paul from $499.00
Questions call 303-818-2663 or email us
Beautiful Italian tile backsplash mural of a kitchen window featuring a still life of olive tiles, grapes, bread, cheese, garlic, olive oil, olives, rosemary, lemons and a hummingbird by American artist Linda Paul. Matching decorative accent tile too. Its perfect for Italian kitchen decor.
Made in my Colorado art studio.
free shipping in USA
Italian Kitchen Window with 6" x 6" x 1/4" ceramic tiles



Artists Inspiration: My inspiration for this Italian style artwork is my love of Italy & all things Italian! I am inspired by the rolling hills of Tuscany, windows, arches and architecture and of course Italian food. This Italian backsplash is perfect for Tuscany kitchen decor! Artist Linda Paul.
we can customize the label on the Olive Jar with your name. Extra $100.00 see below

Italian Kitchen Window with Extended Sky and Olive Branch

6" x 6" x 1/4" ceramic tiles

Italian Kitchen Window short version (fits shorter, wider spaces)


uses 6" x 6" x 1/4" ceramic tiles

Our beautiful murals and accent tiles are made on 1/4" thick ceramic tile

Please contact us for custom sizes or to order your mural or accents on 4.25" x 4.25" tile
more details about tile types, sizes etc



Murals and accent tiles have a satin finish
Italian Accent Tiles on 6" x 6" 1/4"

ceramic

tile: $50.00 each (can also be ordered in a 4.25" x 4.25" size)

Olive branch border

The branch runs continuously through the tiles. You can special order the continuous olive vine border tiles in any length you need



Individual 6x6" Olive tiles $50.00 each
The branch does not run through the tiles
Customize labels with your name or anything you like


We can personalize the Olive jar or any of the bottle items in the mural with your name or restaurant or whatever you would like. Extra $100.00. see sample in picture to the left
Just contact us for more info
Installation pictures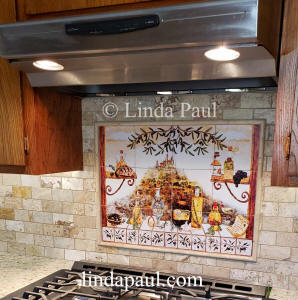 Italian Kitchen Window 24" x 18" on 6x6" ceramic tile

here is a review from the customer who bought and installed this mural:
Dear Linda, I can't begin to tell you how much we love your artistry. we purchased the Italian window looking tiles. Also, Besides having something pretty to look at, When we cook we actually get the feeling that we are in Italy looking out a window! I could keep going on but I don't wanna write a book about it. Everyone who stops by also Have Many Compliments. It has become the center piece of the remodel. Now thank you again for your creativity. James and Mandy Cunningham, North Hollywood, CA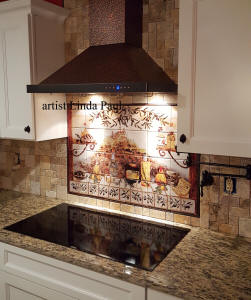 Classic and Beautiful
Our 36" x 24" Italian Kitchen Window on 6x6" ceramic tile
Linda - Here are a couple pictures of our new Kitchen. We have an Irish Pub in our back room and my mom wanted an Italian Kitchen. Your painting is the focal point. It is absolutely beautiful. Thank you so much. My mom is ecstatic as is everyone who sees it. Many Thanks, Christian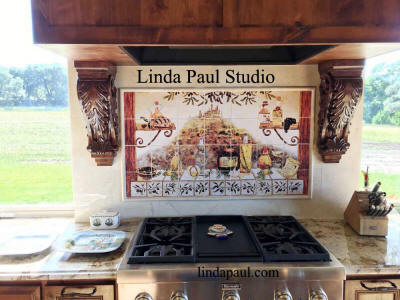 This is a 42" x 24" version of Italian Kitchen Window on 6x6" tile

Review from customer who installed this mural:
OMG It is BEAUTIFUL, I love the mural. Thank you so much. It arrived at the most perfect time. We added a crema chair railing with crema gloss travertine around it. Thank you again, beautiful work,
Sincerely, Penny Cannon, Bergheim, TX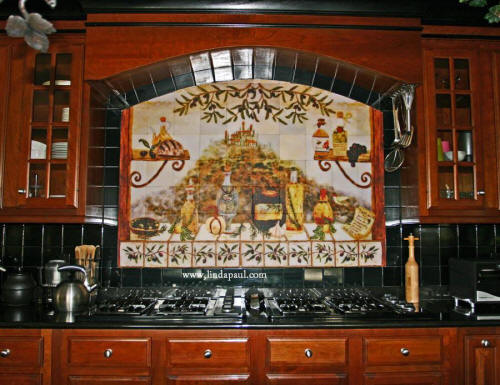 Customer review:

"After reviewing several artists work we chose Linda Paul's Italian Kitchen Window to replace an existing wallpaper cooking area backsplash. The size requirements were not an issue as Linda was able to customize to meet our needs. To say that we are pleased with the result would be a dramatic understatement. The result exceeded our high expectations and the Italian Kitchen Window is now the centerpiece of our beautiful kitchen."
Tom & Lynda Mays
Hilton Head Island, S.C.

Dimensions are given as length first, then height.
Don't know What Size to Order?
If you are not sure which size of backsplash mural to order, just email us a straight on picture or design drawing of the space you have for your backsplash and we can tell you which is the best size for your space. Be sure to include all dimensions. We can design the perfect backsplash mural just for you! Artist Linda Paul is an expert in designing her images to fit your space perfectly!
contact our tile design experts or call 1-303-818-2663 to order or inquire

Our murals ship in approx. 1 to 2 weeks, free shipping in USA