About Our Tile Mural Backsplashes
Linda Paul tile murals are made in the artist's Colorado studio.
Our beautiful murals start with artist Linda Paul's original paintings which are recreated with durable inks for ceramic tile. These murals are super durable for behind stove tops and in bathrooms .
The murals are shipped as individual tiles.
Some frequently asked questions about our tile murals

What is the Lead Time?

Lead time for a mural is about 10 days. We can individual accent tiles or a sample tile in two days if you need it fast.

What do you use install these tiles?
All tile murals installed using a white premixed ceramic tile adhesive like Omnigrip (buy at Home Depot) .
see installation instructions

What is the finish on the tiles?
Our finish is satin

Grouting
Murals look better when be grouted but some customers choose not to grout theirs. 1/16" spacing recommended.


Tile sizes and thickness?

Ceramic Tile Size is 6" x 6" x 1/4" thick tiles. When a number of tile are laid out in a row, the final measurement will be slightly larger, about an extra 1/16" per tile. Tiles can be easily cut with a wet saw. We can also create a mural for you using 4.25" x 4.25" tile
when pressed tight together the 6x6" tiles have the following measurements" 2 tiles = 12-1/8", 3 tiles = 18-3/16", 4 tiles = 24-1/4", 5 tiles = 30-5/16", 6 tiles = 36-3/8", 7 tiles = 42-7/16", 8 tiles = 48-1/2", 9 tiles = 54-9/16"


Do you make custom sizes?
yes!

Can the tiles be cut for a pot filler or to fit a particular space?

yes!

You can cut these tiles on site at the time of your installation

What if our tiles arrive damaged?
If an item arrives damaged we will immediately replace that item for you free of charge. We pack our art and tiles very well and in thousands of shipments have only had a few items damaged during shipping. We guarantee that you will be thrilled.

Can you make a mural from a different art image or photograph?

Yes we can make a mural from your own original artwork or from a photo that you took or you have a license to use. see more info here

Can These tiles be installed in a Shower?

Yes!



Can they be installed outdoors? NO


How to I adjust for a difference in thickness between 1/4" accent tiles and my thicker field tiles
If your surrounding field tiles or backsplash granite are a lot thicker and you want your accent tile to be flush with it, you can simply screw or nail a 1/8" or 1/4" tileboard to your wall and mount the mural tiles on that.
If you are putting a border around your mural, most borders are much higher than tile and will therefore make a automatic transition between differing tile depths and types. When you lay out you tiles first on a flat surface, you can plan for this

Cleaning
Clean with anything like Windex or soap and water


Border Tiles
Tile wall murals looks best with a border around them. The border also creates a transition zone between different materials. You can either match you border to the field tile you are using for the rest of your backsplash, or use one of our metal finish borders that matches you other metal colors in your kitchen , such as cabinet hardware or appliances

SAMPLE TILE If you want to see and feel the tile before you order a whole mural. Simply buy a single accent tile from that mural. We will get it out in a few days and you can return it later for a refund




Linda's Tips on how to pick the right size and shape backsplash mural for your space

Shape: The mural should be the same shape and orientation as your space. If your space is long and thin, you mural should be long and thin If your space is vertically oriented your mural should be the same orientation. Don't put a horizontal mural into a vertically oriented space.

The picture to the left demonstrates this. The overall shape of the space and the mural is long and thin so it looks balanced and beautiful
Be sure and remember to allow for the size of your grout line





How to pick a size for your mural backsplash


The ideal size of the mural is da Vinci proportions which means the mural should take up four fifths of the space. With murals you can never be too big, it does not look good if the mural is too small. Remember to keep your mural 6" above your burners.



To help with sizing, you can cut out a piece of paper to the size you think the mural should be, tape it to the wall, then stand back and see if you like the ways it fits the space.

You can use blue painter's tape to simulate the border
If you need help with mural sizes just

contact us

.




Don't know What Size to Order? If you are not sure which size of backsplash mural to order, just email us a straight on picture or design drawing of the space you have for your backsplash and we can tell you which is the best size for your space. Be sure to include all dimensions. We can design the perfect backsplash mural just for you! Artist Linda Paul is an expert in designing her images to fit your space perfectly!


email our tile design experts or call 303-818-2663 to order or inquire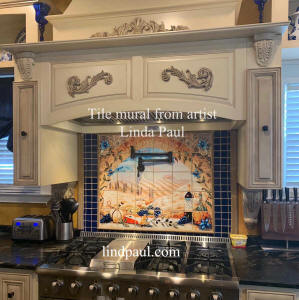 Customer says "your personalized painting gave us that perfect pop of color we were looking for. Everyone loves it ! Fred & Donnie , Fairhope, AL November 2020

features artist Tuscany Arch Tile mural. The wine bottle label was personalized the client's names.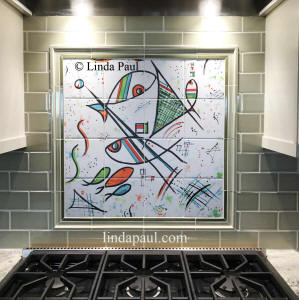 Customer who installed this said, "Our Mural is finally in place and looks beautiful!! Like a piece of artwork. Wanted to share with you how beautiful it turned out and say thank you!! Everyone has commented on how incredible it is and that they have never seen anything like it!! Irene Zink, San Diego , CA
Fishing with Picasso tile mural and accents