Custom Art on Tile - Photo tile murals or custom mural from your own artwork
Your photo or artwork made into a beautiful kitchen backsplash mural on ceramic tile
Can you imagine your own beautiful photograph or own original painting made into a mural? Linda Paul Studio will create a custom tile mural backsplash from your own photo or personal art or public domain image
Questions call 303-818-2663 or email us

free shipping in USA
Artist Linda Paul made this customers special photo of an Italian sunset into a tile mural for her backsplash
Customers says: "
The difference between ordering a photo tile from Linda Paul studio is that you are working with a true artist not someone who is commercially mass producing tiles cheaply. As a professional painter Linda makes sure that your photo will reproduce well and takes care to ensure a quality product. It was a pleasure talking with her and I was very impressed with the color saturation she chose for my photo which was a Tuscan sunset. Each tile was of excellent quality and the photo was beautifully replicated. I highly recommend using Linda Paul studio to be guaranteed you will be pleased with your photo tiles
. Linda Muller, Rockville Center , NY
We also made a
custom glass cutting board for the customer from her photo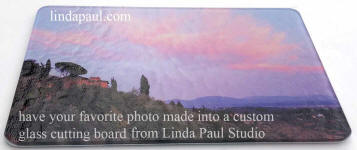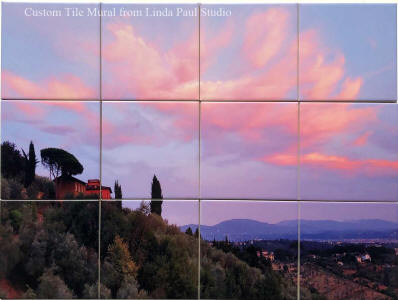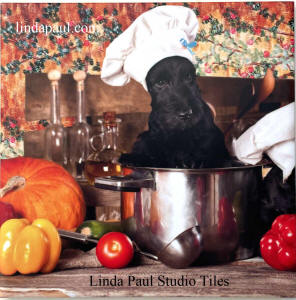 Custom tile and mural of Scottish Terrier in cooking pot. Got a favorite dog? contact Linda to create a custom tile mural for your kitchen $50.00 for a single 6x6" tile

Linda created this custom 4 tile mural for a customer's kitchen.
Have your favorite dog picture made into a tile mural backsplash. $450.00 and up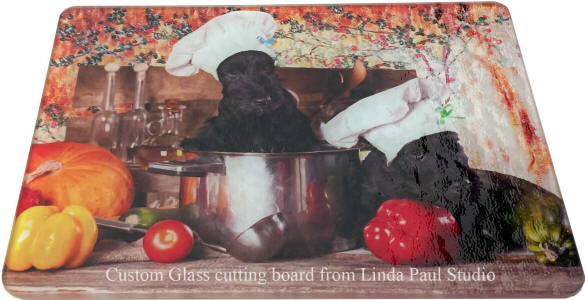 Scottish Terrier Chefs in the Kitchen glass cutting board
2 sizes: 11" x 8" $49.99 15" x 12" $64.99
see more cutting boards
We made these beautiful photo tiles for a customer's kitchen wall backsplash. If you don't have your own photo, we can license one from one of the photo licensing sites that we use. Customer wanted a Caribbean Sunset over the ocean.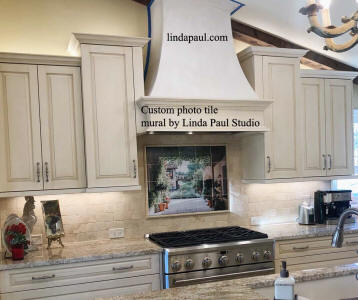 Artist Linda Paul created this customer's favorite memory and photograph of Italy into a tile mural for her backsplash

Customers says: "Every time my husband and I look at this beautiful mural the memories flow back to our wonderful trip to Italy. We love it! Everyone who sees it is blown away by its artistry and immediately want to know how we came by this work of art! I hope my pictures will do justice to this beautiful mural you created for us. Thank you so much, Gregg and Debbie Bergstrom, Littleton, CO
We created this photo tile mural from a customers sunset picture for her cottage in the Adirondacks. We can make your favorite photo or your own artwork into a beautiful backsplash.

Here is what this customer has to say," Linda, I could not be more pleased with your work! You have a good eye and were very helpful with recommendations. You were quick and made color changes as requested and made sure I was happy with the final product. You shipped it fast AND packed it in a way that all arrived without any damage. Everyone who sees this backsplash is so impressed! Thanks again Linda, it makes it so nice to have a lovely sunset to look at anytime I am cooking vs a plain wall. Blessings on you and your work!" Cathy Williams, NY

We made this photo memory of a Bermuda Moongate into a tile mural backsplash for a customer. The Moongate has a special meaning for newlyweds. The legend says if you walk through it holding hands, you will be blessed with eternal love and happiness.

Customer review: by Jen, Here are some photos of our Bermuda Moongate tile mural, that you created for us, installed in our kitchen. I absolutely LOVE the way it looks. It came out gorgeous :) I can not even begin to tell you how many complements I have gotten. I am so happy that I found you on the web. More customer reviews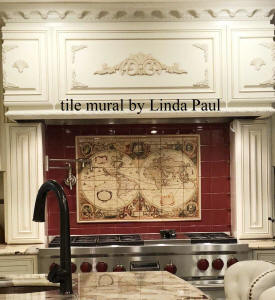 Linda Paul made this custom antique map tile mural  for a customer with a very special kitchen.
Contact us to create a mural from a historical area that is meaningful to you!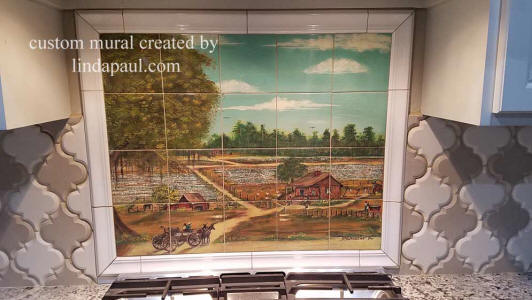 For this customer, we reproduced an original painting of an old southern farm in Louisiana onto 6x6 ceramic tile.
Customers photo put on to tile

"Linda , Our mural tiles arrived yesterday all in perfect order. It was amazing to see our favorite photograph rendered on tile, and we can't wait to have it installed. It is beautiful!! Thank you also for the detailed instructions about the installation (and it's also great that they are on your website too). Thanks again! Mary Strizek"


more customer reviews
Here is how it works to create a custom tile mural for you
1. You send us a high resolution digital file of your photograph or artwork that you have created. We can help you figure out if your digital image will work. Ideally it should be at least 300 to 600 dpi.
2. You tell us what size you would like. We typically use 6x6" ceramic tile , but can also use 4.25" tile
3. We take your image and make some color and contrast adjustments (if desired or needed)
4. Time required to create your mural backsplash is 1 to 2 weeks
We can do single 6" x 6" or 4.25" x 4.25" accent tiles from sections of your image. Price is $50.00 each for accents.
We can also make a custom glass cutting board from your image
For an additional fee we can remove objects from your image that might be unsightly, say a power line .
We can also personalize it with your name.
Please note. We respect artist copyright. We will only reproduce an image that you own the copyright to, have received written permission to reproduce or is a public domain image like map
Custom murals from your photo or artwork can not be returned.

Pricing: Here are some examples of pricing for custom tile murals from you own artwork or photo. We can use 6x6" or 4.25" x 4.25" tiles and can make pretty much any size; 24" x 12" $399.00 or 24" x 18" $499.00, 30 x 18" $599.00, 30" x 24" $699.00, 36"' x 24" $799.00, 48" x 24" 1042.00. custom work (removing power lines etc, is extra). There is no charge for cropping an image or punching up the color. please contact us for info and an exact quote.



Don't know What Size to Order? If you are not sure which size of backsplash mural to order, just email us a straight on picture or design drawing of the space you have for your backsplash and we can tell you which is the best size for your space. Be sure to include all dimensions. We can design the perfect backsplash mural just for you! Artist Linda Paul is an expert in designing her images to fit your space perfectly!
Questions call 303-818-2663 or email us