Custom Art on Tile
Your photo or artwork made into a beautiful kitchen backsplash mural on ceramic or marble tile
Can you imagine your own beautiful photograph or own original painting made into a mural? Linda Paul Studio will create a custom tile mural backsplash from your own photo or personal art.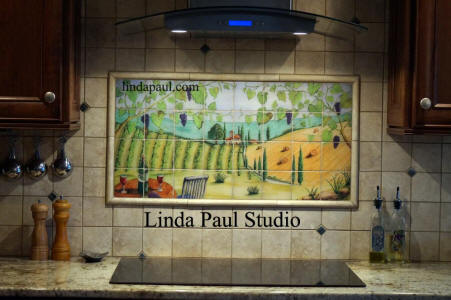 click picture to see larger image
This customer had her vineyard painting made into a beautiful marble tile backsplash by Linda Paul Studio
For this customer, we reproduced an original painting of an old southern farm in Louisiana onto 6x6" ceramic tile.
This painting was painted by a customer's grandmother in 1910. We reproduced this special painting onto marble tiles to be used as a kitchen backsplash, Now our customer will always have the spirit of her grandmother in her kitchen. The original painting was small but we were able to make a large custom mural of it
Customers photo put on to tile

"Linda , Our mural tiles arrived yesterday all in perfect order. It was amazing to see our favorite photograph rendered on tile, and we can't wait to have it installed. It is beautiful!! Thank you also for the detailed instructions about the installation (and it's also great that they are on your website too). Thanks again! Mary Strizek"


more customer reviews
Here is how it works:
1. You send us a high resolution digital file of your photograph or artwork that you have created. We can help you figure out if your digital image will work. Ideally it should be at least 300 to 600 dpi.
2. You tell us what size you would like. We typically use 6x6" porcelain tile
3. We take your image and make some color and contrast adjustments
4. Time required to create your mural backsplash is about 4 weeks. (this can be expedited to two weeks for an additional $100.00
We can do single accent tiles from sections of your image if you are ordering a custom mural. Price is $100.00 for this first one, then $50.00 for additional ones from that same image
For an additional fee we can remove objects from your image that might be unsightly, say a power line .
We can also personalize it with your name.
Please note. We respect artist copyright. We will only reproduce an image that you own the copyright to, or that you have received written permission to reproduce
Custom murals from your photo or artwork can not be returned.
Please contact us for pricing, but a ballpark price is double that of our own murals. There is a lot of work that goes into a custom one of image
Price guide for our
custom
tile murals and backsplashes from your photographs or art.
(
see individual tile pages for pricing of Linda Pauls' art on tile)
here are some examples of prices: we can make pretty much any size as long as it is divisible by 6". Custom murals are created on 6x6" porcelain/ceramic tile

24" x 18 $998.00, 30" x 24" $1398.00, 42" x 24" $1999.00

Don't know What Size to Order? If you are not sure which size of backsplash mural to order, just email us a straight on picture or design drawing of the space you have for your backsplash and we can tell you which is the best size for your space. Be sure to include all dimensions. We can design the perfect backsplash mural just for you! Artist Linda Paul is an expert in designing her images to fit your space perfectly!
email our tile design experts or call 1-800-936-9958 to order or inquire
toll free from USA, Canada, the Caribbean, Alaska or Hawaii

Our murals ship in approx. 4 weeks, free shipping see our in stock murals