Seahorse Ceramic Tile Accents and Tile Murals for Kitchen and Bathroom Backsplash by American artist Linda Paul

Questions call 303-818-2663 or email us
Seahorse art tiles in sizes 2" x 2", 4" x 4" , 6" x 6", 12 x 12 and tile murals 18" x 18", 24" x 24" horizontal or diagonal orientation
Seahorse tiles in ocean blue and white for kitchen or bathroom wall decor by American artist Linda Paul
$24.95 for 2 x 2 , $39.95 for 4.25' or 6 x6 , $129.00 for 12 x 12 for accent tiles and $499.00 for tile mural

free shipping in USA
Customer review:
by Mike and Stephanie Skinner We could not be happier with your (seahorse) art piece we purchased. It took us a bit to finish the kitchen but we are now complete. My wife has the whole house ocean themed.
Artist's inspiration: When I was on Roatan Island and I actually saw a seahorse in the sea grass right off the dock! I was amazed. I never thought I would get to see one.
Seahorse in Ocean Blue Design - Diagonal or Horizontal Ceramic Tile by artist Linda Paul


Order facing Left or Right
3 sizes: 11-5/8" x 11-5/8" $129.00, 6" x 6" $39.95 and 4.25" x 4.25"

$39.95
Tile is 1/4" thick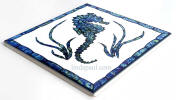 In stock we have 1 4x4 Diagonal facing right, 4x4 Horizontal facing right, 2 6x6 Diagonal facing right, 2 6x6 Diagonal facing LEFT, and a 12x12 horizontal facing right in stock and ready to ship, all other 1 week lead time
Note about sizes: When placed on the diagonal the 6x6" measures 8.5" top point to bottom point and side to side
the 4x4" measures 5.75" on the diagonal point to point
the 2" x 2" measures 2-7/8" point to point on the diagonal
the 12" x 12" measures 16.5" point to point on the diagonal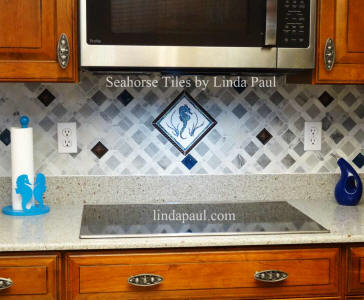 Just a simple seahorse 6x6 accent tile makes the perfect centerpiece for this Florida backsplash. The dark blue accents and seahorse decor pull it all together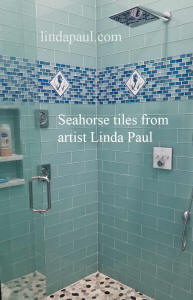 Our customer installed Linda's seahorse tiles in her shower. They are perfect in this Florida beach house bathroom

customer comment" The seahorses worked so well with our shower design", Sharon Grosse , Stuart, FL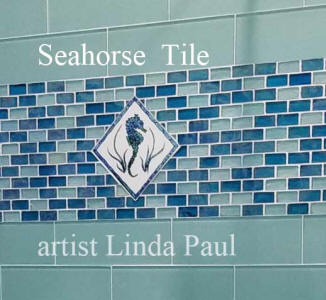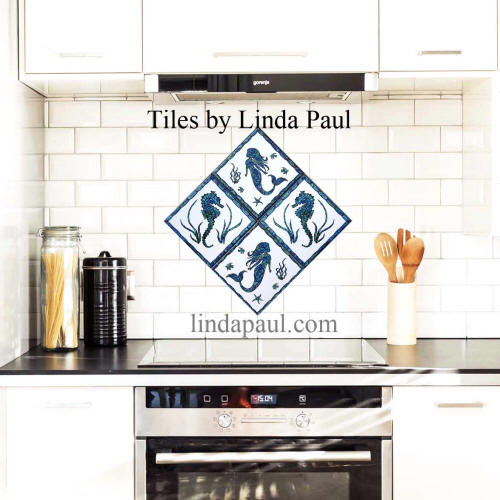 You can put four of our 6" diagonal tiles together, a left and a right seahorse and a left and a right mermaid to make this diagonal sea life tile mural
$159.80 measures 17" high, 17" wide. each side is 12"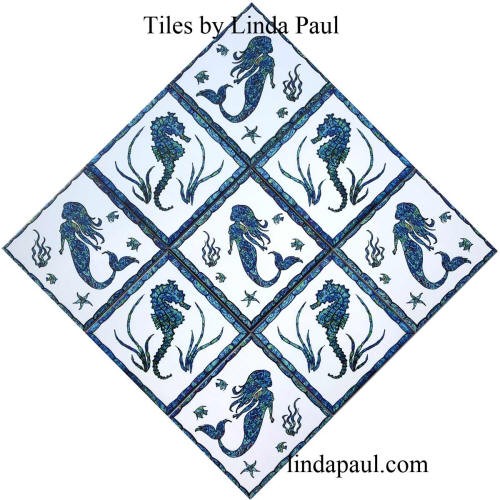 9 tile mermaid and seahorse mural. Using 6x6 tiles , it 33" high and wide $359.55. Consists of 3 mermaid tiles facing right, 2 mermaid tiles facing left. 2 seahorse facing right and 2 seahorse facing left. (using 4.25" tiles it measures 18" price $359.55)
You also might like these matching mermaid, palm tree and fish tiles
Our beautiful murals and accent tiles are made on 1/4" thick ceramic tile

Please contact us for custom sizes or to order your mural on 4.25" x 4.25" tile
Tiles are for indoor use only
more details about tile types, sizes etc



Murals and accent tiles have a satin finish
Our tiles ship in approx. 1 week,
free shipping in USA
see our in stock murals
contact
our tile design experts or call 1-303-818-2663 to order or inquire