page 2 of Customer Reviews of Tile Murals & Kitchen Backsplashes
go to page 1 page 3 (older reviews)



Customer says "your personalized painting gave us that perfect pop of color we were looking for. Everyone loves it ! Fred & Donnie , Fairhope, AL November 2020

This gorgeous kitchen features artist Linda Paul's
Tuscany Arch Tile mural.
The 2x2 blue accents surrounding the mural make it extra special. The wine bottle label was personalized the client's names.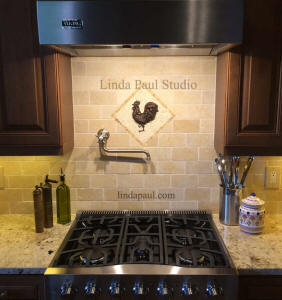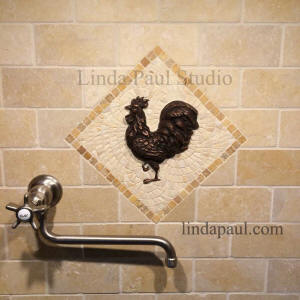 Hi Linda
Thank you so much for the Rooster medallion. From tile installer to the plumber, carpenter and the painter they all took a picture of the Rooster. I can't wait so show off to my friends and family. Thank you so much

R Sabatini , Hobe Sound FL June 2016


more about this medallion

Some years ago I had bought a Linda Paul "Chili -backsplash" and had it shipped to Australia. I can not tell you how much I loved it! Since then I have moved to the US (Dallas, Texas) and I must admit that my kitchen in Australia with your backsplash is probably way up there with the things that I miss the most... Michele January 2016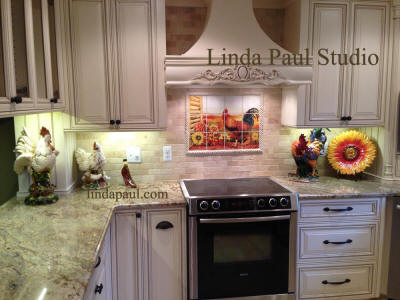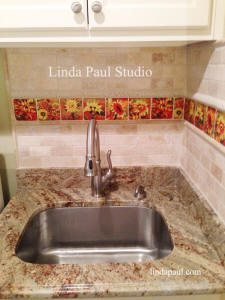 Hi Linda, This is fabulous! I love it! Carol May 2013


Carol installed our
Roosters and sunflowers Tile mural
in her kitchen backsplash and matching Sunflower accent tiles in her laundry sink area
I know what it's like doing an internet search for hours trying to select an artist to do a "unique and one of a kind artwork" which in my case was for my kitchen - and then I found her site. Linda's work is just so beautiful and can turn a bland space into a mini art gallery. Her artistic painting on the tiles and attention to detail make this piece of art something really special in our home. My mural choice was the "
Sunflowers in the Vines"
and I swear to you, it looks like we had a window installed in our kitchen over the stove. It's that realistic when finished! So, do yourself a HUGE favor and make that connection with Linda. She is a delight to work with and extremely knowledgeable and helpful during the ordering process. Her website has sooooo much information along with many, many pictures along with tile ideas and selections. Linda, we thank you very much for enhancing our home with your beautiful work plus turning my kitchen into a showplace and making it a real treat to be cooking in such a gorgeous space!
Linda and Dick Walsh February 2013
We finally installed your beautiful tiles. We are very glad we found your picture – Everyone who comes to our house is drawn and mesmerized by your design.
Wilfred January 2012
A little Monet in the Kitchen


Customer Review"
We wanted a kitchen backsplash accent piece that was extraordinary and that we could enjoy looking at every day. Linda Paul's back painted glass interpretation of Claude Monet's "Water Lily Pond" was perfect for our lake house. It not only is artistically pleasing; it is well engineered for an everlasting; in subway tile installation. We are very pleased with Linda's work and this wonderful piece is the highlight of our kitchen.
Brooks and Beth
Yeilding, Salem , AL February 2021

The customer who bought and installed this mural says.
" My new kitchen is finally completed and I just love my tile mural. it takes me back to Tuscany whenever I look at it. Thank you for adding that special look to my kitchen.
Priscilla Ginnetti, Canterbury, CT January 2018

go to Tuscany in the Mist Mural
Features a 24" x 18" Sole Journey in the Horizontal version on marble tile over the sink


"I have received many compliments including the use of "stunning" following the upgrade of my kitchen which included a new Carrara marble backsplash, the Sole Journey Mural with the ivory marble pencil border tiles." Thom Hartle, Denver, Colorado October 2017.
We love our mural of Wild Horses and have installed it in our kitchen. We looked at many horse tiles but yours depicted exactly what we were looking for, they are just beautiful. Our installer was also very impressed with the professional quality of the tiles.
Nancy and Doug ,Mill Creek, WA August 2017
A little Tuscany in Florida
We finally finished our kitchen and have the mural up. Thank you so much for this beautiful art. We are so pleased and proud to have a part of you in our beautiful Caribbean home. Hope the pictures do a justice. Ellie Miami , FL June 2017

Here is what the customer who purchased and installed this
Vineyard mural
said, "
It's like looking through a window to another place and time."
Loretta, Portmouth, OH January 2017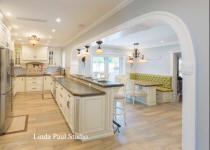 "We finally finished the kitchen and installed your beautiful tile artwork, we could not be more pleased with it and everyone not only loves the art work but the detail of having the family name on it." Doral, FL Oct 2016

Our 30 x 18
Vineyard mural on 6" x 6" porcelain tile
Review from customer who installed this mural:
OMG It is BEAUTIFUL, I love the mural. Thank you so much. It arrived at the most perfect time. We added a crema chair railing with crema gloss travertine around it. Thank you again, beautiful work,
Sincerely, Penny Cannon, Bergheim, TX October 2016


42" x 24" version of Italian Kitchen Window on 6x6" porcelain tile
What's Black and White and Stylin' all over?


This kitchen is! Gorgeous black and white kitchen with Linda Paul's dragonfly glass backsplash. Mixing cabinet colors and counter materials, gives this kitchen a contemporary country look with just a sousance of sophistication. The lower cabinets and hood are a pretty dark green that emulates the green in the painting. The framed glass painting was installed directly onto the wall, then tiled around with white subway brick shaped tiles.
size of finished art 24" x 24"

Comment from customer who purchased and installed the dragonflies:
The colors in the dragonflies are perfect. They catch the light beautifully and the whole painting illuminates when the sunlight hits it. Everyone that comes into my kitchen is drawn to it immediately! It looks like it was made to be there. Thank you so so much!
Debbie Nelson, Kingwood Texas
Click picture to see larger image
Dear Linda, I want to let you know that I received the mural and accent tiles I ordered.  The mural is lovely.  However, I especially want to thank you for the excellent job you did fitting my long last name on the personalized wine bottle on one of the accent tiles.  I worried that the letters would be squished to fit.  In reality, you did such a nice job of writing the letters ornately and legibly.  I am surprising my husband with this detail upon the completion of our kitchen.  I know he will very much appreciate it, especially since we are renovating his childhood home and it has been a "Bartolomei" kitchen for over 50 years! With sincere appreciation, Sadye Bartolomei April 2016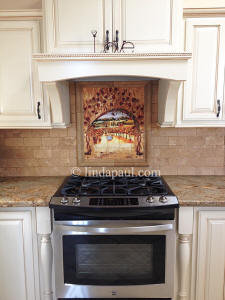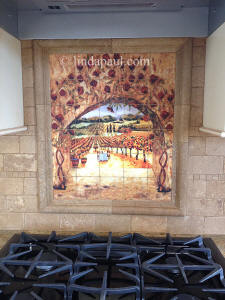 Its beautiful! Thank you so much! Sue,
April 2015
"The Tuscany Arch tile backsplash is gorgeous and compliments the decor in the rest of the kitchen. I have received numerous comments on the backsplash on how beautiful the backsplash looks and the high quality of the tiles and positioning. Thanks Linda."
Terry B, Longmont Colorado February 2015
Dear Linda: Received my mural (Wall of Ages) and accent tiles today - everything was packaged just beautifully, and I confess I HAD to unwrap the bottom two rows of the mural, just so I could see it in person. . . .OH MY GOSH! It is absolutely GORGEOUS, I just cannot get over how vibrant and pretty the colors are, it is such a peaceful, wonderful little spot, it is just FABULOUS! I can't wait to see it on the wall, behind the stove. I am just ecstatic. truly. I am so very pleased that I purchased the flower market painting. I am really looking forward to getting that piece, I am very grateful that you made it so easy for me. I have no qualms at all regarding the packaging or the state of the painting once it arrives. I know it will be just wonderful. Just can't wait. Carol Rhoades November 2014
click pictures to see larger images I LOVE LOVE LOVE the way the kitchen turned out!   Your tile piece is the focal point and has received RAVE reviews from absolutely everyone!  Thank You and Best Regards, Pamela Kyle  Clarkston, MI August 2014 features Ravenna Plaque Medallion
Thank you again for such a gorgeous backsplash. Your talent is amazing!
Blessings, Susanne,
Keller, TX July 2014

Fleur de Lis backsplash medallion Comment from the Canadian customer that purchased this medallion: "We've received so many compliments and I brag about your work and website to family and friends.
Maria Ferguson, Mississauga, Ontario, Canada July 2014