Tropical Tile Mural - Tropical Paradise Kitchen Backsplash Mural by artist Linda Paul
Florida tile backsplash and decorative art accent tiles of a tropical window view of the beach with ocean waves, palm tree, and sunset. Perfect for tropical and beach house decor. There are 3 styles: with a white window, a gold/brown window or no window at all

Artists inspiration: When its winter in Colorado there is no place I would rather be than on an island beach with my feet in the sand, a breeze in the palm trees, pondering life. I love to watch the ospreys and shorebirds make nests and fish in the ocean for food.. That is a good day. This painting was inspired on Sanibel Island in Florida. Artist Linda Paul.

Questions call 303-818-2663 or email us

free shipping in USA



Tropical Paradise Tile Mural with white window with a slight grey/green tone. perfect for coastal or tropical beach style decor


6" x 6" ceramic tile mural backsplash


Extended version has a a bit more beach and 2 herons

Tropical Paradise Tile Mural with gold/brown window .
6" x 6" ceramic tile mural backsplash
the 24 x 18, 48 x 36 and 54 x 42 crops a bit from the bottom
see picture

the 36" x 30" crops a bit from the sides
see picture
Our beautiful murals and accent tiles are made on 1/4" thick ceramic tile

Please contact us for custom sizes or to order your mural on 4.25" x 4.25" tile
more details about tile types, sizes etc



Murals and accent tiles have a satin finish

Tropical Paradise EXT Extended Version
6" x 6" ceramic tile mural backsplash

Accent Tiles 4.25" x 4.25" and 6" x 6" ceramic $50.00 each ( 1/4" thick )
Lead time for accents is about a week, items marked in stock ship right away


Dimensions are given as length first, then height.
Don't know What Size to Order?
If you are not sure which size of backsplash mural to order, just email us a straight on picture or design drawing of the space you have for your backsplash and we can tell you which is the best size for your space. Be sure to include all dimensions. We can design the perfect backsplash mural just for you! Artist Linda Paul is an expert in designing her images to fit your space perfectly!
Our murals ship in approx. 2 weeks, free shipping in USA
Installation Pictures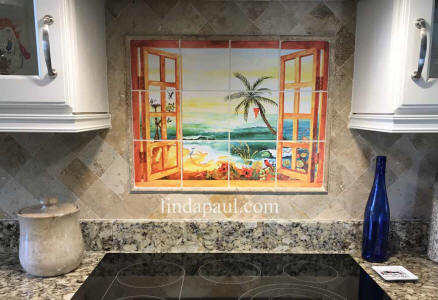 Installation shows 24 x 18 tropical paradise on 6" x 6" ceramic tile
Customer review:
by Tommy Ferguson Wimauma, FL.,
This mural adds a wonderful splash of coastal/tropical colors and warmth to our new kitchen. Thank you so very much for offering such beautiful artwork. We are getting so many compliments on this unique addition to our kitchen. This is second mural we bought from you. The first one was an Italian Tuscany vineyard scene which was equally stunning over our stove. I guess you can tell that we absolutely love you art work
More customer reviews
A Pretty Tropical Kitchen

Our 24" x 18" Tropical Paradise installed above the sink and matching accent tiles above stove. The red kitchen decor accents are a nice touch too

The customer who installed this mural says, "I wanted to share with you how happy I am with my Tropical Paradise Backsplash tile art. Everyone loves my backsplash designed by Linda Paul, but not as much as I do." Carmen Rosa, NC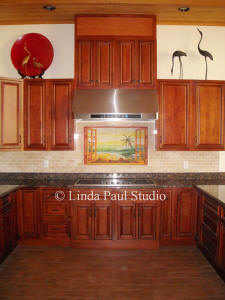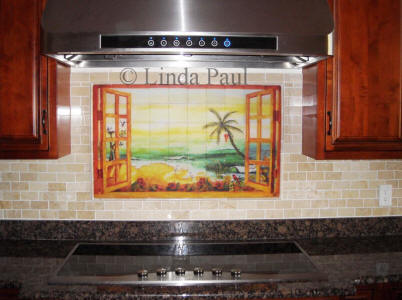 Featured Installation

A custom Tropical paradise tile mural installed in a beautiful Florida kitchen. Love how the heron decor on top of the cabinets matches the herons in the artwork
A Tropical Florida Kitchen!

check out this custom extra long under counter tile mural back splash of my Tropical Paradise that we made for a customer. Its 102" x 18"

customer who bought this says, "You've been such a wonderful person to work with—not to mention patient while I went through all my "iterations"! I smile a little every time I look at my backsplash mural. I believe that that is what art is supposed to do—create joy, and your creation definitely does that for me! And the mural is impressing all of my friends, too! I know where to send folks who need beautiful creations made by a good person! Nanacy Halliwell, FL
"Hi Linda! We love our mural in our Florida vacation home. We are thinking of another remodel and will be looking into purchasing another beautiful mural of yours. Thanks much! Dee and Rich Kohl "
get more kitchen backsplash ideas
Get Tropical with your kitchen decor: You can decorate your whole kitchen using the tropical colors in this painting as inspiration. Use a soft creamy yellow for your wall paint color, cabinets can be beach house white or natural wood. You can use teal and red colors for accent pieces to create pops of color. The mural is stunning with green granite.
Read more reviews and comments from customers who purchased a kitchen backsplash mural.
"The mural is even more beautiful than I had expected! I love the smoothness of each tile, and the depth and beauty of the colors you used. I also really appreciate the obvious care you had taken to ensure safe delivery. Thank you for your talent. Very sincerely, Barbara McNair, San Diego "
you also might like these art and tile products from Linda Paul Studio