Kitchen Backsplash Ideas, Pictures and Designs

You are on page 2, more designs and ideas on
page 1
page 3
page 4
A French Country Kitchen makeover


This modern country kitchen utilizes lighter cream cabinets with an umber glaze. A Rooster Grand Medallion from Linda Paul Studio gives that classic nod to French Country

customer review: We love Sylvester, the rooster! Pam Salisbury, NC

Metal Finish: Bronze Antique patina . Stone colors: S3 Light travertine and S5 Noche
Arts and Crafts Style backsplash design


How refreshing is this arts and crafts style backsplash featuring the Falling Leaves copper plaque by artist Linda Paul. It is surrounded by a natural stone pebble backsplash with inserts of arrowheads, trilobites, petrified wood and individual leaf accents.


go to Falling Leaves mosaic and metal collection
Close up picture of the medallion: This one is custom Rachels flower medallion 29" x 17" with Kayla and Celeste scroll accents in bronze antique patina metal accents and S3 and S5 travertine
Gorgeous kitchen in cream, black and white with custom old world map mural by Linda Paul Studio


Have your art or photo made into a custom tile mural by Linda Paul
After Picture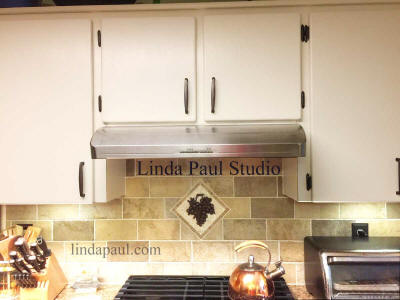 After some paint and hardware on the cabinets, and a grapes mini medallion from artist Linda Paul surrounded by some large subway tile. Voila! Simple and beautiful
A Kitchen backsplash stunner!

This medallion used the customer's own mosaic tile with our 5 fleur de lis design center accent and studded brackets. Its a wow!



We can create this for your using our tiles or yours! More info 36" x 24"
Our Rooster mini medallion takes center stage in this marble backsplash!
It is paired with our matching copper fine rope liner and then bordered by the customers marble chair rail and marble tile. Simple and beautiful!
This is our stock 24" x 24" grand Vienna medallion installed in one of our customer's kitchens. It is paired with beautiful crema marfil subway tile and a nice accent row of 2x2 tiles that continues around the entire backsplash. This one has the subway tile right up against the medallion. The hood is a nice mixture of both copper and bronze.


I thank you again for the beautiful work. I'm also showing you the fleur-de-lis tiling that my husband surprised me with five years ago when we had the floors redone ... So you can see just how perfectly your mosaic medallion fits in with it all. ​~
Theresa L Ferguson Proud Navy Wife & COH (Commanding Officer of the Home)
Beautiful installation of our Ravenna Onlay in copper oil rubbed. The installer was very creative with the diamond and dot tile and how he bordered the onlay .
This is a faulous piece . Its classic and beautiful more info
Clean and Classic

This picture shows our Ravenna plaque in bronze high polish and blackened background. It is surrounded by smaller mosaic tiles and then another metal border and nice polished travertine subway tiles. Its a timeless look
Simple and elegant back splash idea


This beautiful kitchen backsplash picture shows 2 of our Vienna grape borderless accents set on tumbled stone in a diagonal pattern and bordered by travertine pencil style borders. Its a fabulous style that mixes contemporary with classic traditional design.


Copper in the Kitchen
Love this studded copper hood with our Ravenna Backsplash medallion in copper high polish with blackened background. Mosaic stone colors are S3 Light travertine and S5 Noche
Custom sunflower backsplash


Our Sunflower Field tile backsplash makes this kitchen a happy sunny place. We also love the wheat sheaf carving in the cabinet doors and the glass mosaic tiles surrounding the mural.

Here is what the customer had to say, "We LOVE our kitchen and the mural. We wanted a conversation piece as it faces into our family room too and it met the expectations. " Julie
White kitchens are always in style!

You can give a classic white kitchen a Tuscany flair by adding our Tuscan Kitchen mural and travertine tile. The arch above the cooktop and the round island are unique and interesting decorating ideas.
Need kitchen backsplash ideas on a budget?


Just a few decorative accent tiles placed in your back splash can change it from ordinary to fabulous!
The 2 x 4 travertine subway field tile allows for a perfect insert of our 4x4 accent tiles

see all Linda Paul Accent tiles
Italian Tile backsplash ideas


Our Italian Kitchen mural backsplash is the focal point of this kitchen's decor . The rest of the backsplash tile is a tumbled marble Noce from Lowe's. See how it runs in two directions , diagonal on the sides and straight next to the mural

Italian Kitchen back splash tiles
Eclectic Spanish Revival Kitchen Design and Backsplash


I love eclectic and unusual kitchens. This is one of my favorites. It gives a nod to Spanish architecture and colors. The mixture of dark wood and unique red cabinets together with our Chili pepper Kitchen mural pull this look together. I also really like the little 1" x 1" red glass accent tiles

more info on Chili Pepper Kitchen mural
Gorgeous Mediterranean Style Kitchen Backsplash Idea


Backsplash picture (left)shows installation of our
Celeste Arched Medallion
in this custom kitchen in Marietta , GA. The customer used 3 x 6 Jerusalem Gold brick shaped kitchen backsplash tile to surround the medallion The hood is a custom Tuscan Stone Mantel
Roosters in the kitchen!


This installation shows our
custom duo roosters design
in a mosaic sticks backsplash and wolf range


The customer who bought this medallion gave this review:

"I was excited to find these medallions offered by Linda Paul and when I called, Linda was totally responsive and shared my excitement. We exchanged ideas and Linda came up with the design with two roosters which I love! I was thrilled when I saw it; it's gorgeous! The product is quality. The medallion adds so much character to our kitchen! And the metal accents add continuity to the kitchen space." Mary Jane Leland
Okay Dokey Artichokey!

Love this backsplash installation with Artichoke metal tile as center piece
Vineyard Kitchen Backsplash Mural Idea

This custom kitchen alcove features our Vineyard tile mural with pot filler, Wolf range and 4x4" gold travertine back splash tile. This kitchen has the WOW factor

Very clean and pretty tile back splash design using our
Vineyard mural
Note how the tile pattern runs in several directions to create interest.
more tile backsplash ideas
page 1,
page 3
page 4