Kitchen Backsplash Ideas, Pictures and Designs

You are on page 2, more designs and ideas on
page 1
page 3
page 4
Questions call 303-818-2663 or email us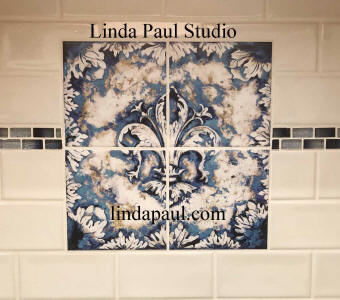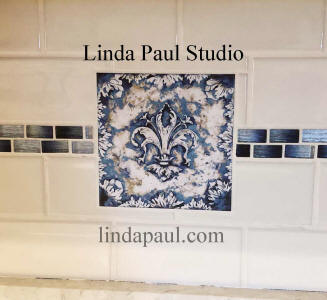 Blue and White Kitchen
Linda Paul's
fleur de lis tiles
are the perfect addition to this blue and white small kitchen
shows 12x12 tile mural in customer's kitchen, customer says,
I love these in my kitchen, and they are exactly what I wanted. I couldn't be happier!! Thank you!!!
Sheila Fenderson, SC
Grapes and Vine Kitchen Backsplash Design Idea
This cherrywood kitchen features our custom Wandering Vine and Vienna grape medallion. It can be made in pretty much any size.
Featured Tuscan Style kitchen!


Check out artist Linda Paul's 66" x 36" Tuscany Arch tile mural in our customer's kitchen. It is bordered by 1" x 12" smooth metal border bar liner in copper highlight polish. The oil rubbed copper pot filler was placed in the center of the mural and the copper and stone hood is spectacular. You can mix different metal finishes in your kitchen to great effect!
Before and After Pictures of backsplash


In this kitchen the proportion and design of the centerpiece fits perfectly. This is our Regal Fleur de lis plaque in nickel silver high polish with a black background

Sizing Tip from Linda Paul: To help you pick a size for your backsplash feature, cut out a piece of paper to the size you think you want the centerpiece to be, and then stand back and see how you like the proportion.
Make a Statement with your Kitchen Backsplash
This custom Ravenna travertine mosaic stone and bronze metal medallion from Linda Paul Studio fits smaller backsplash areas nicely. The installer did a nice job of framing out the medallion with horizontal square tiles the, putting the rest of the backsplash tile on the diagonal
Mediterranean Style kitchen with Fleur de lis small mosaic and metal medallion

This installation of our fleur de lis mini medallion hits it out of the park! The installer did a great job of utilizing different tiles and making a ledge above the stove. Love the red accents too. The medallion is in stock in several metal finishes.
Fruit basket metal backsplash accent


Beautiful and simple backsplash using different shapes of white ceramic tile including trendy arabesque with our
fruit basket borderless accent
glued on top of the tile. Fruit basket is Stainless steel high polish finish
Backsplash designs and ideas for restaurants

We created this large Italian Pizza Kitchen backsplash tile mural and sign for Antigoni's Pizza restaurant in Turner Maine

We can customize many of our artworks with your name


go to Italian Pizza Kitchen back splash
One of our Australian customers sent in this picture of her Chili Pepper Kitchen tile mural. I love the red tile combined with the exposed brick and the natural wood countertop is amazing.
Customer comment
"Some years ago I had bought a Linda Paul "Chili -backsplash" and had it shipped to Australia. I can not tell you how much I loved it! Since then I have moved to the US (Dallas, Texas) and I must admit that my kitchen in Australia with your backsplash is probably way up there with the things that I miss the most...
" Michele
Add some pizzazz to your kitchen backsplash with our grape and wandering vine mosaic tile medallion. Comes in your choice of metal and stone colors.

The customer expanded the size and look of the medallion by putting and extra border of 2 rows of brown mosaics and a stone rope outer border

Customer review:Thank you so much! We finally completed our project and it looks beautiful!! The grape medallion is perfect and compliments our adjacent wine room in our Tuscan home. I have admired your pieces for many years and am so grateful to finally have one. You are so talented!"
Michele Mulcahy, Chandler, AZ July 2020



go to grape mosaic medallions
Roosters are a must in a French Country Style Kitchen!
Our rooster mini medallion in bronze oil rubbed makes this breakfast bar area super special.
Tuscan Tile Backsplash in Custom Cherry wood Kitchen
Check out this beautiful traditional kitchen design. It features our Tuscan Kitchen mural with gorgeous cherry cabinets and amazing Barricato granite that was chosen to match the green , gold and cream Tuscan colors in the mural. Taking some cabinets to the ceiling and keeping some lower is an exciting new trend. Adding a molding at the top finishes the look


Tuscan Kitchen mural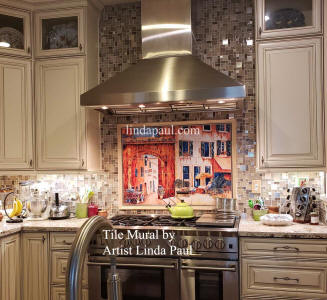 click picture to see larger image
French country style kitchen with a 42" x 30" ceramic tile mural surrounded by glass mosaic tile that goes all the way to the ceiling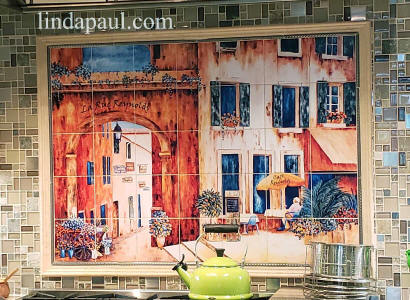 close up of personalized tile mural A Day in Provence
We personalized the arch over the street, the umbrella and all the little shops signs too

This installation picture shows our customer's kitchen with our stock fleur de lis mini medallion in bronze oil rubbed with S3 light travertine and S5 Noche mosaic stone tiles.

The medallion is surrounded by random pattern travertine tile with a nice border along the counter edge
Our customer says the Rooster Mini medallion from Linda Paul Studio is right at home in his kitchen!

This traditional style kitchen is perfect with the dark granite counters, maple cabinets and light colored tile backsplash with our Rooster mini medallion in bronze oil rubbed with S3 light travertine and S5 Noche mosaic stone tile.
Notice how the installer changed the size of tile in the center area and added a border to great effect. Its a great way to make a smaller accent piece fill a larger space
A French Country Kitchen makeover


This modern country kitchen utilizes lighter cream cabinets with an umber glaze. A Rooster Grand Medallion from Linda Paul Studio gives that classic nod to French Country

customer review: We love Sylvester, the rooster! Pam Salisbury, NC

Metal Finish: Bronze Antique patina . Stone colors: S3 Light travertine and S5 Noche
Arts and Crafts Style backsplash design


How refreshing is this arts and crafts style backsplash featuring the Falling Leaves copper plaque by artist Linda Paul. It is surrounded by a natural stone pebble backsplash with inserts of arrowheads, trilobites, petrified wood and individual leaf accents.


go to Falling Leaves mosaic and metal collection
Close up picture of the medallion: This one is custom Rachels flower medallion 29" x 17" with Kayla and Celeste scroll accents in bronze antique patina metal accents and S3 and S5 travertine
Gorgeous kitchen in cream, black and white with custom old world map mural by Linda Paul Studio


Have your art or photo made into a custom tile mural by Linda Paul
A Kitchen backsplash stunner!

Medallion with our 5 fleur de lis design center accent and studded brackets. Its a wow!

More info
This is our stock 24" x 24" grand Vienna medallion installed in one of our customer's kitchens. It is paired with beautiful crema marfil subway tile and a nice accent row of 2x2 tiles that continues around the entire backsplash. This one has the subway tile right up against the medallion. The hood is a nice mixture of both copper and bronze.


I thank you again for the beautiful work. I'm also showing you the fleur-de-lis tiling that my husband surprised me with five years ago when we had the floors redone ... So you can see just how perfectly your mosaic medallion fits in with it all. ​~
Theresa L Ferguson Proud Navy Wife & COH (Commanding Officer of the Home)
Simple and elegant back splash idea


This beautiful kitchen backsplash picture shows 2 of our Vienna grape borderless accents set on tumbled stone in a diagonal pattern and bordered by travertine pencil style borders. Its a fabulous style that mixes contemporary with classic traditional design.


Copper in the Kitchen
Love this studded copper hood with our Ravenna Backsplash medallion in copper high polish with blackened background. Mosaic stone colors are S3 Light travertine and S5 Noche
Italian Tile backsplash ideas


Our Italian Kitchen mural backsplash is the focal point of this kitchen's decor . The rest of the backsplash tile is a tumbled marble Noce from Lowe's. See how it runs in two directions , diagonal on the sides and straight next to the mural

Italian Kitchen back splash tiles
Gorgeous Mediterranean Style Kitchen Backsplash Idea


Backsplash picture (left)shows installation of our
Celeste Arched Medallion
in this custom kitchen in Marietta , GA. The customer used 3 x 6 Jerusalem Gold brick shaped kitchen backsplash tile to surround the medallion The hood is a custom Tuscan Stone Mantel
Sea Life Tile Mural for Ocean themed or Coastal kitchens

This white subway tile kitchen backsplash combines Linda Paul's mermaid and seahorse tiles to make a mural
more tile backsplash ideas
page 1,
page 3
page 4