Kitchen Backsplash Ideas, Pictures and Designs
You are on page 3 more designs and ideas on
page 1
page 2
page 4
Questions call 303-818-2663 or email us
Our customer says the Rooster Mini medallion from Linda Paul Studio is right at home in his kitchen!

This traditional style kitchen is perfect with the dark granite counters, maple cabinets and light colored tile backsplash with our Rooster mini medallion in bronze oil rubbed with S3 light travertine and S5 Noche mosaic stone tile.
Notice how the installer changed the size of tile in the center area and added a border to great effect. Its a great way to make a smaller accent piece fill a larger space

This installation picture shows our customer's kitchen with our fleur de lis mini medallion in bronze with S3 light travertine and S5 Noche mosaic stone tiles.

The medallion is surrounded by random pattern travertine tile with a nice border along the counter edge
Backsplash Idea for Wine Cellar


The focal point of the custom wine cellar is my French Bistro marble tile backsplash. The restaurant signs in the mural were personalized for the customer. The top of the mural was cut into an arch by the installer to fit.

more info and buy mural online at French Bistro Tile backsplash
Sea Life Tile Mural for Ocean themed or Coastal kitchens

This white subway tile kitchen backsplash combines Linda Paul's
mermaid
and
seahorse tiles
to make a mural
Our Rooster mini medallion takes center stage in this marble backsplash!
It is bordered by the customers marble chair rail and marble tile. Simple and beautiful!
This picture shows our Vineyard mural in a classic white kitchen.
& Its really nice how the decorative moulding on top of the cabinets turns the corner (on the right side) and continues along

Here is what the customer who purchased and installed this mural said, "
It's like looking through a window to another place and time."
Loretta, Portmouth, OH
Traditional Kitchen with a pop of color

with our 36" x 24" Olive Garden mural backsplash

Customer who bought and installed this says, "My wife is so happy and loves it. Aram, Montrose, CA
After Picture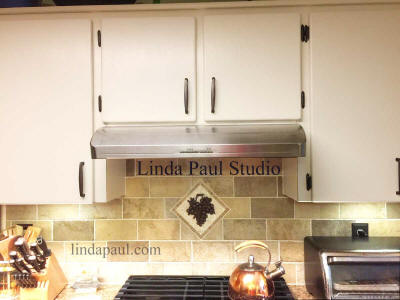 After some paint and hardware on the cabinets, and a grapes mini medallion from artist Linda Paul surrounded by some large subway tile. Voila! Simple and beautiful
Three Ducks tile mural for French Country or Modern Farmhouse Decor

Get Quacking with this french country farmhouse tile mural from artist Linda Paul. Have sign personalized with your name, examples Karen's Kitchen, Fido Farm etc
Eclectic Spanish Revival Kitchen Design and Backsplash


I love eclectic and unusual kitchens. This is one of my favorites. It gives a nod to Spanish architecture and colors. The mixture of dark wood and unique red cabinets together with our Chili pepper Kitchen mural pull this look together. I also really like the little 1" x 1" red glass accent tiles

more info on Chili Pepper Kitchen mural
Left: Kitchen backsplash design with 5 fleur de lis handmade glass and mother of pearl tiles by artist Linda Paul with antracite terrazzo backsplash

Right: Hand-made glass tiles with iridescent natural paua shell. shows 6" x 6" Fleur de lis Paua shell and glass tile with white subway tile. These tiles come in different sizes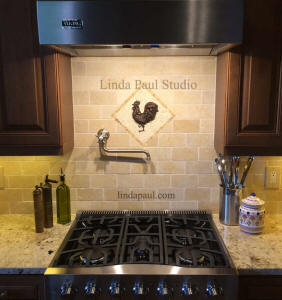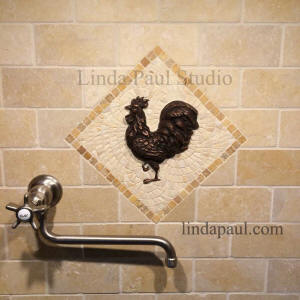 Small medallion makes a big Impact
Our
Rooster mini Medallion
transforms this otherwise plain subway tile backsplash into a charming French Country inspired kitchen