Kitchen Backsplash Ideas, Pictures and Designs
You are on page 3 more designs and ideas on
page 1
page 2
page 4
Questions call 303-818-2663 or email us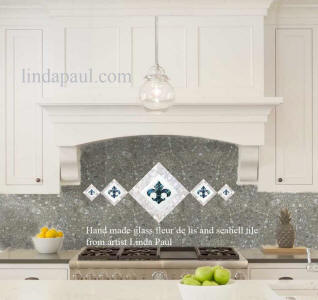 Left: Kitchen backsplash design with 5 fleur de lis handmade glass and mother of pearl tiles by artist Linda Paul with antracite terrazzo backsplash

Right: Hand-made glass tiles with iridescent natural paua shell. shows 6" x 6" Fleur de lis Paua shell and glass tile with white subway tile. These tiles come in different sizes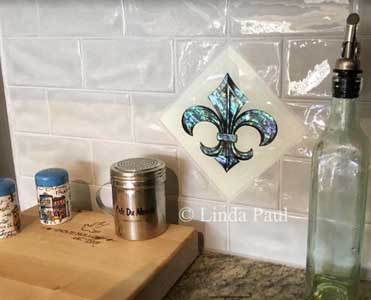 Tuscany Arch Tile Mural
over Stove in classic style kitchen
Its a nice design idea when the tile mural backsplash fills the entire space as in this picture of a custom kitchen with Thomasville cherry cabinets. Size of mural in picture is 48" x 30"

"The Tuscany Arch tile backsplash is gorgeous and compliments the decor in the rest of the kitchen. I have received numerous comments on the backsplash on how beautiful the backsplash looks and the high quality of the tiles. Thanks Linda."
Terry B Longmont Colorado
Roosters in the kitchen!


This installation shows our
custom duo roosters design
in a mosaic sticks backsplash and wolf range


The customer who bought this medallion gave this review:

"I was excited to find these medallions offered by Linda Paul and when I called, Linda was totally responsive and shared my excitement. We exchanged ideas and Linda came up with the design with two roosters which I love! I was thrilled when I saw it; it's gorgeous! The product is quality. The medallion adds so much character to our kitchen! And the metal accents add continuity to the kitchen space." Mary Jane Leland
Vineyard Kitchen Backsplash Mural Idea

This custom kitchen alcove features our Vineyard tile mural with pot filler, Wolf range and 4x4" gold travertine back splash tile. This kitchen has the WOW factor

Very clean and pretty tile back splash design using our
Vineyard mural
Note how the tile pattern runs in several directions to create interest.
Modern White Kitchen with Orange accent wall and Fish Art by Linda Paul


Linda Paul's Fishing with Picasso is available as a painting or tile mural or individual fish tiles in 2x2, 4x4 or 6x6" sizes

having one bright accent wall adds a lot of life to a white kitchen
A new Look for French Country Kitchen
French Country has been a staple of our studio designs for years. This kitchen gets and updated French country look with clean lines and our Fleur de Grand mosaic medallion. Gotta have a fleur de lis and a rooster represented though!

The updated french Country has less natural colored wood and more cream tones. The granite in this kitchen gives it warmth and the grapes on the hood are a nice touch. More info on the medallion at https://www.lindapaul.com/grand-vienna-tile-medallion-fleur-de-lis.htm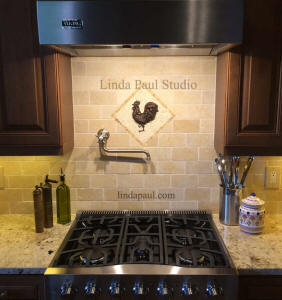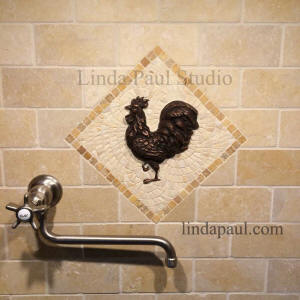 Small medallion makes a big Impact
Our
Rooster mini Medallion
transforms this otherwise plain subway tile backsplash into a charming French Country inspired kitchen
Mosaic Tile Backsplash Idea and Design


This kitchen backsplash tile design is one of my favorites. It features our Vienna grape medallion, studded brackets, le grape borders and Melissa accents. The neutral tile colors of grey and black are a nice contemporary touch.


more info on these grape medallions
Installation picture of arched Fleur de Lis backsplash medallion with Copper antique patina finish on the accents with S5 Noche brown travertine and S2 Botticino Florito travertine mosaic stone tile. The customer used marble sticks to surround the medallion

Comment from the Canadian customer that installed this medallion We've received so many compliments and I brag about your work and website to family and friends. Maria Ferguson, Mississauga, Ontario, Canada
A beautiful Fleur de Lys backsplash and classic white hood
This is our stock Fleur de grand stone and metal medallion. The customer paired it with a lovely carved hood and dark cabinets
Fleur de Lis backsplash Plaque


Regal Fleur de Lis decorative tile onlay or plaque. Install on or over tile, stucco or any wall indoors or outdoors to make an instant statement piece. Comes in 16 different finishes


go to Fleur de lis plaques and onlays
Linda Paul's Cajun art is a perfect focal point with this 6 burner AGA red range. It an innovative design idea to have the microwave built in to the corner cabinet. Very convenient

Louisiana Kitchen mural
Extended version sunflowers back splash with subway tile and beautiful cabinets and range, This kitchen decor is contemporary and inviting.

"We received and installed the
sunflower field tile backsplash
and it exceeded our dreams. This stunning piece of art brought dimension and character to our new kitchen. Everyone who has seen it either in pictures or in person is taken with the beauty of it all. I feel so blessed to have stumbled across your fantastic work." Sandy B, Texas
Need a Southwest kitchen backsplash idea?
This is a very creative backsplash design with our chili pepper kitchen tile mural. Love the framing of the mural with the black slate and the shelf above.


buy chili pepper kitchen mural
Make your backsplash the centerpiece of your kitchen with this Ravenna plaque kitchen backsplash medallion. You can order this from us in a variety of metal and stone finishes.

Ravenna Plaque info
Review:
Linda's work is just so beautiful and can turn a bland space into a mini art gallery. Her artistic painting on the tiles and attention to detail make this piece of art something really special in our home. My mural choice was the "Sunflowers in the Vines" and I swear to you, it looks like we had a window installed in our kitchen over the stove. It's that realistic when finished! So, do yourself a HUGE favor and make that connection with Linda. She is a delight to work with and extremely knowledgeable and helpful during the ordering process. Her website has
sooooo much information along with many, many pictures along with tile ideas and selections. Linda, we thank you very much for enhancing our home with your beautiful work plus turning my kitchen into a showplace and making it a real treat to be cooking in such a gorgeous space!
Linda and Dick Walsh
Wild horses mural in bathroom shower stall

The two sizes of gold travertine tiles are the perfect setting and framework for our Wild Horses tile mural
"...you knew we loved horses and the fact that you were able to find Linda Paul was a miracle. The shower, that the tiles were installed in, became more magnificent and alive with Linda's artwork and the way you chose to frame it...all our friends gasp when they see the uniqueness of how it all came together. Inspired by Linda Evans, designed by Bill Stevens, architect and consulting designer" for Vista Santa Rosa Hacienda, La Quinta, California"
read more customer Reviews of our tile murals