Louisiana Kitchen Tile Backsplash and Cajun Decorative Tiles by artist Linda Paul

Beautiful tile mural of a Louisiana Kitchen overlooking the bayou with crab shack, hanging garlic, old New Orleans wood shutter, blue crab, red and green peppers, okra, celery, gumbo bowl, gator bait hot sauce and bayou to do (voodoo) list By American artist Linda Paul. From $499.00
6" x 6"

x 1/4" ceramic

tile mural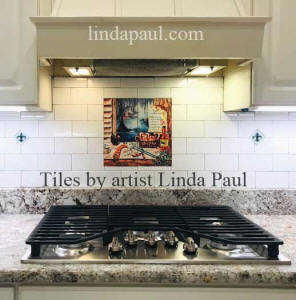 Here it is installed in customer's kitchen
Customer review."Absolutely love the tiles! So unique and special." Sandra Coleman, Convington , LA
Our beautiful murals and accent tiles are made on 1/4" thick ceramic tile

Please contact us for custom sizes or to order your mural or accents on 4.25" x 4.25" tile
more details about tile types, sizes etc



Murals and accent tiles have a satin finish
Artist's Inspiration: I had an idea to do a New Orleans art series inspired by a Louisiana kitchen and down home southern cooking. I really wanted to have the feel of a Cajun kitchen on the bayou. The "To Do" shopping list on the right (of which my life has many), has turned a phrase into a "voodoo" list (being a Louisiana painting and a fun play on words). We can remove the word "VooDoo" or change it to "To Do" by request (free).

Louisiana Cajun Kitchen Decorative Accent Tiles: 4.25" x 4.25" and 6" x 6" $50.00 each ( 1/4" thick size)
Lou-5 and Lou-13 tiles can be personalized with your name (extra $100.00)





We can also add your name to the shopping list or hot sauce bottle! Extra $100.00

click picture to see larger image
We also have an extended double shutter version
this can be made in the following sizes - some cropping occurs with some of the sizes, please contact us for an exact picture of the size you need
6x6" tile:
30" x 18" $599.00, 36" x 18" $ $649.00 see picture, 42" x 24" $1042.00, 54" x 30" $1575.00
Dimensions are given as length first, then height.
Don't know What Size to Order?
If you are not sure which size of backsplash mural to order, just email us a straight on picture or design drawing of the space you have for your backsplash and we can tell you which is the best size for your space. Be sure to include all dimensions. We can design the perfect backsplash mural just for you! Artist Linda Paul is an expert in designing her images to fit your space perfectly!
contact our tile design experts or call 1-303-818-2663 to order or inquire
Our murals ship in approx. 1 to 2 weeks, free shipping in USA
Installation Pictures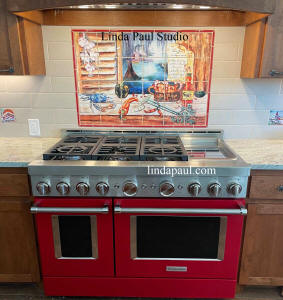 Our 36 x 30 Louisiana Kitchen tile mural looks fabulous with the red range and matching red ceramic tile border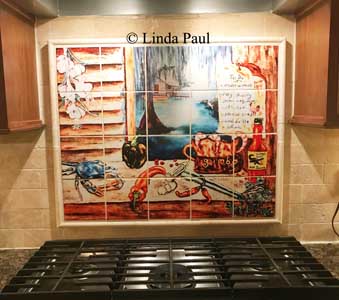 Our 30" x 24" Louisiana Kitchen tile mural on 6" x 6" ceramic tile

Customer review: our beautiful mural backsplash complements our kitchen perfectly— the colors and our Lowcountry area in Bluffton, South Carolina!! My husband is planning on making gumbo real soon!! Thank you so much! Thanks again, Kathy Jacobs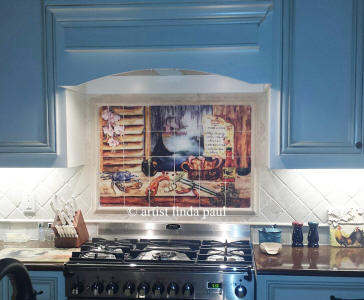 Customer reviews:
"My wife LOVES IT!!!! Thank you so much for your wonderful product", Ed Lepp
shows 30 x 24" size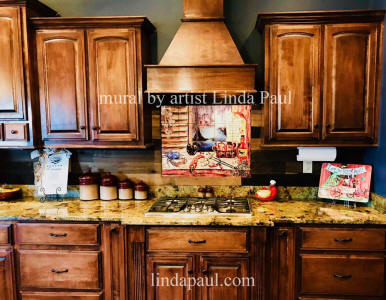 My Cajun inspired mural fits perfectly in this authentic Louisiana kitchen perfectly. This one was 30" x 24" on 6x6" ceramic tile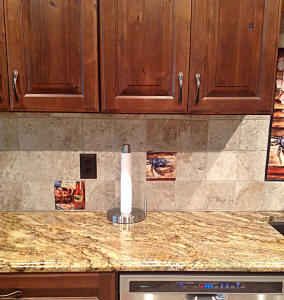 Customer review: by Anita Brouillette , Pineville, LA, Hey Linda, I installed your Louisiana Backsplash and love it.  Great comments from all who enter our new addition.  What's more appropriate then "A TASTE OF LOUISIANA".  Your work is beautiful.  Bonjour Mes Amis.   (Good day my friends). Thanks again