Welcome to my Colorado Bonsai Page.
This page is a peek into my bonsai journey, Colorado Bonsai inspirations See all my bonsai concrete slabs and pots for sale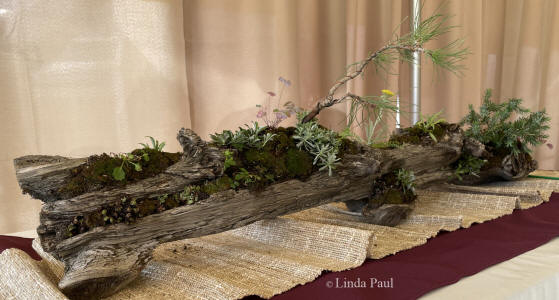 Kusamono planted in old juniper fencepost log from my dad's ranch property. All native Colorado plants. Rocky Mountain Bonsai Society show September 2022 and ABS kusamono show 2023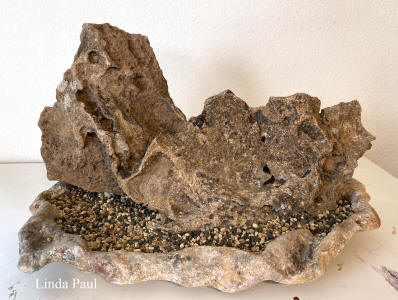 Dec 2022 I made this concrete and wire bonsai pot to perfectly match this cool Colorado rock that I found.
May 2022 I created this special pot for a fabulous rock that I found in Colorado. My goal was to make the pot look as much like the rock as possible. In spring i hope to put a bristlecone bonsai tree into it - literati style.
My new bonsai
painting was inspired by bonsai master
Ryan Neil's and his Sierra Juniper# 8 at Bonsai Mirai.
Here is Ryan Neil's review of the painting. "
Linda's interpretation of our work touches on the abstract form in a way other interpretations haven't. We find it inspiring and informative how creative minds further convey the interest of the trees we put our hands on.
" - Ryan Neil, Bonsai Mirai