Copper Forest - original glass wall art or backsplash by artist Linda Paul

This original work of art by Linda Paul has been completely hand-painted and copper leafed on the back side of 1/4" thick glass. The copper has been annealed to a rich deep color rather than new shiny penny color. Install directly into your backsplash between your other tiles. There is a board glued to the back of the glass to protect it
Because the front is glass and the artwork is behind it, its super easy to clean. The copper catches the light beautifully. It has to be seen in person to be truly appreciated.
Copper Forest Framed Glass Backsplash - Original art by Linda Paul

original hand-painted work of art, real copper on the black of the glass. An additional 1/8" board protects the artwork
12" x 12 x 3/8" thick
Just glue directly to the wall between your other tiles.

price $599.00 Sale Price $199.50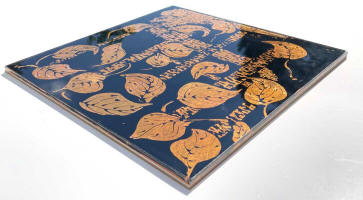 Side view showing board on back of glass tile
You also might like these copper and leaves inspired artworks by artist Linda Paul .
Installation Tip:
If you tile up to the bottom where you want the piece glued, the frame or glass artwork will have something to rest on as the adhesive sets. You can also temporarily screw a board to the wall for the piece to rest on as the glue dries, then remove the board after the glue has set and tile around it.

Cleaning Instructions: You can clean with Windex and a lint free cloth, spraying the Windex on the cloth rather that on the glass itself .