The Nutcracker original egg tempera painting by artist Linda Paul
Features five dancers in scene from "Dance of The Snowflakes"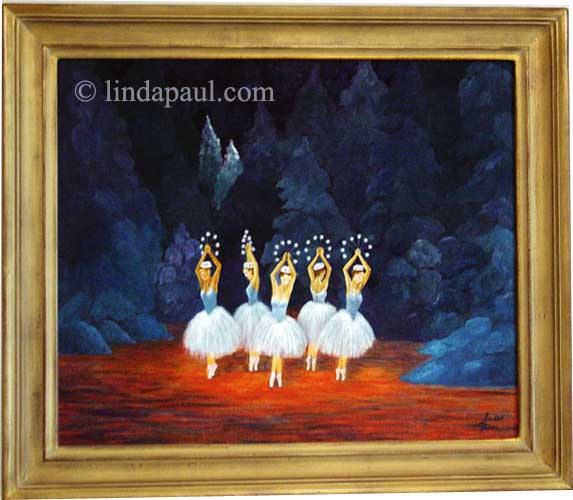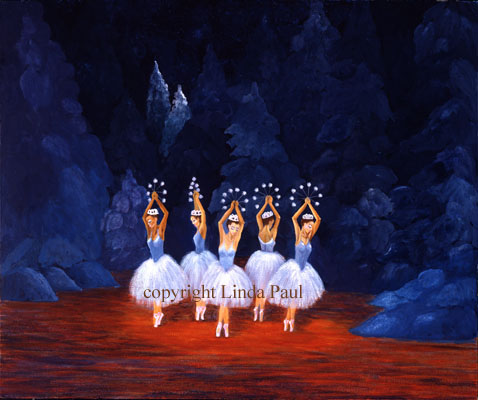 Frame: Comes with museum quality 3" gold frame finished in old Italian tradition with red bole under-rub, slightly distressed.
This original work of art is from Linda Paul's dancework series. It is painted in pure egg tempera made from crushed stone and egg yolk. This medium is beautifully luminous and lasts for centuries
Click Here for ballet Note Cards

About these original art paintings
American Artist Linda Paul uses natural crushed stone & earth mixed with a bit of water and egg yolk to make her paint. Blues come from crushed lapis lazuli, greens from malachite & natural green earth found around Verona Italy. She uses fascinating colors which have been "lost" for hundreds of years and new colors which she has discovered in the Rocky Mountains. Her earth ochres come from the ancient open pit mines of Rousillon France. Her artwork is both beautiful and luminous. These Paintings will last for centuries!
Read more and see pictures!

Why Buy Original art?
Some people may ask, "why buy original art when you can buy a nice print". Several reasons, simply put, the original is just far more beautiful. Its also one of a kind. This beauty does not translate as well in the digital world. Another reason is that the original captures the soul of the artist, what the artist is feeling when they are creating the piece can tangibly be felt in an original artwork. Of course the original is far more valuable and usually increases in value. You should buy original art because you love it! It will enrich your life.
You also might like these works of art by artist Linda Paul