"Italian Fresco Wall" Original sculpted bas-relief and egg tempera paintings by Linda Paul
Original fresco paintings of Italian style designs by American Artist Linda Paul - Set of two still life frescos of sculpted bas-relief fruit with leaf border. You can decorate an entire room around this set of monochromatic paintings and color scheme . It is the latest in Italian style decor
each framed painting is 29" x 29"

Price
$2990.00
Super Sale price
$799.00
for both paintings (you save $2191.00)
Free shipping In USA
set of 2 Fresco Wall with Fruit and Fresco Wall with Veggies

Framed Original bas-relief and egg tempera paintings by Linda Paul.

Framed size 29" x 29" Regular Price: $2,990.00

  Price is for both paintings with free shipping in  USA


These are bas-relief sculptures as well as paintings. All of the elements were sculpted in bas-relief before being painted in pure egg tempera which I make by hand by grinding natural pigments mixed with a touch of egg yolk. I only used one color for the entire painting; a caput mortem iron oxide which is crushed then mixed with a little water and egg yolk, This mineral has natural complex color. In one vessel it creates sedimentary layers of dark brown and earth red. The earth red floats to the top and the dark brown settles on the bottom. read more about Egg Tempera
Here is how these fresco paintings were created
Sketches: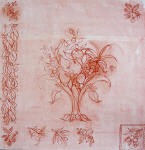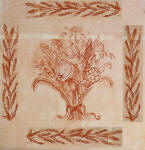 I started a series of sketches inspired by my love of Italian design and imagery. I channeled my inner Italian. I sketch in red chalk as did the Italian maters of the Renaissance. In the first sketch, I designed a border of interlacing leaves and berries with the four corners having a berry and leaf design. The center is an Italian design inspired medley of fruit. In the second sketch I designed a wheat border and herb corners. I was inspired to create these paintings with a monochromatic color scheme as it was February and I was feeling a tad colorless. I followed my mood, heart and inspiration.
I sculpted all of the elements in these artwork in bas-relief. The first artwork, fresco wall with fruit, has in its centerpiece, olives, a half peeled orange, pineapple, berries, lemon, pear, grapes and lovely art nouveau leaves. The matching art work, Fresco Wall with veggies has a medley of assorted vegetable including an artichoke, corn, beans, peppers, garlic, onion, tomatoes all being held up by spears of asparagus. I sculpted each grain of wheat in the border individually. The four corner pieces are all different herbs plants.
In the picture above, I have started painting the wheat border with a monochromatic wash of a beautiful reddish brown iron oxide called Caput Mortem.. If I was an artist doing this in the sixteenth century I would use the original Caput Mortum (literally translated as death's head) which was a pigment made from the wrappings of mummies, but adapted for today's world, (and a lack of available mummies), I am going to use a caput mortem natural iron oxide which has complex layerings of reddish brown and black colors.

"
Both my wife and I love our painting. The tempera technique you use is like a combination of Water Colors, Pastels and Oil and is truly unique. Vibrant, soft, textured, subdued. I can't say enough about it. Thank you very much.
-Jon and Stephanie H. Denver, CO. "


Read more
Customer Reviews and Comments
" I love the painting which I received yesterday. It will be placed in a special place in our living room. The piece is unique and beautiful. Every time I look at it I see something new. I look forward to seeing other pieces of your work in the future. Clara Agostini"
You also might like these works of art by artist Linda Paul
Seeing IS believing and we believe you will absolutely love your art purchase from "Linda Paul Studio". 100% money back guarantee if you are not completely enraptured with your purchase."