French country Original Art framed painting - Hollyhock Lane
by artist Linda Paul
free shipping in USA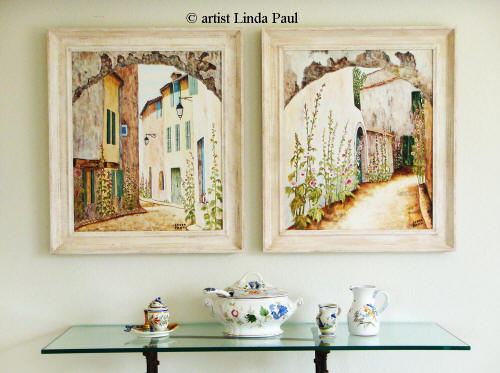 click picture to see larger image
copyright info will not appear on the art that you purchase
framed size of each painting is size 25" x 29" x 2" arrives at your door ready to hang on your wall
About these Original Paintings:
These original paintings are painted in pure egg tempera made from crushed stone and egg yolk. They have a beautiful earthiness to them because of the natural minerals used to make the paint. I make my own paint by crushing stones and minerals and adding egg yolk. All of the earthy ocher colors come from an ancient ochre mine in Rousillon, France which historically provided natural ochre pigments for fresco paintings for artists like da Vinci. The frames are expertly hand crafted out of wood and then finished by me in the same fresco plaster and paint that I used in the paintings. There are a few very tiny hairline cracks in the paint that you can only see up close. This a natural occurrence in egg tempera and in no way detracts from the beauty of the artwork

Artist's Inspirations: These paintings was inspired when I last traveled to a small island in France called Isle de Re. A magical place of wind swept fishing villages and cottages. Hollyhocks of every color were everywhere throughout the village. I love French ceramics and pottery. My antique Quimper creamer and mustard jar in the photo are a perfect compliment to the paintings and its colors
here is a close up of the unique hand-painted wood frame
"Customer Review of French Country House artwork

"

by Susan Battista, NY

Hi, Linda I just wanted you to know how happy I was to receive my two pieces of canvas art, 'French Café' and 'French Country House', They are beautiful. You are truly a wonderful artist. Again, thank you.
"Customer Review of A Day in Provence and Wall of Ages artworks

"

by Tim and Karen Colorado Springs, CO

We received "A Day in Provence" today in perfect shape and immediately hung it in its pre-reserved place in our "France" room. It looks absolutely wonderful! In addition to perfectly balancing your "Wall of Ages" print on the other side of our French bookcase, it is a welcome reminder of our visits to Provence; it also reminds us of Carcassonne. Thanks for getting it to us so quickly
You also might like these works of art by artist Linda Paul