Pineapple Tile Inserts: handmade tiles by artist Linda Paul.
Add some bling to your kitchen decor!
Pineapple 2" x 2" , 4" x 4" and 6" x 6" beveled glass handmade tiles
$
29.95
and up special introductory prices

These beautiful pineapple wall decor accents are handmade by USA artist Linda Paul behind glass. They sparkle, capture and reflect the light beautifully. You can insert these glass tiles between other tiles in your kitchen or bathroom backsplash. They can also be framed and hung as pineapple wall art. Pineapple tiles are available as diagonal or horizontal tiles.


Pineapple Decorative Tile Accents ,

hand-painted

(behind the glass) glass tiles in sparkle gold and green with white background and 4 corners gold sparkles
In beveled glass in sizes: 2"x 2"$29.95 , 3" x 3" & 4"x 4" $49.95 and 6" x 6" $69.95 each with free shipping. 1/4" thick


When adding these tiles to your cart, select diagonal or horizontal orientation. Questions? Need a different color? 303-818-2663


Lead time about 2 weeks if not marked in stock
In stock and ready to ship we have 1 2" x2" diagonal, 1 4x4" horizontal and 1 4x4" diagonal
Shows tile from the side. Glass is mounted on 1/8" board and silicone sealed around the edges. Please let us know if the tiles are going in a shower and we will add extra seal.

A note on sizes: A 2" x 2" diagonal tile measures 3" point to point (each side is 2")

Artist's Inspiration and symbolism of the pineapple: The pineapple symbolizes hospitality and friendship. So it's the perfect way to welcome your friends and family to your kitchen! I love painting fruits and vegetables . All my early paintings were inspired by the bounty of the earth

Installation Options:

1/4" thick tile - Installs Between Other Tiles:
The glass itself is 3/16" thick in the center and 1/8" at the edges (because of the bevel ). We add a 1/8" board to the back so the entire piece is 1/4" thick and can be installed in between your other tiles. The tiles install just like our regular ceramic or marble tile.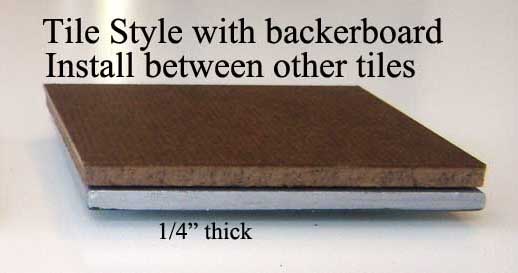 Frame and Hang as wall home decor:
The 4x4" and 6" x 6" glass tile make great gifts. They can be framed and hung in your home as wall decor.
Installing in a shower:
Please let us know if you want to install these tiles in shower, outdoor or commercial area.


Customer review of Linda Paul's Glass backsplash art," "The art glass arrived today and it is even more beautiful than I expected. We are so happy with the art. It gives interest and focus to the tile backsplash over the stove. The colors of the art are beautiful and the piece creates the illusion of being lit from within. It's been a pleasure to do business with you and I will certainly recommend your company highly. " Kathy Rooney, NY


email our tile design experts or call 1-800-936-9958 to order or inquire
toll free from USA, Canada, the Caribbean, Alaska or Hawaii
you also might like these handmade glass tiles from Linda Paul Studio