Tuscan Kitchen Tile Backsplash by artist Linda Paul
Beautiful Tuscan Kitchen backsplash tile mural by American artist Linda Paul of a window overlooking a misty Tuscany landscape and hill town with still life of olives, olive oil, lemons an all the ingredients you need to make a fabulous black olive tapenade including the artist's own recipe. There is even a hummingbird that comes to visit your kitchen window! Its perfect for Tuscan decor. L

ovingly hand-crafted in Linda's Colorado art studio.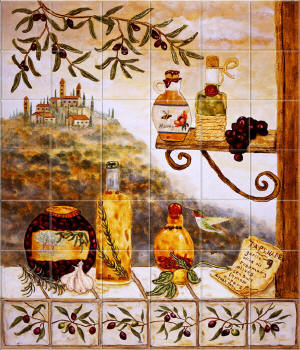 Tuscan Kitchen Tapenade by American Artist Linda Paul

Price
499.00
and up
Our beautiful murals and accent tiles are available in porcelain/ceramic or marble tile.
Marble tile murals have a 35% surcharge. Please contact us to order your mural with marble tile
more details about tile types, sizes etc



Our standard finish is a satin finish, Just let us know if you want a glossy finish (same price)
6" x 6"

x 3/8" porcelain

tile mural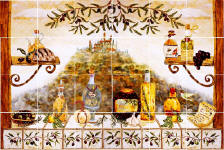 if you need Tuscan Kitchen as a horizontal mural

see the Italian Kitchen version
Accent Tiles 6" x 6"

x 3/8" porcelain

tile $50.00 each (can also be ordered in a 4.25" x 4.25" x 1/4" thick size)

Olive branch decorative border tiles of black & green olives !
You can order the entire border of 6 tiles with the branch (vine) or you can order the tiles individually


Olive branch border
The branch runs continuously through the tiles
You can special order the continuous olive vine border tiles in any length you need $50.00 per tile

Individual tiles (below)
The branch does not run through the tiles.

6" x 6" $50.00 each
H
eat setbacks from traditional stovetops
Ceramic/porcelain or marble tile murals must be set 6" above and 2" back from any heat source. Hot pots/pans should be kept 2" away from the mural. A stone chair rail or pencil border around your mural will help to deflect heat from below

Do not install ceramic/porcelain or marble tile murals above stoves that have a heat vent on the back. The heat that comes out of these oven vents is extreme

|
Dimensions are given as length first, then height.
Don't know What Size to Order?
If you are not sure which size of backsplash mural to order, just email us a straight on picture or design drawing of the space you have for your backsplash and we can tell you which is the best size for your space. Be sure to include all dimensions. We can design the perfect backsplash mural just for you! Artist Linda Paul is an expert in designing her images to fit your space perfectly!
email our tile design experts or call 1-800-936-9958 to order or inquire
toll free from USA, Canada, the Caribbean, Alaska or Hawaii

Our murals ship in approx. 4 weeks, free shipping in USA and to Canada see our in stock murals

you can expedite your order
to ship in 2 weeks for an additional charge of $100.00
just click add to cart
Installation Pictures
Featured Kitchen Backsplash Idea



Check out this picture that our customer sent in. Its our 24" x 30" Tuscan Kitchen back splash mural in a gorgeous cherry kitchen with amazing

Barricato

granite island that was chosen to match the color in the mural

.
Here is our Tuscan Kitchen tapenade mural installed with mini subway tiles in the backsplash. I love how the mural fits the proportions of the space perfectly. Its always a good idea to match the color of the mural border to the rest of the backsplash tile.
see more kitchen backsplash ideas and installations
"The mural looks beautiful, we absolutely love it. We are very happy with our new kitchen! Alain and Andrea Mowad"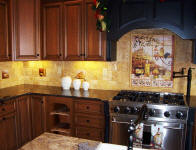 A spectacular kitchen backsplash idea that creates the perfect Italian kitchen. See how the tile design incorporates the 3x6 subway tile next to the counter, then 6x6 tiles above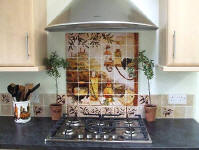 A kitchen does not have to be big to be beautiful. Our mural makes this modern hood and small cooktop so special
"We would like to thank you for the fabulous art work, which has finished off our new kitchen in style. Everyone who has seen the mural thinks it is indeed like looking through a window on Tuscany. We would probably run out of superlatives, but the mural is rich, sumptuous, a feast for the eyes - and we find something interesting to focus on each time we step into the kitchen. Your service from ordering, through packing to delivery was exemplary. We would absolutely recommend your work to anyone considering it."Pauline and Mel Owen, Newcastle upon Tyne, England

"We absolutely love our, "Tuscan Kitchen Tapenade" tile mural. My husband and I knew it was going to be fantastic when we saw the photos on your website, but when we saw the tiles in person we were blown away! The colors are absolutely amazing. Every day when I make my way to the kitchen I appreciate my beautiful mural. I can hardly wait to remodel our living room so that I can pick out one of your large canvas prints. Thank you so much! Mike and Lisa White, Los Gatos, CA " Read more reviews and comments