Sea Glass Tile Collection of fish in beautiful colors of aqua blue and sea glass green and white by artist Linda Paul.
Free Shipping in USA

New from artist Linda Paul! Hand-made glass tiles inspired by the sea that sparkle like light on the water. Fish tiles that are perfect for coastal or beach decor. From $89.95 Please contact the artist for custom sizes, colors etc.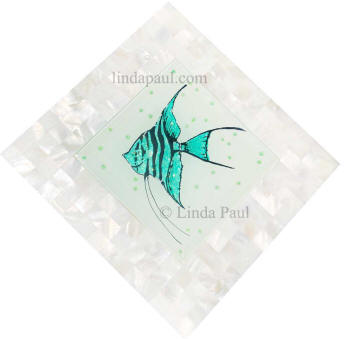 Aqua Blue Sparkle Angel Fish Glass Diagonal Tile with Mother of pearl mosaic tile border. hand made hand-painted by artist Linda Paul. One piece backsplash art. Just glue onto your backsplash wall.
Measure 14" point to point. 1/4" thick
Each Side is 10"
Price $299.00
Sale Price $149.00 50% off



From ARTIST Linda Paul
Aqua Blue angel Fish tile with green dots and white background. Diagonal Beveled Glass 6" x 6" tile
sizes: 6x6" - measures 8.5" point to point. 1/4" thick. facing left. $89.95
Free Shipping in USA
From Artist Linda Paul
Green Angel Fish tile with Aqua dots and white background. Diagonal Beveled Glass 6" x 6" tile
- measures 8.5" point to point. 1/4" thick. $89.95
Free Shipping in USA



This picture shows the fish art tiles photographed in low light so you can see how they sparkle. They are is perfect paired with white , aqua or green or glass tile.


unique and hand-painted

Note about sizes: When placed on the diagonal the 6x6" measures 8.5" top point to bottom point and side to side
the 4x4" measures 5.75" on the diagonal point to point
the 2" x 2" measures 2-7/8" point to point on the diagonal




Shows tiles from the side. There is a 1/8" board on the back of the glass. There is a layer of clear silicone seal between the glass and the board as well as around the side perimeter of the tile (not shown here).

You also might like Linda's Paua shell tiles or fish art paintings for beach or coastal decor


Installation:

1/4" thick tile - These hand-made glass tiles installs Between Other Tiles:
The glass itself is 3/16" thick in the center and 1/8" at the edges (because of the bevel ). We add a 1/8" board to the back so the entire piece is 1/4" thick and can be installed in between your other tiles. The tiles install just like our regular ceramic or marble tile.


Artist's inspiration: I love fish. I love to paint them, snorkel with them, paint them and eat them . these fish tiles were inspired from a recent dive trip to Toatan Honduras

Customer review: by Kathy Rooney, NY,The art glass arrived today and it is even more beautiful than I expected. We are so happy with the art. It gives interest and focus to the tile backsplash over the stove. The colors of the art are beautiful and the piece creates the illusion of being lit from within. It's been a pleasure to do business with you and I will certainly recommend your company highly.
More customer reviews