Beautiful mosaic art tile medallion backsplash of grapes and vines with noche and light travertine marble mosaic tiles and grape cluster center piece and grapevine borders

in copper finish with antique patina. Medallion comes in your choice of 19 different metal finishes and 7 stone colors. Its perfect for a kitchen backsplash, wine cellar patio or pool area. We can create a custom size for you to fit your space. see examples below.
.Questions? call 800-936-9958
price

$1419.00






Chateau grape medallion with

Bronze antique patina finish

on grape and grapevine accents with S5 noce brown travertine and S3 light travertine mosaic stone tile
Size 24" x 24" $1419.00

This mural medallion must be grouted Hand-crafted in USA

1 In stock and ready to ship. Free shipping in USA
as per picture to the left





Chateau grape medallion with

oil rubbed copper finish

on grape and grapevine accents with S5 noce brown travertine and S3 light travertine mosaic stone tile
Size 24" x 24" $1419.00

This mural medallion must be grouted Hand-crafted in USA
see sample of oil rubbed copper at bottom of page


More info and other sizes




Double grape and Wandering Vine kitchen backsplash mosaic and metal medallion

Size is 24" wide by 19" high
Price $

1399.00




free shipping in USA


Features 2 Vienna borderless grapes in the center with Wandering Vine border in Copper antique patina, Stone colors are S3 Light travertine and S5 Noche mosaic tile

Medallions arrive at your door fully assembled on a a mesh backing. Just glue to the wall and grout







Mosaic tile medallions are individually handcrafted in the USA


Arrives fully assembled on mesh backing, just glue onto the wall and grout. The stones are cut to fit in and around the metal accents


| | |
| --- | --- |
| The accents on the medallion are high quality metal coated resin. They are available in many different finishes (see bottom of page) including oil rubbed bronze, copper and stainless steel. | |

Exclusively from Linda Paul Studio
Vienna grape and wandering vine medallion
Each Side measures 12". Top to bottom or side to side is 17". price $499.00 lead time 3 to 4 weeks

order in any metal finish and 2 stone colors
Please contact us to order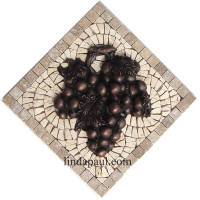 Vienna grape mini medallion
shown above in copper antique patina with S3 and S5 Travertine stone


click picture to see larger
Tile part is 3/8" thick. Grape protrudes another 1" in relief.

Individually handcrafted in USA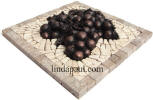 Exclusively from Linda Paul Studio
Vienna Grape Diagonal Mini Medallion

Each side measures 8" x 8", top to bottom and side to side points measure 11"
$299.99

Arrives fully assembled on a mesh backing, just glue to the wall and grout the stones. Please contact us to customize medallion with different metal and stone finishes (see bottom of page)



We have 2 in stock in copper antique patina and 3 in bronze oil rubbed. all with S3 Light Travertine and S5 Noche mosaic tile. Ships right away
Here are some other size options - contact us for pricing and to order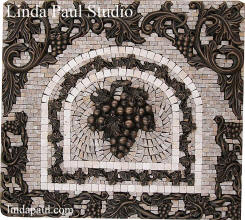 click picture to see larger
Chateau grape medallion with Bronze antique patina finish on grape and grapevine accents with S5 noce brown travertine and S3 light travertine mosaic stone tile
Size 20" wide x 18" high $1350.00
Hand-crafted in USA
picture shows medallion grouted and installed   all parts of medallion are mounted on a mesh backing, just glue to the wall and grout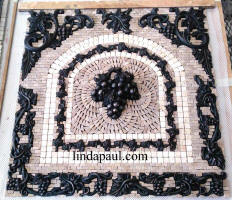 This is a medallion in progress. It is a custom 22.5" x 22.5" size $1599.99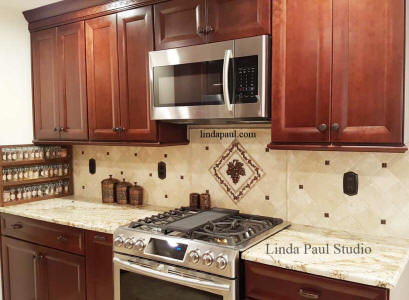 Fabulous kitchen with our grapes and wandering vine medallion and baby 1x1" fleur de lis accents cut into the corners of the diagonal backsplash tile
Colors used were S3 Light travertine and S5 Noche with copper antique patina accents
Featured medallion Installation

This is our stock Chateau grapes medallion in bronze antique patina and S3 Light Travertine and S5 Noche stone tile. The Kayla accents in the rest of the backsplash are a nice extra touch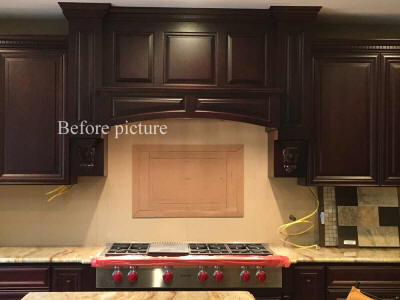 before picture of customers backsplash area. We helped design this customers space and choose a medallion that was perfect for it. To help with sizing, you can cut out a piece of paper to the size you think the medallion should be, tape it to the wall, then stand back and see if you like the way it fits the space. We can also do a mock up of how the medallion or mural will look in your space if you send us a straight on picture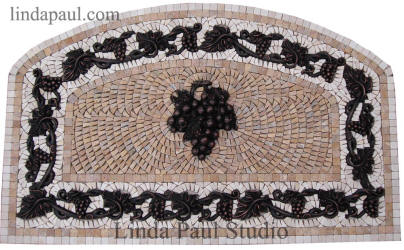 Custom 31" x 19" arched vienna grape medallion with 2.5" chateau grapevine border and S4 Jerusalem Gold marble and S6 Gold Ten travertine stone mosaic tile.  $2195.00 can order without extra outer border of stone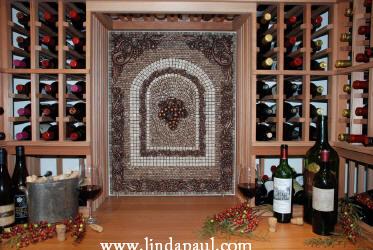 Wine cellar with custom vertical version of Chateau grape medallion in a custom size of 26" w x 34" h, shown in Noche and Light travertine stone with accent s in copper highlight polish. Custom -contact us for price quote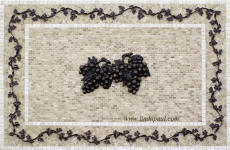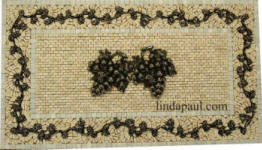 You also might like this custom Wandering Vine and Vienna grape medallion. It can be made in pretty much any size. The installation picture is a custom 32" x 18" with S4 Jerusalem Gold marble in all the field areas and a subtle S1 white marble border. Price estimate is $1899.00, please contact us for an exact quote
Buy a sample for $5.00 each

samples ship out immediately via usps mail
Can't decide what metal finish to order? Buy a sample for $5.00 each - online shopping below Samples are limited to one per color.
Samples are a great way to compare and match metal colors before you order metal tiles or a medallion.


Copper High Polish


Copper Highlight Polish


Copper Antique Patina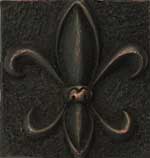 Copper Oil Rubbed


Bronze High Polish


Bronze Highlight Polish


Bronze Antique Patina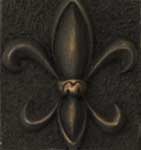 Bronze Oil Rubbed

nickel silver high polish

Nickel Silver highlight Polish

Nickel Silver Antique Patina

Nickel Silver Oil Rubbed


Brass High Polish


Brass Highlight Polish


Brass Antique patina


Stainless Steel High Polish



Iron Rust (dark brown)


Iron Wrought (black)