3 Original Acrylic on Canvas Abstract Art Paintings by American artist Linda Paul
An Ocean of Petals, Flowers of the Ocean and Inside the Bloom
Get a fabulous pop of color with these colorful abstract art painting in colors of classic blue, turquoise white gold and green. Classic blue is the Pantone color of the year for 2020 so these paintings are super on trend. Sizes 16" x 20 and 24" x 24" and 36" x 36". You can decorate an entire room around these colors
free shipping in USA and to Canada.

Ocean of Petals

Size 24" x 24" x 1.5" deep
Acrylic paint on canvas
$399.00 with free shipping in USA
Artists Inspiration: I named this Painting, Ocean of Petals as I created each petal individually (with an blowing air gun technique) and with purpose. The colors remind me of a recent beach trip to Belize where the world under the ocean on the reef is spectacular
Flowers of The Ocean

Size 36" x 36" x 1.5" deep
Acrylic paint on canvas
$999.00 with free shipping in USA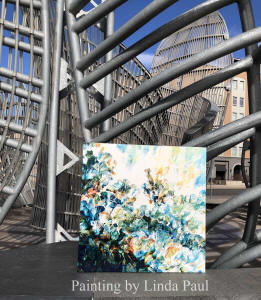 I love the juxtaposition of the hard steel of this Denver sculpture with the soft floral energy and colors of my painting.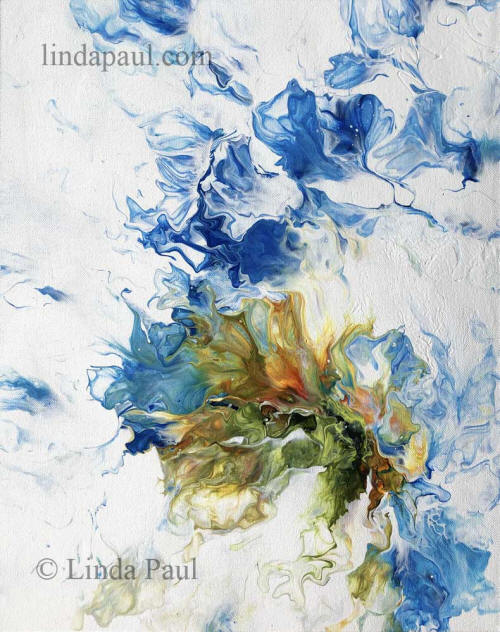 Inside the Bloom
Size 16" x 20" x 1.5" deep
Acrylic paint on canvas
$299.00 with free shipping in USA
These navy blue and white paintings by Linda Paul are perfect for today's decorating color trends. A classic navy blue color has a calm effect and instills confidence, stability and dependability.

About this artwork: These abstracts paintings are part of my new flow series. I use anything from air guns, hair dryers, straws, blowing, and tilting to get these beautiful abstract patterns. Even though they may see completely serendipitous and random, I have a feeling, spirit and general plan in mind when I start.




More navy blue art original art paintings for wall decor from artist Linda Paul


Seeing IS believing and we believe you will absolutely love your art purchase from "Linda Paul Studio". 100% money back guarantee if you are not completely enraptured with your purchase."