Northern Light Abstract Art Painting by Contemporary Artist Linda Paul!
I created this abstract painting using many layers of acrylic paint It has great texture. The sides of the canvas are painted the same as the front. It arrives at your door ready to hang on your wall. see picture below of back of canvas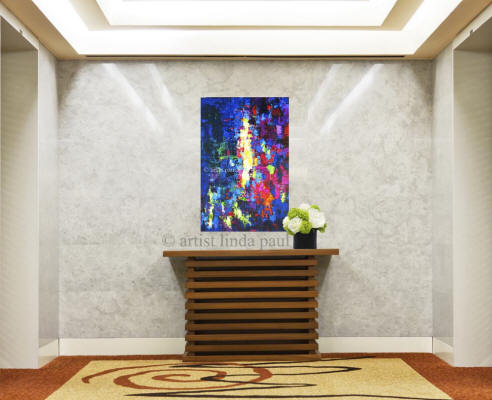 Picture shows mock up of painting in hotel foyer hallway. Just one piece of art, a simple table and some flowers is all you need to make a foyer or hall space beautiful. A little grey and white wall paper or paint is a nice background for a colorful painting

Artists Inspirations: My "Northern Light" painting is an abstract of my Road Less Traveled series (picture left). As I was painting, it reminded me of the northern lights that filled the sky where I grew up in Saskatchewan , Canada. Now that I live in Colorado, I miss the light, but not the cold. All the paintings go amazing together in one room. The series starts with the more impressionistic Road less traveled and becomes more and more abstract
Every Picture tells a story, but in this case the back of the picture tells the story of the next painting being created in my studio.

When I work in acrylic paint, I always have mixed paint leftover on my palette. The acrylics I use are super pigment loaded so they are quite expensive. Not wanting to waste paint, I trowel the leftover paint from my palette onto the back of the painting. Often it is the paint from the next painting, so it is a foreshadowing of the next one and and provenance marker for the one it is on. Kinda cool too
More contemporary and abstract art for sale by artist Linda Paul
Seeing IS believing and we believe you will absolutely love your art purchase from "Linda Paul Studio". 100% money back guarantee if you are not completely enraptured with your purchase."