The Art of Coffee original egg tempera painting by artist Linda Paul
Beautiful original sculpted painting of coffee beans, burlap bags, coffee plants and Hawaiian Kona flowers, coffee grinder and biscotti cookies all overlooking a tropical plantation  By American artist Linda Paul. |
Free shipping in USA
$949.00 Size 29" wide x 25" high"


Questions call 303-818-2663 or email us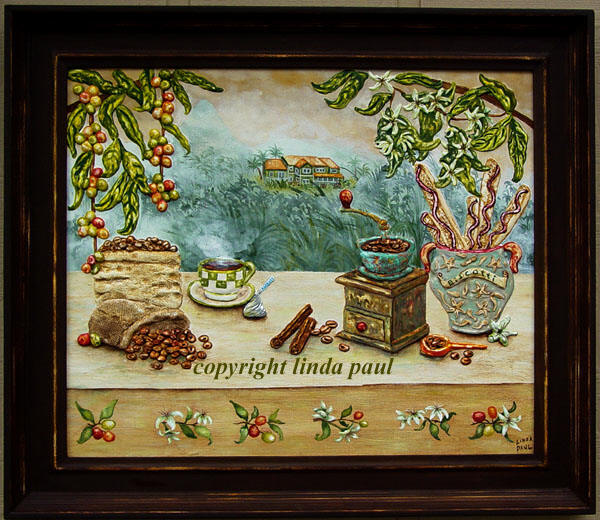 copyright info will not appear on the original art that you purchase. Painting is signed by the artist
Artist's Inspirations: I love coffee! Couldn't paint without it. If I was ever on Survivor, and they allowed me to bring one luxury good, it would have to be coffee! Combine that with my desire to live somewhere tropical like Hawaii and the inspiration for this painting was born. I imagined a window overlooking a misty coffee plantation with a volcano in the background, hanging coffee vines, burlap coffee bags some cool coffee cups, a grinder, and of course biscotti cookies and a Hershey's chocolate kiss that goes oh so perfect with coffee. I wanted to portray that coffee is an art and a beautiful process from the field to your coffee cup.



Here is how this painting was created
I have started the sketch for my coffee plantation painting. I sketch in red chalk to channel the Renaissance part of me. I start with the background landscape of my plantation house and far off volcano and mountains. I plan to have most of the closer background in beautiful layered mists, so that the plantation house and mountain peek out from the mist. In the foreground I have drawn hanging coffee beans ripening on the vine, and on the right side, coffee plants in bloom. I am using the blooms from Hawaiian Kona coffee. The beautiful white blooms are called Kona Snow. The only other items in the foreground at this stage are a biscotti jars full of cookies and a couple bags of coffee beans. I let my drawing unfold organically, adding elements based simply on what I want in the painting, then placing them based on balance and positive and negative space.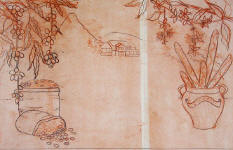 click picture to see larger image

This is the sculpting process on a 3/8" maple board. I will sculpt all the major elements in the foreground, leaving the background as just a painted landscape. The burlap coffee bags were quite the challenge to sculpt, but I think I will have a neat effect once I paint them. . I have added a coffee cup, a Hershey's chocolate kiss and some cinnamon sticks.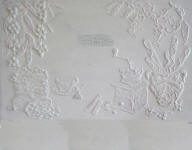 So as usual, I am not sure what colors I want to use in this painting, so I decided to do a little study painting of the burlap coffee bags and hanging coffee plants. At first I had the background sky a slate blue, but I did not like the cool tone it cast, so I changed it to a latte coffee color. Color is all about what color in next to it rather than the color itself in isolation.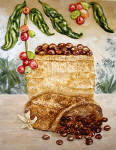 I like the color palette of my study (above), so I am moving on with the big painting. I always start with the background first and then move forward. The background will be a tropical landscape of rich vegetation, a plantation house and faint volcano. My next step will be to layer mists onto the dark green vegetation, softening the lines and creating the feel of a misty, tropical morning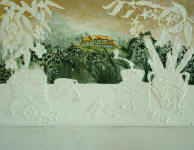 I have started to layers the background mists and paint the sculpted coffee plants, leaves, flowers and coffee beans which are ripening on the vine. Coffee beans start out green and ripen through stages of orange, then to red. They turn brown when they are roasted. I have left very dark green vegetation next to the window ledge because I plan to have the coffee in the cup steaming and adding to the mist.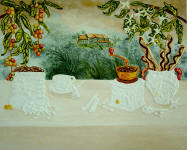 I am starting to develop the foreground elements. Color is tricky because it all has to work together. I think I have finally decided what to do with the bottom portion of the painting along the front ledge of the shelf. I want to paint designs of coffee flowers and beans on the vine. It should pull the whole painting together and tie the top portion to the bottom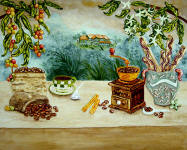 Customer review: The art arrived today! It's BEAUTIFUL!! Thank you! Raine (purchased Coffee Beans Original Painting
)

Questions call 303-818-2663 or email us