Grapes and Vines Art on Canvas by artist Linda Paul
Canvas artwork arched window and hanging grapes overlooking fall vineyard

from $

89.99

to $649.00
Questions? Call 800-836-9958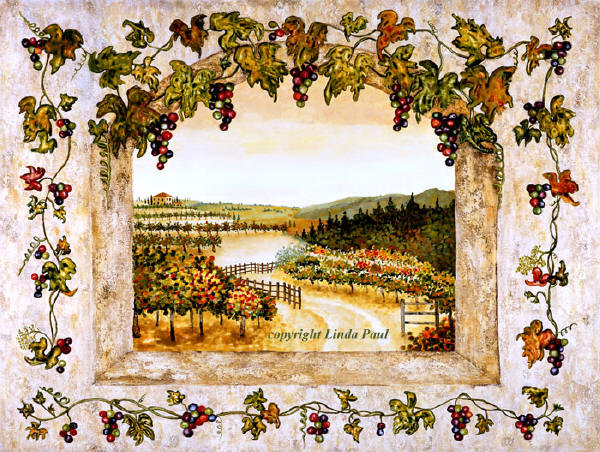 copyright info will not appear on the artwork that you purchase
Online shopping and pricing for

Ready- to-Hang
(stretched canvas no frame needed)
Ready to hang on your wall!
Canvas Art:
Sizes: 10" x 8" x 1-1/2", 16" x 12", 20" x 16", 24" x 20", 30" x 24",
40" x 30", 48" x 36". Canvas is stretched over 1-1/2" stretcher bars, with hand-painted sides and hanging hardware attached.

No frame needed!
more info on stretched canvas
Select size from drop down list
Ready to Hang Canvas Art
The canvas is wrapped around 1-1/2" stretcher bars with hand-painted sides.
These artworks need no frame & arrive at your door ready to hang on your wall.


more about our canvas prints

Free Shipping in USA and To Canada
Artist's Inspiration:
I wanted to create an artwork with an impressionist vineyard and grapevines surrounding an arched window. I love the colors of the autumn vineyard and the vines that are laden with their delicious harvest. The leaves are a palette of yellow, gold orange, red and green.

You also might like these works of art by artist Linda Paul
Questions? call 800-936-9958