Tuscan Village Art on Canvas by artist Linda Paul
This art work is a series of Italian vignettes: The first is a house where tomatoes are being strung and are drying in the sun. This is where sun dried tomatoes come from! My cocker spaniel is sitting on the step. A red bicycle is parked with all kinds of goodies from the market. Through the wisteria framed archway is Cafe del Dolce Mama! At the very back of the cafe is a tiny arched window with a miniature Italian landscape. A flower shop is laden with Tuscan sunflowers, tulips, calla lilies, gladiolas, blue hydrangeas & curly willow. The last little store is a gelato & Italian dessert shop where you can get all kinds of sweet things. Its siesta time in the village. dolce far niente - the sweetness of doing nothing! This art is perfect for Tuscan Decor! Limited Edition

from $

89.99

to $699.00
Questions? Call 800-836-9958
Online shopping and pricing for

Ready- to-Hang
(stretched canvas no frame needed)
Ready to hang! Canvas Art: Sizes: 24" x 12", 36" x 18", 40" x 20", 48" x 24", 60" x 30"
Canvas is stretched over 1-1/4" stretcher bars, with hand-painted sides and hanging hardware attached.
No frame needed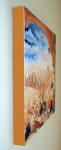 side view
Ready to Hang Canvas Art
The canvas is wrapped around 1-1/2" stretcher bars with hand-painted sides.
These artworks need no frame & arrive at your door ready to hang on your wall.


more about our canvas prints

Free Shipping in USA and To Canada
"

Customer Review of Tuscan Village artwork

"
by Cynthia
"Thanks for the superfast shipping!  I love your artwork!! Absolutely beautiful. I had decided to decorate my new home Tuscan style, and I found your website by a Google search (typing in words 'Tuscan decor'). I will be back to your site for more, larger pieces now that I have seen your work in person. Cynthia"
I just bought my first house and was looking to decorate my kitchen with a Tuscan theme. I Googled Tuscan Décor and your site came up. I fell in love with all your art! Janet
You also might like these works of art by artist Linda Paul
Questions? call 800-936-9958