Photo Tiles from Your Artwork - Custom Ceramic Tile Wall Art or Backsplash.
Photo shows custom photo tile in black frame 14" sides, 20" point to point. Click picture to see larger image
Custom made in our Colorado studio by artist Linda Paul



Have your own photo or artwork made into a beautiful piece of art on ceramic tile! We can create it as a diagonal or horizontal, framed or unframed. You can hang the framed tile on your wall or install it directly to the wall. Create a permanent or temporary and removable easy  DIY backsplash for your kitchen or any wall in your home.



Our frames are metal, so they can be hung over your stove. Linda's custom ceramic tiles are created with permanent pigmented ink and will not fade. They are fully sealed, durable and easy to clean.

Introductory price of just $

149.00

for 12" x 12" unframed tile . $249.00 framed in metal frame
Questions? call Linda 303-818-2663

Here is how it works:
1. You email us send us a high resolution digital file of your photograph or artwork that you have created.

2. We take a look at your image and let you know if it will work

3. We create your custom piece. We might make some color and contrast adjustments to improve it.

4. Time required to create your custom tile is 2 to 3 weeks. We respect artist copyright. We will only reproduce an image that you own or have permission to reproduce.

Custom murals from your photo or artwork can not be returned.
Examples showing same photo as horizontal and diagonal framed tile. Note how the diagonal has to crop in closer on the image
metal frame choices - click to see larger image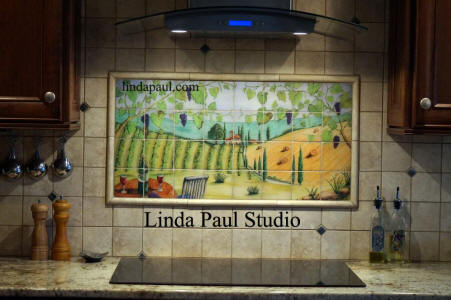 This customer had her vineyard painting made into a beautiful marble tile backsplash by Linda Paul Studio
Check out these before and after pictures of how you can use one of our framed 12 x 12 tiles to transform a plain white backsplash into something special and take it with you when you move. Its perfect where you need a temporary backsplash or just a great piece of wall art
You also might like these ready to hang art tiles by Linda Paul. Just $199.00 for framed backsplash or wall art. Just hang on your wall. Great for apartments, condos or anywhere you need a removable or temporary backsplash art
3 Installation and Hanging Options:
Option 1 Ready to hang removable backsplash:
You can just hang the framed tile art piece directly on your wall as a removable backsplash or tile wall art. There is hanging wire attached to the back of the frame. Make sure that the hook you put in your wall is either in a stud or a expandable wall anchor. You can keep the piece from sliding around by putting removable adhesive putty on the back of the four corners.
Option 2 Permanent Installation of entire framed artwork
. You can glue it frame and all to the wall using a Omni Grip White tile adhesive (available at Home Depot) or two part epoxy. You can easily remove the hanging hardware from the back of the frame

Option 3 Permanent Installation of tile directly onto wall :
You can install just the ceramic tile art piece directly to your wall then put your own stone or glass border trim around it.


email our tile design experts or call 1-303-818-2663 to order or inquire