Monet Garden Whimsy
Original Framed glass art of pond, water lilies and bridge inspired in Monet's garden at Giverny France by American artist Linda Paul
framed and ready to hang on your wall or behind your stove as a kitchen backsplash
This original work of art by Linda Paul has been completely hand-painted and silver leafed on the back side of the 1/4" thick glass. It comes framed in a 2" black metal frame.
Because the front is glass and the artwork is behind it, its super easy to clean. The translucent paint and silver catches the light beautifully. It has to be seen in person to be truly appreciated.
Monet's Garden Whimsy original glass art painting. framed Size 18" x 18" by American artist Linda Paul

original hand-painted work of art, backed in silver
Ready to hang framed painting . Framed in satin black 2" black metal frame with silver edge.
Framed size: 18" x 18" x 3/4" deep
Just hang it from a sturdy hook on your wall
special introductory price $

1099.00
Questions? call Linda 800-936-9958
This picture shows just the glass art with the sun on it, so you can see how the silver glints and shines through the paint. Click image to see larger picture
I also have it in a smaller size (below) with a more impressionist look and feel

Impressionist Garden at Giverny
original glass art painting. framed Size 14" x 14" by Linda Paul in black metal frame

original hand-painted work of art, backed in silver
Ready to hang framed painting . Framed in black 2 wide metal frame with silver edge.
Framed size: 14" x 14" x 3/4" deep
Just hang it from a sturdy hook on your wall
price $599.00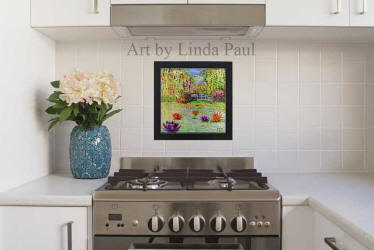 This picture show a plain white kitchen backsplash that has been transformed simply by hanging this lovely original glass framed art
Artist's inspiration: One of my greatest art inspirations has to be Monet. when I first saw the installation of his giant water lily paintings at the Musee de l'Orangerie in Paris I actually cried. I had seen the travelling ones in New York but the curved ones created especially for the museum installation blew my mind. This painting is a more whimsical approach to capture the life and color of the garden at Giverny This original artwork in completely hand-painted in translucent paint that I make myself. After the painting was completed, I backed it in silver leaf and seal it. The silver shines through and reflects the light beautifully.

Even in a very dark room, this artwork will capture whatever light there is and reflect it because of the silver on the back of the glass,
hang on your wall or behind your stove as a kitchen backsplash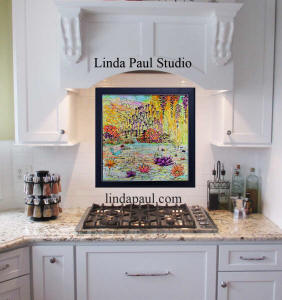 This shows how great my Monet Garden Whimsy looks in a white kitchen as a backsplash. This artwork is perfect for any space that needs a pop of color and happiness
Linda's art glass is inspired by stained glass but is designed to be used as wall art. The light, rather than coming through the glass as in a stained glass window, is captured and reflected by the silver, copper or gold on the back of the glass behind the transparent paint
You also might like these easy backsplash glass artworks by Linda Paul . They make an easy backsplash. Just hang it on your wall. Great for apartments, condos or anywhere you need a removable or temporary backsplash art
2 Installation and Hanging Options:
Option 1 Ready to hang removable backsplash:
You can just hang the framed glass art piece directly on your wall as a removable backsplash. There is hanging wire attached to the back of the frame. Make sure that the hook you put in your wall is either in a stud or a expandable wall anchor. You can keep the piece from sliding around by putting removable adhesive putty on the back of the four corners.
Option 2 Permanent Installation of entire framed artwork
. You can glue the frame and backing board to the wall using a Omni Grip White tile adhesive (available at Home Depot) or two part epoxy.
The advantage of doing it this way rather than gluing the glass itself directly to the wall, is you may be able to remove it later without destroying the artwork, The frame would likely get damaged it when you pry it off, but the art itself could be salvaged if you are careful.
Installation Tip:
If you tile up to the bottom where you want the piece glued, the frame or glass artwork will have something to rest on as the adhesive sets. You can also temporarily screw a board to the wall for the piece to rest on as the glue dries, then remove the board after the glue has set and tile around it.

Cleaning Instructions: You can clean with Windex and a lint free cloth, spraying the Windex on the cloth rather that on the glass itself so that the cleaner does not puddle between the glass and the frame


email our tile design experts or call 1-800-936-9958 to order or inquire
toll free from USA, Canada, the Caribbean, Alaska or Hawaii