Flower and Floral Inspired Metal tile Accents and Onlays

Collection of metal flower accents and onlays for kitchens, wine cellars etc. These beautiful decorations can be inserted between tiles or glued on top of tiles, stucco walls, wood or any material. The relief and 3-d effect on these tiles is amazing. They can be used indoors or in outdoor kitchens and patios.
| | |
| --- | --- |
| The accents on this page are high quality metal coated resin. They are available in many different finishes (see bottom of page) including oil rubbed bronze, copper and stainless steel. | |
Rachel's Flower Metal Tile Accent
choose from 6 sizes and 19 metal finishes (see colors at bottom on page) sizes: 3" x 3", 4" x 4", 5" x 5", 6" x 6", 8" x 8" or 9" x 9". Place horizontally or on the diagonal
Shop online or call 800-936-9958 - free shipping
in USA




Rachel's Flower
shown in copper antique patina


shown in nickel silver highlight polish


shown in bronze highlight polish


shown in bronze oil rubbed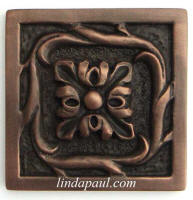 Fresco deco Tile shown above in copper antique patina
Size 3" x 3" x 3/8" deep $49.95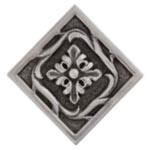 shown in bronze antique patina
Fresco deco Tile
Size 3" x 3" x 3/8" deep $49.95

order in any finish from the drop down list

Fresco deco Tile
Size 4" x 4" x 3/8" deep $55.95

order in any finish from the drop down list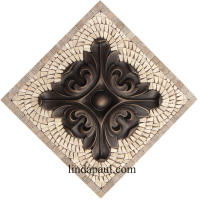 Rachels Flower mini medallion
shown above in bronze antique patina with S3 and S5 Travertine stone mosaic tile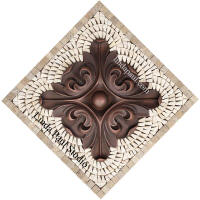 Rachel's Flower mini medallion in copper antique patina and S3 Light Travertine and S5 Noche mosaics
Exclusively from Linda Paul Studio
Rachels' Flower Mini Medallion

Each side measures 12" x 12", top to bottom and side to side points measure 17"
. Tile part is 3/8" thick. Flower protrudes another .75" in relief.
Flower in center is 8" x 8"

Individually handcrafted in USA
In stock and ready to ship we have 2 in copper antique patina, 2 in bronze oil rubbed and 1 in bronze antique patina


Price
$459.99
You can order this in any of the metal and stone colors at the bottom of this page
Arrives fully assembled on a mesh backing, just glue to the wall and grout the stones
Place horizontally or on the diagonal
Please contact us to customize medallion with different metal and stone finishes (see bottom of page) or in a different size



shown in Nickel silver highlight polish
Romanesque Baby Liner 10" x 1.5" $64.95

Romanesque Baby Corner 3.5" x 3.5" x 1.5" $59.95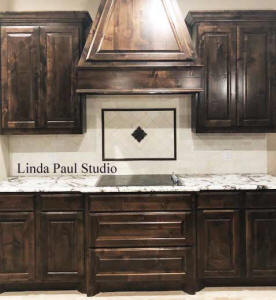 Customer's kitchen with a 5" x 5" Rachels flower accent and
1" x 12" Tumbled large bar liners
in bronze antique patina.
The customer used 4" x4" marble tile on the diagonal within the tile border, and matching marble subway tile for the rest of the backsplash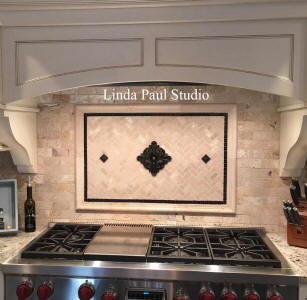 This gorgeous contemporary kitchen features our 6x6" Rachel's Flower and 1.5" Kayla accents in copper oil rubbed set overtop a herringbone brick tile pattern framed nicely
see
Kayla and other small tile accents

My customer Shirley has the spirit and color of the Thanksgiving season in her charming dining room. She installed 3 of our Rachel's flowers tile accents in the coffee bar at the back.
Love my Rachael's flowers! Thank you so much! Shirely R, Emoria VA

This fabulous tile design uses just 7 Rachel's Flower accents to make a big impression.
The accents are glued directly onto the other tile. By mixing several tile sizes and using different border style, you can create an really nice backsplash on a reasonable budget
Before and After Pictures of a granite splash and hood with Rachel's Flowers and Romanesque baby onlay and corners in bronze oil rubbed. Its transformed from plain to spectacular!
The onlays were glued directly on to the granite and hood

8" x 8" Rachels flower in center, 3" x 3" ones on hood
Custom 42" x 24" Rachel's Flower medallion with modified Bellagio Scroll border, 6" x 6" Rachel's Flower center, 3" x 3" Rachel's Flowers in corners. Metal Finish is Bronze High Polish with S5 Noche and S3 light Travertine Stone tile. 2" x 2" Pandora accents in center 1/4 circle area.

contact us for price quote

Pencil tile molding around the medallion is not included.
Customer review: ;We received the Rachel's Flower and Celeste Medallion (above) this afternoon! It is absolutely beautiful! When my husband Sam saw it he exclaimed how the beauty of it cannot be replicated online – it must be seen in person to appreciate it. It is the finishing touch to our kitchen renovation Sam and Debbie Igal
The Rachel's flower metal accent comes in 6 different sizes. Just a single accent can make a fabulous statement in your backsplash.

Rachel's Flower can be placed on the diagonal or horizontally. To add interest to a simple and affordable back splash, change the direction and shape of the tile with in a backsplash. In the picture, there are diamond shaped stone tiles in the central area and subway brick shaped tile outside of the border.

Picture shows 5" x 5" Rachel's flower and
fresco Chair rail metal border
(10" x 2") in Bronze Antique Patina Finish
Buy a sample for $5.00 each

samples ship out immediately via usps mail
Can't decide what metal finish to order? Buy a sample for $5.00 each - online shopping below Samples are limited to one per color.
Samples are a great way to compare and match metal colors before you order metal tiles or a medallion.


Copper High Polish

Copper Highlight Polish

Copper Antique Patina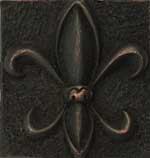 Copper Oil Rubbed

Bronze High Polish

Bronze Highlight Polish

Bronze Antique Patina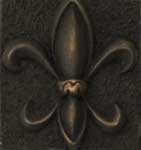 Bronze Oil Rubbed

nickel silver high polish

Nickel Silver highlight Polish

Nickel Silver Antique Patina

Nickel Silver Oil Rubbed

Brass High Polish

Brass Highlight Polish

Brass Antique patina

Stainless Steel High Polish


Iron Rust (dark brown)

Iron Wrought (black)