Metaphor Large Art on Canvas by artist Linda Paul
Contemporary abstract limited edition canvas art prints of moody seascape and old dock, cottage dock house and 2 frigate birds. This artwork has deep metaphorical meaning. Set of 3 large artworks on canvas. Fabulous colors of bronze , gold, cream and sea slate blue. Made with love in Linda's Colorado art studio.
from $

1398.00

and up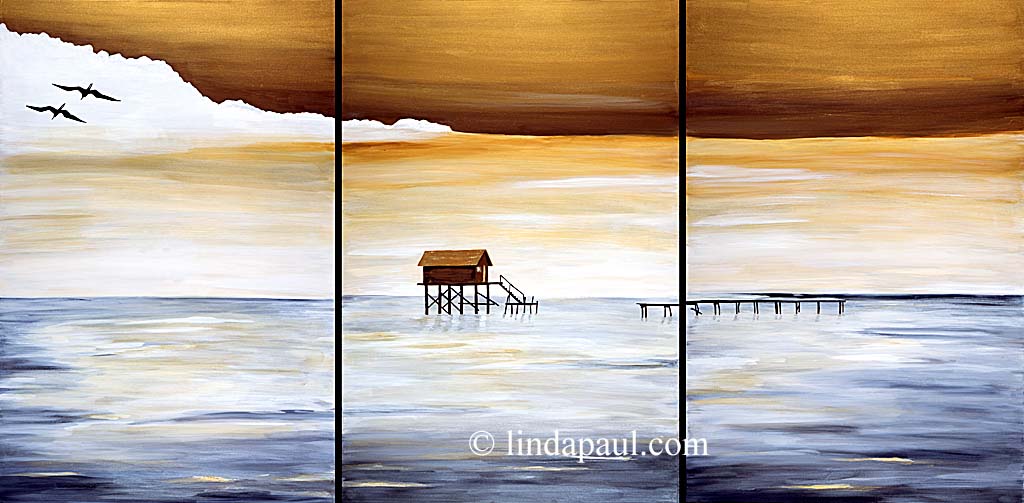 Online shopping and pricing for

Ready- to-Hang
(stretched canvas no frame needed)
Sizes: You can buy the Metaphor series as large or oversized wall art:
Ready to hang on your wall!
Canvas Art:
Large set of 3 each artwork is 24" x 36"

x 1.5"


or oversized , each artwork is 36" x 48" x 1.5" set of 3.
Canvas is stretched over 1-1/2" stretcher bars, with hand-painted sides and hanging hardware attached.

No frame needed!
more info on stretched canvas

Select size from drop down list
Ready to Hang Canvas Art
The canvas is wrapped around 1-1/2" stretcher bars with hand-painted sides.
These artworks need no frame & arrive at your door ready to hang on your wall.


more about our canvas prints

Free Shipping in USA and To Canada
Artist's Inspiration:   The canvas paintings were inspired on trip to Belize.  Over time, The little dock house  had separated itself from the dock. For some reason it spoke to me.  The painting has deep metaphorical meaning to me but  I think each individual will find his or her own metaphor and  personal meaning from the piece.

Large: each canvas is 24" x 36" x 1.5" so if you space them a few inches apart you will fill a large space of 7' feet long x 36" high. Set of three is $1398.00
or
Oversized: each canvas art work is 36" x 48" x 1.5" - so they can fill a huge wall space of of 12' to 15' wide by 48" high Set of three artworks is $1798.00
If you need very large artwork to fill an enormous space, you can buy one extra of just the left art panel (with the birds) which can be reversed to face the other direction. Just contact us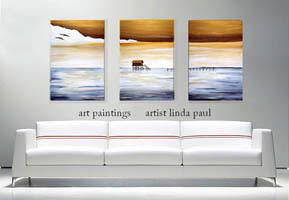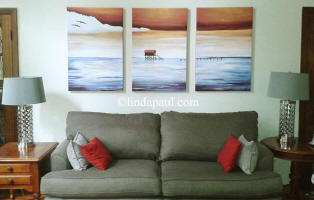 Decorating  and wall paint ideas: The beautiful colors of metaphor are great to decorate a room with. Walls can be a  grey or  silver color,  decorative accents can be in the  dark navy blue, rusty red or bronze tones. This is a sophisticated and soothing color palette. Looks fabulous with a white, grey or brown sofa
After a year and a half spent remodeling the family home, I finally got to put on the crowning touches — my personalized French Bistro print and the stupendous Metaphor triptych! They have each found their perfect place in my "new" home ... the beautiful seascape scene of Metaphor lends just the right ambience to our living room. I know I will never tire of looking at these two pieces. Your work is superb and really completed my home. Thank you! Donna MacGregor
more customer comments  I just wanted to thank you for your lovely paintings. They arrived yesterday and I just opened them this morning. They are even more beautiful than I imagined. Also, the packaging was superb. They are exactly what I wanted. Thank you so much. Sincerely, Phyllis Plekavic
Decorating idea for a large wall

picture shows my metaphor original paintings with a large wall art graphic of birds that I painted directly onto the wall behind the paintings. There are two frigate birds in the canvas art work on the far left. The wall art graphic emulates the birds and pulls that whole look together as well as filling up and otherwise plain wall.

How to Paint large Bird wall art Graphic Project by Linda Paul

Watch my video on how I painted a huge wall art graphic of birds on my large living room wall
You also might like these works of art by artist Linda Paul

Seeing IS believing and we believe you will absolutely love your art purchase from "Linda Paul Studio". 100% money back guarantee if you are not completely enraptured with your purchase."