Fields of Tuscany original art paintings by artist Linda Paul
This large painting features the Tuscan village of San Gimignano, Italy, a little church, a winding road lined with cypress trees, and beautiful fields of impressionist flowers.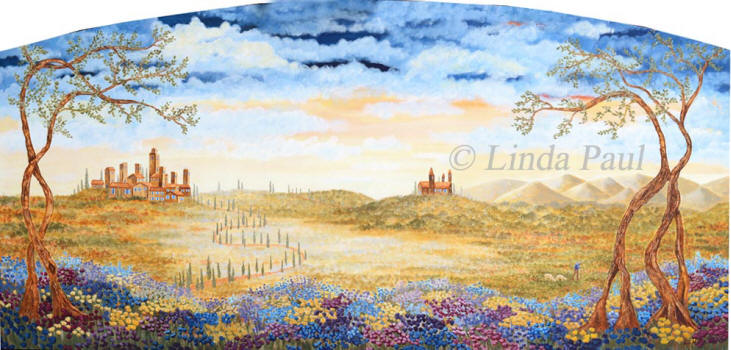 Price $2450.00
with free shipping in USA

click picture to see large image - copyright info will not appear on the art that you purchased
Painting in hand-signed in bottom right corner by artist Linda Paul

Size 64" x 29-3/4" x 3/4"
Top arch is hand cut by the artist
painted on 3/4" solid birch board
Medium egg tempera - impressionist style
unframed - has wire attached to back for hanging
Artist Biography
This photo shows my Fields of Tuscany as it would look in a elegant dining room. It is truly like having a window looking out to a Tuscan countryside
Artists Inspirations:
I have visited Italy several times and always finds it truly inspiring. This original painting is inspired by the soft light and rolling hills of Tuscany.
shows side of painting painted in dark blue


This is an original
egg tempera painting. I make my own paint
by crushing stones and minerals and adding egg yolk.
Blues come from crushed lapis lazuli, greens from malachite and natural green earth found around Verona Italy. I even use minerals found during hikes in the Rocky Mountains.
I am captivated not only by the purity and naturalness of this medium, but by the science of it. Each pigment has its own set of properties and capabilities that must be explored. How better to express
visions of the earth than with earth itself.
This medium is luminous and lasts for centuries.
read more about egg tempera
Why Buy Original art?
Some people may ask, "why buy original art when you can buy a nice print". Several reasons, simply put, the original is just far more beautiful. Its also one of a kind. This beauty does not translate as well in the digital world. Another reason is that the original captures the soul of the artist, what the artist is feeling when they are creating the piece can tangibly be felt in an original artwork. Of course the original is far more valuable and usually increases in value. You should buy original art because you love it! It will enrich your life.