"Dragonfly Dance for Two" Tiles or Framed Art and Removable Easy Backsplash by artist Linda Paul
for kitchen backsplash or wall art decor
3 styles! Buy these beautiful dragonflies as framed or unframed tile art. The frames are metal, so they can be hung over your stove as a temporary, removable backsplash. Fully sealed, durable and easy to clean

Questions? call 303-818-2663
Framed Dragonfly Dance for Two Ceramic Tile by artist Linda Paul.
Hang as temporary, removable backsplash or wall art. Can also be glued framed and all onto wall as a permanent installation. Choice of 2 metal frame colors: coppery brown or black. Comes with hanging hardware attached to the back.
framed size 14" x14".

$199.00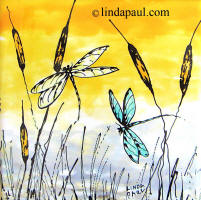 or Buy just the tile in 12x12", 6x6" or 4.25" x 4.25" ceramic tile $50.00 to $99.00
customer comments and reviews
Check out these before and after pictures of how you can transform a plain white backsplash into something special and take it with you when you move. Its perfect where you need a temporary backsplash or just a great piece of sunflower wall art
You also might like these easy backsplash glass artworks by Linda Paul. Just hang on your wall. Great for apartments, condos or anywhere you need a removable or temporary backsplash art
3 Installation and Hanging Options:
Option 1 Ready to hang removable backsplash:
You can just hang the framed glass art piece directly on your wall as a removable backsplash. There is hanging wire attached to the back of the frame. Make sure that the hook you put in your wall is either in a stud or a expandable wall anchor. You can keep the piece from sliding around by putting removable adhesive putty on the back of the four corners.
Option 2 Permanent Installation of entire framed artwork
. You can glue the frame and backing board to the wall using a Omni Grip White tile adhesive (available at Home Depot) or two part epoxy.
The advantage of doing it this way rather than gluing the glass itself directly to the wall, is you may be able to remove it later without destroying the artwork, The frame would likely get damaged it when you pry it off, but the art itself could be salvaged if you are careful.


Option 3 Permanent Installation of glass directly onto wall (out of the frame):
You can install the glass piece directly to your wall then put your own stone or glass border trim around it. Do not attempt to remove artwork from wall once you have set it in place. Do not use any metal tools on the back of the artwork


Installation Tip:
If you tile up to the bottom where you want the piece glued, the frame or glass artwork will have something to rest on as the adhesive sets. You can also temporarily screw a board to the wall for the piece to rest on as the glue dries, then remove the board after the glue has set and tile around it.

Cleaning Instructions: You can clean with Windex and a lint free cloth, spraying the Windex on the cloth rather that on the glass itself so that the cleaner does not puddle between the glass and the frame


email our tile design experts or call 1-800-936-9958 to order or inquire
toll free from USA, Canada, the Caribbean, Alaska or Hawaii