This page features our collection of small metal and glass accent tiles to insert in a kitchen backsplash or use as accents in tile design.
Available in many finishes (see bottom of page) sizes 1" x 1". 1.5" x 1.5" and 2" x 2" tiles
from $ 15.95
Please contact us to order these items.

Minimum order amount for anything on this page is $100.00 Can be combined with other metal accents, onlays or medallions.

The following accents are high quality metal coated resin. They are available in many different finishes (see bottom of page for samples) They are lovingly hand-crafted in the USA.

Madison accent tile
1" x 1" $16.95 ea.
3/8" thick at edges , (3/4" at center of round button)
shown in Brass high polish


Rachels' dot Accent tile
1.25" x 1.25" $22.95 ea.

(5/8" thick)

(shown in stainless steel high polish)


Kayla onlay 1.5" x 1.5" $25.95 ea.
1/4" thick at edges, 3/8" middle
shown in copper antique patina
We have 1 Kayla in stock
in bronze oil rubbed

Melissa
1.75" x 1.75" $25.95 ea.
(3/4" thick)
(shown in nickel highlight polish)

Leaf 2x2 Accent Tile
by artist Linda Paul $27.95 ea.
(measures 1-7/8" x 1-7/8" x 1/4" thick) shown in bronze antique patina

2 sizes
Egyptian baby 1" x 1" $15.95
Egyptian 1.75" x 1.75" $27.95

You also might like these hand-made glass and ceramic tile 2x2" accents from artist Linda Paul




This installation example features our Fleur de Elegance Borderless Onlay, studded brackets and 1" x 1" Madison accent tiles Create a new backsplash with this design or glue the accents over top of your existing tile. (Accents in the installation picture are oil rubbed bronze)
Buy a sample for $5.00 each

samples ship out immediately via usps mail
Can't decide what metal finish to order? Buy a sample for $5.00 each - online shopping below Samples are limited to one per color.
Samples are a great way to compare and match metal colors before you order metal tiles or a medallion.


Copper High Polish

Copper Highlight Polish

Copper Antique Patina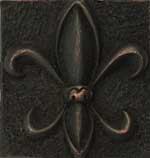 Copper Oil Rubbed

Bronze High Polish

Bronze Highlight Polish

Bronze Antique Patina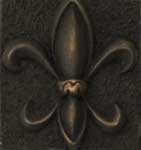 Bronze Oil Rubbed

nickel silver high polish

Nickel Silver highlight Polish

Nickel Silver Antique Patina

Nickel Silver Oil Rubbed

Brass High Polish

Brass Highlight Polish

Brass Antique patina

Stainless Steel High Polish


Iron Rust (dark brown)

Iron Wrought (black)