Angels in The Vines Art on Canvas by artist Linda Paul
Vineyard Angel Art Prints on Canvas - Hand-Signed and Numbered. Editions of 500
from $

89.99

to $649.00
Questions? Call 800-836-9958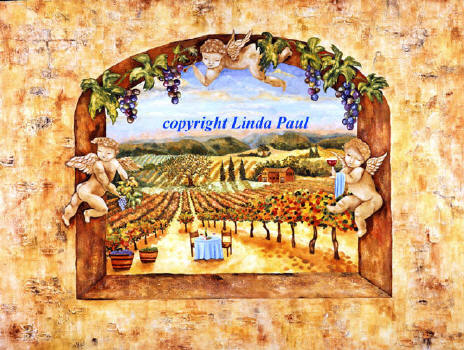 copyright info will not appear on the artwork that you purchase
Online shopping and pricing for

Ready- to-Hang
(stretched canvas no frame needed)
Ready to hang on your wall!
Canvas Art:
Sizes: 10" x 8" x 1-1/2", 16" x 12", 20" x 16", 24" x 20", 30" x 24",
40" x 30", 48" x 36". Canvas is stretched over 1-1/2" stretcher bars, with hand-painted sides and hanging hardware attached.

No frame needed!
more info on stretched canvas
Select size from drop down list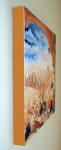 side view
Ready to Hang Canvas Art
The canvas is wrapped around 1-1/2" stretcher bars with hand-painted sides.
These artworks need no frame & arrive at your door ready to hang on your wall.


more about our canvas prints

Free Shipping in USA and To Canada
Artist's Inspiration:
I had this idea for an artwork with angels or cherubs in the kitchen. When I did the sketch, the idea transformed from angels in the kitchen to angels in the vineyard. I liked the idea that there are guardian angels of grape growing and wine, protecting the grapevines. My vineyard is inspired by my trips though Napa Valley and Sonoma Valley, they are such magical places. I hope my painting invites you to want to sit at the table for two in this vineyard and enjoy a nice glass of wine.
You also might like these wine and vineyard inspired works of art by artist Linda Paul
Questions? call 800-936-9958