Wine Country, The Olive Grove, Grapes wine and Cheese and Olives and Majolica Pitcher
Art on Canvas by artist Linda Paul
Artists' Inspiration:
Canvas print of wine bottles, wine glass, cheese & grapes with wine country vineyard and matching artwork with olives.
This wine art print is perfect for kitchen or wine decor.
from $

89.99

to $649.00

Ready to hang on your wall!
(stretched canvas no frame needed)
Canvas Art:
Sizes: 8" x 10", 12" x 16", 20" x 24", 24" x 30" Canvas is stretched over 1-1/2" stretcher bars, with hand-painted sides and hanging hardware attached.

No frame needed!
more info on stretched canvas
Wine Country
Select size from drop down list
The Olive Grove
Select size from drop down list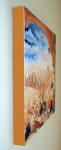 side view
Ready to Hang Canvas Art
The canvas is wrapped around 1-1/2" stretcher bars with hand-painted sides.
These artworks need no frame & arrive at your door ready to hang on your wall.


more about our canvas prints

Free Shipping in USA and To Canada
Hi Linda have just received THE WINE CELLAR (original painting). It beats all expectations, I really am blown away by it. from a very HAPPY JEFF, South Hampton UK "
Read More Customer reviews

My folks opened the picture this weekend we bought for them for their anniversary and it was gorgeous. They LOVED it!!! They have an area they have decorated with "wine items" and that picture just fits right in.
I just wanted to let you know that they were very happy with it. Thanks again for your help and the great art!!!! Kathy Stroder
You also might like these wine artworks by artist Linda Paul

Seeing IS believing and we believe you will absolutely love your art purchase from "Linda Paul Studio". 100% money back guarantee if you are not completely enraptured with your purchase."