Spirit of The Prairie Art on Canvas by artist Linda Paul
Limited Edition Western Canadian Landscape Art Prints Limited Edition art print on canvas of prairie fields & Saskatchewan landscape; grain elevator, birch trees & brilliant blue sky.
from $

89.99

to $399.00

Questions? Call 800-836-9958
Online shopping and pricing for

Ready- to-Hang
(stretched canvas no frame needed)
Ready to hang on your wall!
Canvas Art:
Sizes: 8" x 10", 12" x 16", 16" x 20, 20" x 24", 24" x 30.
Canvas is stretched over 1-1/2" stretcher bars, with hand-painted sides and hanging hardware attached.

No frame needed!
more info on stretched canvas
Select size from drop down list


Artists Inspiration:
Canadian artist Linda Paul is originally from Saskatchewan in Canada and its western landscape and spirit live within her, The prairie spirit is one of freedom and vast wide open, uncluttered spaces. Linda Paul now resides in the USA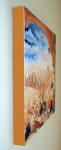 side view
Ready to Hang Canvas Art
The canvas is wrapped around 1-1/2" stretcher bars with hand-painted sides.
These artworks need no frame & arrive at your door ready to hang on your wall.


more about our canvas prints

Free Shipping in USA and To Canada
You also might like these works of art by artist Linda Paul
Questions? call 800-936-9958