Under The Apple tree Art on Canvas by artist Linda Paul
Limited Edition Giclee Print on Canvas. Canvas art print of a bicycle under an apple tree in a field of poppies. Its perfect for country & apple decor!
from $

89.99

to $225.00
Online shopping and pricing for

Ready- to-Hang
(stretched canvas no frame needed)
Ready to hang on your wall!
Canvas Art:
Sizes: 10" x 8" x 1-1/2" and 20" x 16" Canvas is stretched over 1-1/2" stretcher bars, with hand-painted sides and hanging hardware attached.

No frame needed!
more info on stretched canvas
Select size from drop down list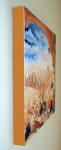 side view
Ready to Hang Canvas Art
The canvas is wrapped around 1-1/2" stretcher bars with hand-painted sides.
These artworks need no frame & arrive at your door ready to hang on your wall.


more about our canvas prints

Free Shipping in USA and To Canada
Artist's Inspirations:
I love to paint bicycles & apples. They are such pure and simple elements in this busy world of ours. Can't you just picture yourself biking down a country lane and stopping under a wild apple tree to pick apples?

Hi Linda, I want to tell you that I just picked up my Tuscan Kitchen and Apple Basket paintings from the gallery. I had them framed with a dark green wood frame and they are very beautiful. I'm so happy with them. The colors are beautiful and, in general, they exceeded what I ever hoped for. Thank you so much. When God gives us a talent, it is never meant to be just for us, it is meant to share with other people and I thank you for sharing your extraordinary talent with others Georgiann Trombetta
more customer Comments
You also might like these bicycle and french inspired works of art by artist Linda Paul

Seeing IS believing and we believe you will absolutely love your art purchase from "Linda Paul Studio". 100% money back guarantee if you are not completely enraptured with your purchase."