Sunset Window Art on Canvas by artist Linda Paul
Tropical art prints on canvas of sunset view from a Mexican kitchen window with sunflowers, peppers, avocado, tamales, papaya, lime and palm trees. The flower vase has a landscape painting of a village in Mexico. This art print is perfect for tropical decor! Limited Edition

from $

199.00

to $649.00
Questions? Call 303-818-2663
copyright info will not appear on the artwork that you purchase
Online shopping and pricing for

Ready- to-Hang
(stretched canvas no frame needed)
Ready to hang on your wall!
Canvas Art:
Sizes: 20 x 12", 24" x 16", 36" x 24", 48" x 30". Canvas is stretched over 1-1/2" stretcher bars, with hand-painted sides and hanging hardware attached.

No frame needed!
more info on stretched canvas
Select size from drop down list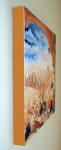 side view
Ready to Hang Canvas Art
The canvas is wrapped around 1-1/2" stretcher bars with hand-painted sides.
These artworks need no frame & arrive at your door ready to hang on your wall.


more about our canvas prints

Free Shipping in USA and To Canada
The Artists Inspiration:
My inspiration for this artwork came from a wonderful customer who wanted a Mexican art ocean landscape painting for her villa in Mexico. She mentioned some of the things she likes: hibiscus, papayas, palm trees & tropical fruit. I let my imagination and creativity do the rest. Of course I love painting window ledges full of food combined with landscapes.
You also might like these works of art by artist Linda Paul
Questions? call 303-818-2663